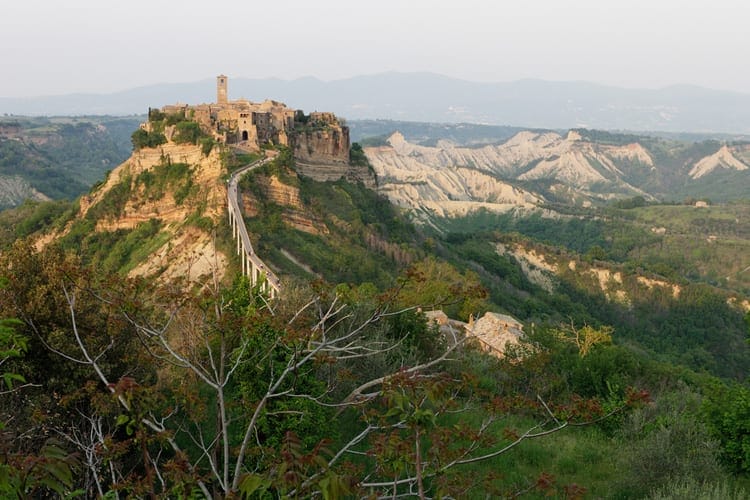 Guide to the 20 Regions of Italy: What to Know Before You Go
July 7, 2023
How much do you know about the different regions of Italy? And how many of the 20 regions have you heard of or been to?  It might seem like a lot to ask, but if you're planning a trip to Italy, knowing Italy's regions is a great place to start!
The country is broken up into 20 official regions, which you can think of as districts—similar to states or provinces. What are the different regions, what are they known for, and which ones should you travel to? Here's help!
Abruzzo
The rural region of Abruzzo, located near the center of Italy, often gets ignored by international travelers. And that's a shame: With beautiful countryside, mountains, and beaches, it's the perfect place to "get away from it all."
Abruzzo is an especially great place to hike, ski, camp, or bike. While Italians certainly travel here, it's hardly a touristy region. That's partly because, for many years, rural Abruzzo was dogged by poverty. This has turned around recently, although Abruzzo's comeback hit a serious road bump in 2009, thanks to the devastating earthquake in L'Aquila, the region's capital.
Why visit Abruzzo
Visit Abruzzo if you lou love the outdoors; you want to experience the "authentic Italy"; you're planning on driving (public transport isn't great); you'd like an active vacation; you'd like to get off the beaten path; you want to travel on a budget (it tends to be pretty cheap to stay and eat in Abruzzo, especially compared to other regions!).
Aosta Valley
Tucked in between France, Switzerland, and Piedmont, Aosta Valley is all the way up in the northwest corner of Italy. As you might expect, that means this area is mountainous! The Alps run right through this tiny region, including Mont Blanc (here called "Monte Bianco"), shared with France, and the Matterhorn (the Italian resort is called "Cervinia"), shared with Switzerland. The region's mixed heritage makes it culturally – and culinarily – fascinating.
There's enough here for history buffs, too! The capital, Aosta, has some fantastic ancient Roman ruins, and other towns boast medieval castles. Aosta Valley is also politically interesting, since it's an autonomous region. And despite its agricultural background, it's one of the wealthiest regions in Italy. Find out more about the Valle d'Aosta and other winter wonderlands in Italy.
Why visit Aosta Valley
Visit Aosta Valley if you're a fan of winter sports, especially skiing or snowboarding; if it's summer, you'd love to hike or do other outdoor activities; you have a soft spot for picturesque Alpine villages; you want to get out of the heat (because of the mountains, even the summer can be chilly here); you want a taste of a multicultural side of Italy; you like castles and ruins.
Basilicata
The southern region of Basilicata is located in the "instep" of Italy's boot. Large and rural, it has a very low population density and lots of countryside, not to mention mountains—the Apennines run right through here. People have lived in Basilicata since the Palaeolithic times, and you can still see Neolithic cave dwellings in Matera, the number-one city in Basilicata to visit (and a World Heritage site). One of Italy's poorer regions, Basilicata is also one of its most starkly beautiful, filled with forests, lakes, and tiny villages.
Why visit Basilicata
Book a trip to Basilicata if you're driving (public transport isn't great here); you want to really go off the beaten path and explore areas of Italy that tourists hardly ever visit; you like the outdoors; you want an active holiday; you're traveling on a budget; you're as fascinated by Matera as we are.
Calabria
Another quintessential southern region, Calabria sits in the "toe" of Italy's boot. As you might expect, that means it has lots of beautiful beaches! Like Basilicata, it's mountainous, so it's great for hiking. And like the rest of Italy's south, Calabria historically has been fairly poor. So despite its natural gems (and long stretches of lovely coastline!), it's pretty underdeveloped compared to other seaside destinations in Europe.
Why visit Calabria
Calabria is perfect if you want to hit the beach—but still be away from the crowds; you'd like to go off the beaten path; you're traveling on a budget; you want a taste of quintessential southern Italy, from the food to the small towns.
Campania
The southern region of Campania has a lot to recommend it, from fascinating, chaotic Naples (here are 9 reasons not to miss Naples!), to the spectacular islands of Capri and Ischia, to the world-renowned ruins of Pompeii, to the famed Amalfi coast. But Campania, Italy's second most populous region and one that has, like much of Italy's south, struggled with poverty in the past, has lots of off-the-beaten-path destinations, too. We especially like Paestum, the best ancient Greek ruins on Italy's mainland, and Salerno, a bustling, un-touristy town on the Amalfi coast.
Why visit Campania
You'll love Campania if you're looking for a taste of Italy's sun-soaked south, but don't have time for more than a day or weekend trip from Rome or Florence; you're as in love with Naples as we are; you want to visit Italy's most famous coastline; you won't necessarily have your own car (you can get around the most popular parts of Campania easily by public transport); you want to taste real mozzarella di bufala and proper pizza napolitana!
Emilia-Romagna
Stretching across northern Italy, Emilia-Romagna is a wealthy region with the third-highest GDP per capita in Italy. It's also a joy to visit! The region includes Renaissance cities like Bologna, Ferrara, and Modena, beautiful stretches of coastline, and, arguably, some of the best regional cuisine in Italy (prosciutto di Parma, Parmigiano-Reggiano, and balsamic vinegar of Modena all come from here). The area also is home to Ravenna, a World Heritage-listed city for its extraordinary Byzantine mosaics.
Why visit Emilia-Romagna
Emilia-Romagna is for you if you want to visit beautiful cities that have some must-see sights, but aren't quite as crowded or touristy as Florence or Venice; you have a weakness for Italian sports cars (Ferrari, Lamborghini, Maserati, De Tomaso, and Ducati all are based here); you want to try some of Italy's most famous foods, in the place where they come from. Here are 8 reasons to head to Emilia-Romagna!
Friuli-Venezia Giulia
This tiny region, all the way in Italy's northeastern corner, borders Austria and Slovenia. Like the Aosta Valley, it's an autonomous region, accounting for its unique cultural heritage. Despite its small size, Friuli has both seaside and mountains, since it's home to the last section of the Alps. From its food to language, this is a region that's markedly different than the rest of Italy—and rightly proud of it!
Why visit Friuli-Venezia Giulia
Visit Friuli-Venezia Giulia if you're a fan of outdoor activities and winter sports; you want a taste of a unique region of Italy, one with a multicultural background; you like both the sea and the mountains.
Lazio
Lazio is a pretty well-known region since, after all, it's home to Rome! (It's also the third most populous region in Italy). But there's much more to this central region than Italy's capital. Lazio, which gets its name from "Latium," has sandy beaches along the coast and hills and small mountains further inland. It's home to famous lakes, like Bracciano and Albano; the lovely Castelli Romani hills; medieval towns and Renaissance gardens; and great archaeological sites, like Ostia Antica. (Don't miss our post on the hidden gems of the Lazio region!).
Why visit Lazio
Visit Lazio if you're keen to see Italy's famous capital; you'd like to mix up your city sightseeing with ancient ruins, small towns and lush countryside; you're a history buff.
Le Marche
This relatively little-known region in central Italy is hilly and mountainous, and has long stretch of coastline along the Adriatic. Historically agricultural and poor, today, it's known for its specialized industries, like furniture and textiles. Tourism is popular here, too—although there are far fewer tourists than in many of Italy's other regions!—with travelers attracted to the region's lovely beaches, mountains, and small towns.
Why visit Le Marche
You'll love Le Marche if you'd like to get off the beaten path; you want to hit the beach (the beaches around Rimini are especially popular in summer); you want to hike or enjoy other outdoor activities; you're on a budget.
Liguria
A narrow strip along the coast in northwestern Italy, Liguria is bordered by France, Piedmont, Tuscany, and Emilia-Romagna. Famous for its seaside (although not necessarily for its beaches—the coast tends to be cliffy and rocky), Liguria has a proud maritime history. In fact, its capital, Genoa, was one of the most important maritime states in the Middle Ages and Renaissance; it was also the hometown of Christopher Columbus. Most tourists know Liguria because of its famous resort towns, including the Cinque Terre and Portofino.
Why visit Liguria
Visit Liguria if you'd like to see one of Italy's most spectacular stretches of coastline; you're a fan of pesto alla genovese and want to try the real stuff; you want to take a day or weekend trip to the seaside from Milan or Florence.
Lombardy
Lombardy is located all the way in the north of Italy, bordering Switzerland. Italy's wealthiest region (Lombardy is especially strong in the sectors of industry, service, and agriculture), it's also the most populous. Milan, its capital, is the second-largest city in Italy.
But there's plenty of nature here, too, with Lombardy the location of Italy's so-called "lake district," with destinations including Lake Como, Maggiore, and Garda. If you have trouble picking a spot, don't miss our blog post on choosing between Lake Como and Lake Garda.
Why visit Lombardy
Visit Lombardy if you'd like to experience a city known for its nightlife and fashion; you want to explore Italy's most famous lakes; you want to day-trip to Switzerland.
Molise
Italy's newest region (until 1963, Molise was lumped in with Abruzzo), Molise is also Italy's second-smallest region. Mainly agricultural (it produces wine, olive oil, dairy, fruit and vegetables, and cereals like faro), hilly Molise has some lovely small towns, countryside, and castles. Tourism isn't particularly developed here, so it's also a definitely off-the-beaten path destination—and a good place to find meals and accommodation on a budget.
Why visit Molise
Visit Molise if you'd like to do some outdoor activities; you want to get off the beaten path; you want to visit some of Italy's most authentic small towns; you're traveling on a budget; you have your own car (public transportation is a little tough here).
Piedmont
The northern region of Piedmont is surrounded by the Alps on three sides, but it's not all mountainous; in fact, much of Piedmont is a flat plain. That's where many of its farms are, producing food like rice and wine—some of Italy's most well-renowned wines, including Barolo and Barbaresco, come from here. The Slow Food movement is based here in the region, making it a must-visit for foodies.
Piedmont is also industrial, with the Fiat automobile company based in Turin, the region's capital. With lovely small towns, the bustling baroque city of Turin, and its mountains, Piedmont has something for everyone.
Why visit Piedmont?
Piedmont is the perfect destination if you enjoy winter sports; you're an Italian wine-lover; you love food (and the principles behind the  Slow Food movement); you want to get somewhat off the beaten path.
Puglia
The "heel" of the boot of Italy, for a long time, Puglia experienced much of the same poverty as the rest of the south. While still poorer than northern Italian regions, though, Puglia today has a good deal of industry, and its agricultural sector—especially its olive oil industry—is one of the most important in the country.
Puglia has also gotten very hot lately, finally getting attention in the foreign press and travel magazines for its beautiful beaches, gorgeous countryside, excellent food, and unique towns and architecture (like its cone-shaped trulli). A favorite destination for Italians in the summer, this is hardly an "undiscovered" region – but there are definitely parts of it that remain to be discovered!
Why visit Puglia
Visit Puglia if you want to see some of Italy's most beautiful sandy beaches; you'd like a taste of the Mediterranean lifestyle; you've always wanted to see (or stay in) a trullo; you want to go slightly off the beaten path (especially if you're traveling outside of summer); you're traveling on a budget.
Sardinia
This island, located in the Mediterranean to Italy's west and just south of Corsica, is a long-time favorite summer destination of Italians – with good reason!
The beaches are stunning, and the resort towns of Costa Smeralda, in the island's north, buzz with nightlife. Visit the interior of Sardinia, though, and it's a different picture, a rural, agricultural area with lots of tiny towns. And by visiting even Sardinia's most popular coastal areas outside of July or August, you'll find it's surprisingly peaceful.
Why visit Sardinia
Sardinia is ideal if you want to experience some of Italy's most spectacular beaches and coastlines; you're going in August, and want to be where all of the Italians are; you want to visit a part of Italy that has a very different history from, and culture than, the mainland.
Sicily
The largest island in the Mediterranean, Sicily is a place—and culture—all its own. (Some Italians joke that it's not even Italy!). That's because of its unique, and ancient, history. Settled by the ancient Greeks and Romans (in fact, Sicily boasts some of the best ancient sites in Italy), Sicily later was conquered by the Arabs, Norman French, and Spanish.
That mixed-heritage background makes for not fantastic art and architecture, but amazing Sicilian cuisine, as well. For these reasons, along with its sunny climate, miles of beautiful coastline, and natural beauty, Sicily is a top destination for tourists—although you'll still find plenty of towns and areas untouched by tourism, and outside of high season, even the beaches and resort towns are relatively quiet.
Why visit Sicily
Visit Sicily if you're looking for a beach holiday; you're interested in seeing some of the best ancient Greek and Roman ruins in Italy; you're curious about a culture that's Italian… but with a special stamp that's all its own; you're attracted to sunny, warm, dry weather; you want to try real cannoli or arancini (or pasta alla norma, or granita, or…).
Trentino-Alto Aldige
Also known as Trentino-South Tyrol, this naturally-stunning, autonomous region in northern Italy used to be part of Austria-Hungary. It was only annexed by Italy in 1919. As you might expect, that means it has a very different—and Austrian-flavored—culture than the rest of the peninsula!
In South Tyrol, German, not Italian, is spoken by the majority of the population. Trentino-Alto Aldige also includes a large part of two of Italy's most major mountain ranges, eastern Alps and the Dolomites, making it a favorite destination for skiers and trekkers. (Lake Garda is located here, too).
Why visit Trentino-Alto Aldige
Visit Trentino-Alto Aldige if you want to practice your German, as well as your Italian; you'd like an active holiday; you're into mountain sports; you like nature; you want to visit small, picturesque Alpine villages.
Tuscany
The region of Tuscany has it all—seaside and countryside, food and wine, cities and small towns—and the tourism to match. The region's stunning cities (including not only Florence, but Siena, Lucca, and Pisa) are considered the birthplace of the Italian Renaissance. The beautiful countryside is quintessentially Italian, with rolling hills, cypress trees, and lovely vineyards (in fact, the landscape of Tuscany's Val d'Orcia was named a World Heritage Site in 2004). Tuscany is also famous for its food and wine, as the region produces Chianti, Vino Nobile di Montepulciano, Brunello di Montalcino, among others.
While Tuscany is touristy, and while some of its towns and cities can be pricey and crowded, there are still plenty of undiscovered corners of this large, central region. For ideas on where to go, don't miss our post on the top 10 towns of Tuscany.
Why visit Tuscany
Visit Tuscany if you want to feel like you've stepped into a postcard of the Italian countryside; you're excited to see some of Italy's most stunning, and important, art and architecture; you're a fan of the Renaissance; you're interested in wine tastings or vineyard visits; you feel like you can't miss Florence—or the Leaning Tower of Pisa.
Umbria
Often referred to as the "green heart of Italy," Umbria is smack-dab in the center of the boot—and right next to Tuscany, to whom it's always compared. Like Tuscany, Umbria boasts dozens of medieval hilltop towns (like Assisi, Perugia, and Orvieto), beautiful countryside, and olive and wine vineyards.
And, like Tuscany, Umbria has stunning art and architecture and a fascinating history that dates back to the ancient Etruscans. However, Umbria feels a little wilder and more off the beaten path than its famous neighbor. It's also much less touristy (although it's far from an undiscovered region) and less expensive. Here's help if you're trying to decide between Umbria and Tuscany for your trip.
Why visit Umbria
Book a trip to Umbria if you like the sound of Tuscany—or you've visited Tuscany, and liked it—but you want an alternative destination that's a little less well-known, less touristy, and less expensive; you're looking for a weekend or day trip from Rome (Umbria is closer than Tuscany); you want to get off the beaten path.
Veneto
One of the wealthiest, most developed regions in Italy, the Veneto's also the best-known to tourists—thanks, of course, to its capital, Venice. (No fewer than 60 million tourists visit the Veneto every year!).
Historically poor and agricultural, the Veneto has boomed ever since the 1970s; in fact, after Lombardy and Lazio, it's Italy's third-richest region. Although tourism and industry are important here, agriculture still plays a part, and it produces some of Italy's most famous wines, including Prosecco, Valpolicella, and Soave. Top towns to visit here for their beauty, art and architecture include Venice, Verona, Vicenza, Belluno, and Padua.
Why visit Veneto
You should visit the region of Veneto if you're keen to see Venice or Verona; you want to visit a region as well-known for its mountains as its seaside; you're intrigued by a region of Italy that has a different, but just as renowned, of tradition of art and architecture as regions like Tuscany; you want to try some of Italy's finest wines; you'd like to combine sightseeing with outdoor activities.