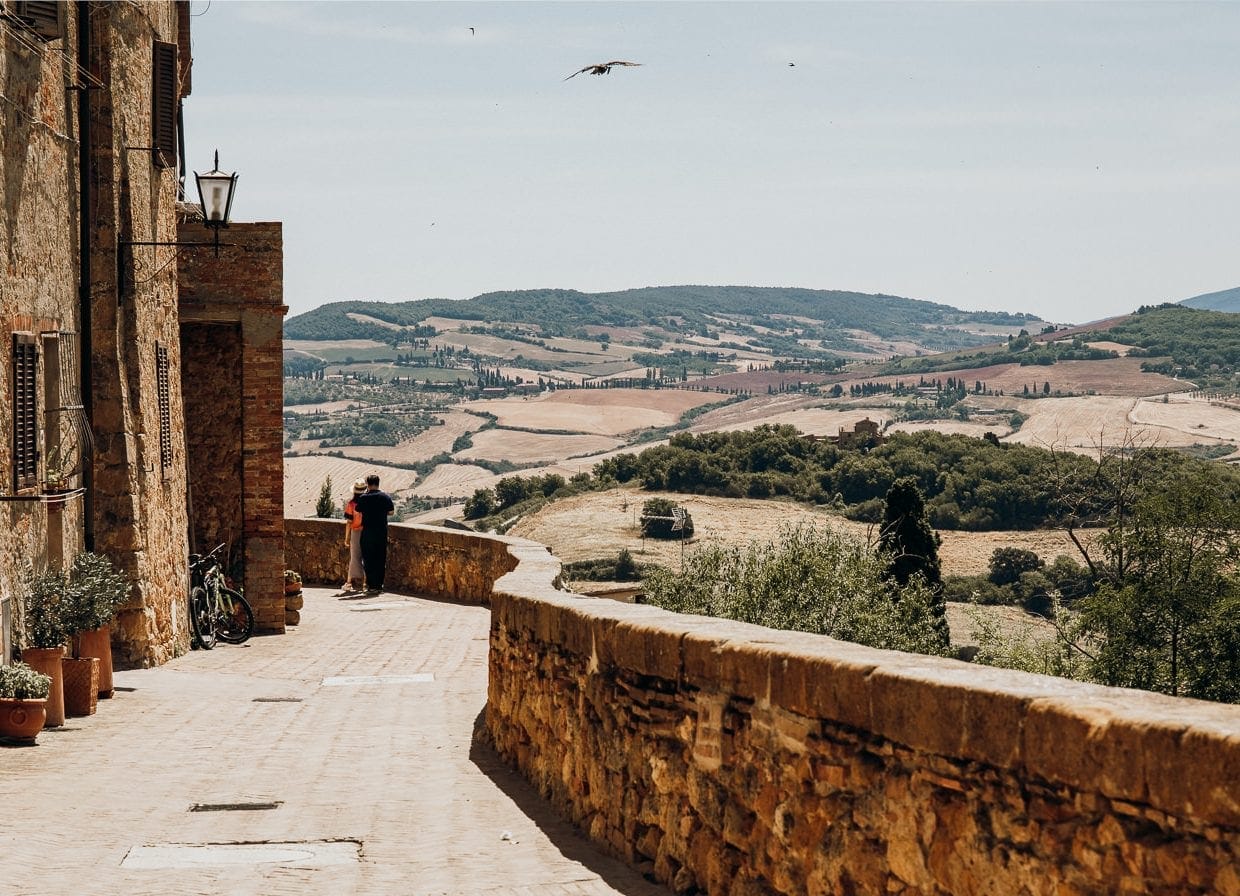 Tuscany from Rome: How to Plan the The Perfect Day Trip
February 17, 2023
Exploring Tuscany without a car can be a challenge and if you'd rather not drive (so you can enjoy a glass or two of the region's famous wine), you'll love out latest tour that packs all the highlights of Tuscany into a single day of comfort and indulgence.
While it would be impossible to cover all of Tuscany in a day, you'll explore one of the most stunning areas of the region, Val d'Orcia, listed as a UNESCO World Heritage Site, boasting quintessential Tuscan panoramas, picturesque towns, and renowned wines.
You'll #takewalks in charming hill top towns, enjoy fabulous food and wine at an organic Tuscan farmhouse, and even climb a castle! Oh and did we mention there will be wine tasting? Sit back, relax and enjoy the experience!
Hill towns
Monticchiello
The lovely scenery you see as you make your way to Monticchiello gives you an idea of the stunning views you will be treated to when you arrive at this medieval hilltop town. Home to less than 250 residents, the sweeping views from Monticchiello, the gentle rolling hills, cypress-lined roads and verdant countryside, will have you in awe. It's this perfect postcard view of Tuscany that's has lured visitors to this region.
While the views will have you mesmerized, don't forget to #takewalks around Monticchiello which, though small, is bursting with charm. Step into the Chiesa dei Santi Leonardo and Cristoforo where you will find well preserved frescoes dating back to the 14th and 15th centuries.
Pienza
Pienza is worth a trip to Tuscany all by itself. A UNESCO World Heritage Site since 1996, this town was completely rebuilt as an ideal Renaissance town in 1458 by Pope Pius II. The main attractions here are situated in Piazza Pio II, where you'll find the cathedral dedicated to Santa Maria Assunta, the town hall, Piccolomini Palace, and Borgia Palace.
Enjoy a lovely stroll in this town and as you walk along the Via del Casello, you will have yet another spectacular view of Val d'Orcia. Some notable festivals that take place in Pienza include the Festival of Flowers (second Saturday and Sunday in May), where the town will be decorated with splendid floral scenes, and the Cheese Fair in September.
On the topic of cheese, Pienza, also known as the "capital" of Pecorino cheese, is the place for cheese-lovers! And we won't leave Pienza without tasting a variety of its famous pecorino cheese and the opportunity for you to buy some to take home.
Montalcino
Renowned for its celebrated red wine, Montalcino, situated on top of a hill boast splendid views of the countryside. Here we will visit La Fortezza and climb up to the walls and lookout towers. La Fortezza is pentagonal shape building reconstructed by the Sienese in 1361 and from its walls, you'll have a birds' eye-view of the gorgeous Tuscan countryside.
Organic Farmhouse
One of the highlights of our day trip from Tuscany to Rome is a hidden gem, an organic farmhouse tucked away from the main road and completely immersed in the Tuscan countryside. The narrow road leading up to the farmhouse means that you won't find huge buses here (if you find any other visitors at all!), making it a wonderful place to fully enjoy the intimate and tranquil atmosphere.
Before lunch, wander around this farm and you'll likely run into goats, donkeys and pigs. You may even be lucky to see peacocks during their courtship ritual with their dazzling patterned plumage all fanned out.
By then we hope you've worked up an appetite for lunch as it's going to be a feast. All the dishes served are based on seasonal ingredients from the farm, and you'll also be sipping on wines from their vineyard, all this set within a backdrop of breathtaking views. The joys of life under the Tuscan sun!
Wine Tasting
Of course no visit to Tuscany would be complete without sampling some of its finest wines. We'll stop at a top Montalcino vineyard where we will visit the wine cellar and have a behind-the-scenes look at the procedures involved in producing the prestigious Brunello di Montalcino. Of course, you will also taste the variety of wines produced at this vineyard, including their award-winning Brunello di Montalcino.
Sounds like the perfect day trip to Tuscany from Rome? We think it is but we'd love to hear your thoughts on it after you experience it for yourself! If you're interested in booking the tour or just want more info, check out the page right here. If you do travel to Tuscany with us, leave a comment and tell us what you think.