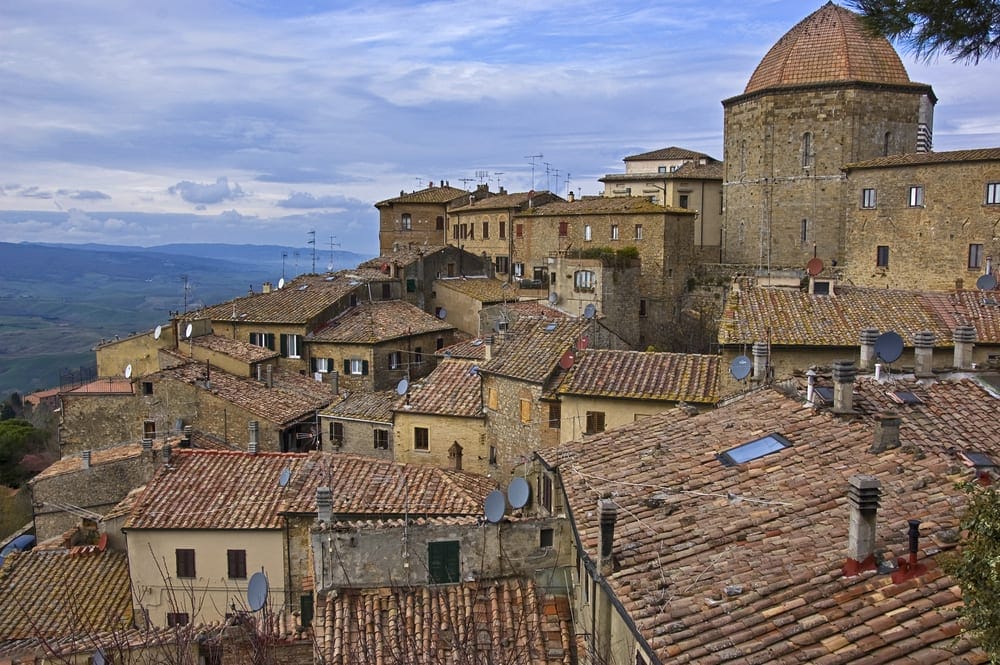 The Top Towns in Tuscany: Lucca, Pienza, & More
April 13, 2023
Much more than the home of Florence or of rolling countryside, Tuscany is also the home of some of Italy's most beautiful, and fascinating towns. Whether you're considering a day trip from Florence, or just hoping to make your base in Italy somewhere off the beaten path, here are our top 5 Tuscan towns. For other five, Check out our Top Ten Towns of Tuscany, Round II.
Lucca
In a word, Lucca, located just an hour's drive west from Florence, is lovely. Graced with medieval streets and a ring of Renaissance-era fortification walls — today, a bike and walking path — Lucca's architecture is some of the most exquisite in Tuscany. If you think Florence's Duomo is elaborate, just wait till you see Lucca's Duomo or its Church of San Michele in Foro, which look like they were created out of icing! Don't miss the Piazza Anfiteatro, a ring of medieval buildings on the site of an ancient Roman amphitheatre (some of it still remaining). Here, too, is where the composer Giacomo Puccini was born.
Pienza
Located in the gorgeous Val d'Orcia (a hilly region renowned for its hiking), Pienza itself is such a gem, it's been named a World Heritage Site by UNESCO. It's also where Zeffirelli filmed Rome and Juliet. Pienza's history is a little odd: Pope Pius II was born here, and after becoming pope, he in 1458, he had the town completely rebuilt as an ideal Renaissance town. Vain? Yes. But also the reason for Pienza's stunning architecture and harmonious layout. Only 2,500 people live here today, giving it a little bit of a wistful, forgotten air.
Pitigliano
Pitigliano is one of those towns that makes you wonder: "What on earth were these people thinking?" Built into tufa cliffs high in the sky, the village looks like it's actually hovering above you as you approach. Tiny and tranquil, the town doesn't boast just spectacular views. Thanks to its ties to the Jewish community, it's also called "Little Jerusalem." Jews started moving here from Rome in the 13th century, and by 1860, one-third of the town was Jewish. Tragically, during World War II, most Jewish residents fled for safer hiding places, and today, there are hardly any Jewish inhabitants. But the old Jewish quarter, synagogue, and Jewish Museum remain, testaments to this once-thriving culture.
Siena
It's hard not to fall in love with Siena. This thoroughly-medieval city  has so much to offer, it's not surprising that more and more people are choosing it as a Tuscan base, even over Florence (it's an hour's drive south). In a way, that's appropriate: From the 13th to 15th centuries, Siena was Florence's main rival. That explains the medieval, 320-foot-tall tower built on top of the Palazzo Pubblico, Siena's town hall: It's just 12 feet taller than the tower of Florence's Palazzo Vecchio… and you can bet that was done on purpose! Most of Siena revolves around its 13th-century main piazza, Il Campo, which is unlike any other public space in Italy. (It is also where the world-famous Palio horse races are held twice yearly). Don't miss the Palazzo Pubblico and its gorgeous frescoes, or the incredible Duomo, one of Italy's most jaw-dropping churches. Here, too, is where the famous St. Catherine was born, and you can still visit her family home and even see her head in the Church of San Domenico (eek!). If you're planning a trip to Siena, read our blog on what to do in Siena.
Volterra
Thanks to the Twilight series, Volterra's been put on the tourism map. But, a handful of American teenagers dragging along their parents aside, it remains a quiet, off-the-beaten-path town… that happens to boast medieval, winding streets and gorgeous views from its hilltop perch. Volterra's roots date back to an 8th century B.C. Etruscan settlement; big parts of the defensive wall they built in the 4th century B.C. are still standing, as is the 3rd century B.C. gate into the city! But that's not all for the ancient side of Volterra. Here, too, are remains of an ancient Roman amphitheatre and bathhouse, as well as the renowned Museo Etrusco Guarnacci, boasting numerous Etruscan finds from the area.