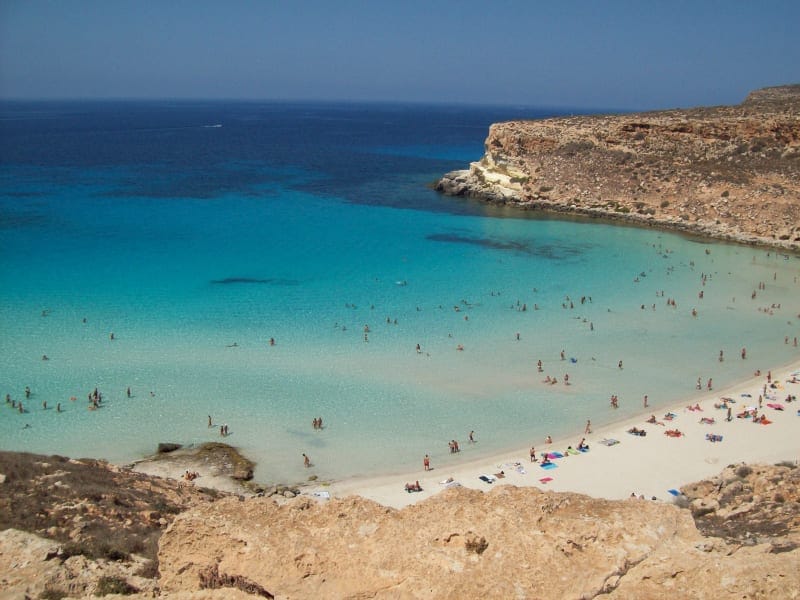 11 Best Beaches in Italy: Fornillo Beach, Due Sorelle, Tropea & More
July 6, 2023
Want to head to the beach in Italy? Great idea! With more than 5,000 miles of coastline, Italy boasts hundreds of beautiful beaches. But from top to bottom, where are the best beaches in Italy? Here are 11 of our favorite beaches in all of Italy.
Best beach in Abruzzo
Punta della Penna
You won't find any rented lounge chairs at Punta della Penna, a wild, remote beach north of Vasto. But what you see here is even better: a free, silken sand beach inside the Natural Reserve of Punta Aderci, in the central region of Abruzzo. If you're seeking a real escape, and looking for a pristine beach, it's one of a few hidden gems on this coast. Stick around until sunset for a seriously stunning sight.
Best beach in Amalfi
Fornillo
While most visitors to the Amalfi Coast's Positano head to the swanky Spiaggia Grande, in-the-know visitors—especially those in search of peace and quiet—beeline to Fornillo Beach, just a 10-minute walk away. Bring your camera, since the walk alone affords breathtaking views.
And who says spectacular beaches have to be sandy? Fornillo's pebbled stones give the beach its charm. And the view of the Amalfi coast's iconic cliffs, not to mention a Norman tower, make it even more picturesque. Better yet, Fornillo is generally quiet and peaceful… although it can get crowded in summer months. After all, this is Positano!
Best beach in Calabria
Tropea
Billed as the "Pearl of the Tyrrhenian," Tropea Beach, in the region of Calabria, is nothing short of spectacular. Famous for its white sandy beaches, warm crystal water, and the old town on Tropea perched on the dramatic white cliffs, its setting is postcard-perfect. While unknown to most visitors, the natural beauty of  Tropea Beach makes it a top beach destination for most Italians.
Best beach in Cinque Terre
Fegina
The Cinque Terre is better known for its hiking paths than beaches. But Fegina Beach makes our list, thanks to its gentle cobalt water and golden sand. In the new town of Monterosso al Mare, La Fegina is the largest stretch of sandy beach in the Cinque Terre, and offers a stunning, unimpeded view of the coastline. Plus, it's the perfect place to catch the sunset.
The establishments here offer sun loungers and facilities, but the free beach is clean and well-cared for, too. It's also super-convenient, located just a stone's throw away from the train station. Expect a lively atmosphere, as its promenade is lined with numerous seaside hotels, restaurants and cafes.
Best beach in Le Marche
Due Sorelle
Looking for a secluded spot? Few beaches compare with Due Sorelle (Two Sisters), situated on the Adriatic coast in Le Marche's Conero Natural Reserve. Distinguished by two twin rocks just off the shore (i.e., the "two sisters"), the beach's wild, untouched setting makes it the perfect place to get away from it all.
Which means that getting here takes some effort. You have to come by boat. Or you can put on your walking shoes: You also can get here via a challenging path descending from a mountain known as "Wolf's Pass."
Just remember, Due Sorelle is a free beach, so there are no facilities here. But we'll trade that for some transparent water lapping the white-pebbled beach any day.
Best beaches in Liguria
Baia dei Saraceni
This crescent-shape beach in Variggoti, on the Italian Riviera, features sparkling sand and calm, crystal water—perfect for sunbathing or swimming. Surrounded by vegetation and overlooked by the medieval church of San Lorenzo, Baia dei Saraceni is one of the most picturesque beaches in Liguria. Even better: Unlike most beaches along the coast, the beach at Baia dei Saraceni is completely free.
Best beach in Sardinia
Su Tiriarzu
When it comes to great beaches, you're spoiled for choice in Sardinia, the large island off Italy's western coast. But with its sparkling water, powder-white sand and lush Mediterranean vegetation, the beach at Su Turiarzu has to be one of Sardinia's best. And don't just take our word for it: The beach recently received the "Five Sails Award" from Italy's environmental association Legambiente and the Touring Club's "Guida Blu." It's also rated as the best beach in Italy for its water quality and environmentally-friendly initiatives.
Situated in the medieval town of Posada on the east coast of Sardinia, it is easily accessible and thanks to its shallow waters, an ideal spot for families with children. While here, don't forget to soak in the rich history and culture of one of the oldest towns on the island.
Best beaches in Puglia
Baia dei Turchi
Puglia, the region in the heel of the "boot" of Italy, boasts hundreds of stunning beaches. One of our favorites is Baia dei Turchi, just north of Otranto. A short walk through a pine forest, all part of a protected nature reserve, rewards you with a sandy stretch of  beach that also happens to be one of the cleanest in the country (hence its Blue Flag status).
And there's history here, too: The name the "Bay of the Turks" goes back to the 15th century, when the Turks landed here to siege the city of Otranto.
Marina di Pescoluse
On the very tip of the Salento Peninsula, Marina di Pescoluse, though relatively unknown to foreigners, is a favorite haunt for Italians. Boasting a 5-mile stretch of fine golden sand and shallow, crystal-clear waters, it's so much like the Maldives, locals even call it "Le Maldive." Its calm waters make it ideal for children and families.
Make sure you catch the beach at sunset; like magic, the sand banks suddenly look like islands.
Best beaches in Sicily
Rabbit Beach
You'd be forgiven if you thought this was in the Caribbean! This Mediterranean gem, with its crystal-clear sea and splendid stretch of white sand, recently won the "Best Beach in the World" award from Tripadvisor users.
Located on the island of Lampedusa, off the southern coast of Sicily, Rabbit Beach requires a short walk through rocky and uneven paths. It's an effort, of course, that's worth the reward! Just remember, with all the raves the beach has been getting, it'll be very crowded in the summer.
San Vito Lo Capo
In Sicily's northwest, near the Nature Reserve of the Zingaro, the beach at San Vito Lo Capo has consistently been rated as one of the best beaches in Italy. Its picturesque setting—including a view of Mt. Cofano, crystal-clear water, and fine sand—make it a favorite spot for many Italians. And the water often is so calm, taking a dip feels like swimming in a pool!
And that's not to forget the charming town itself. Quaint and resort-like, San Vita Lo Capo buzzes with visitors during the summer months.