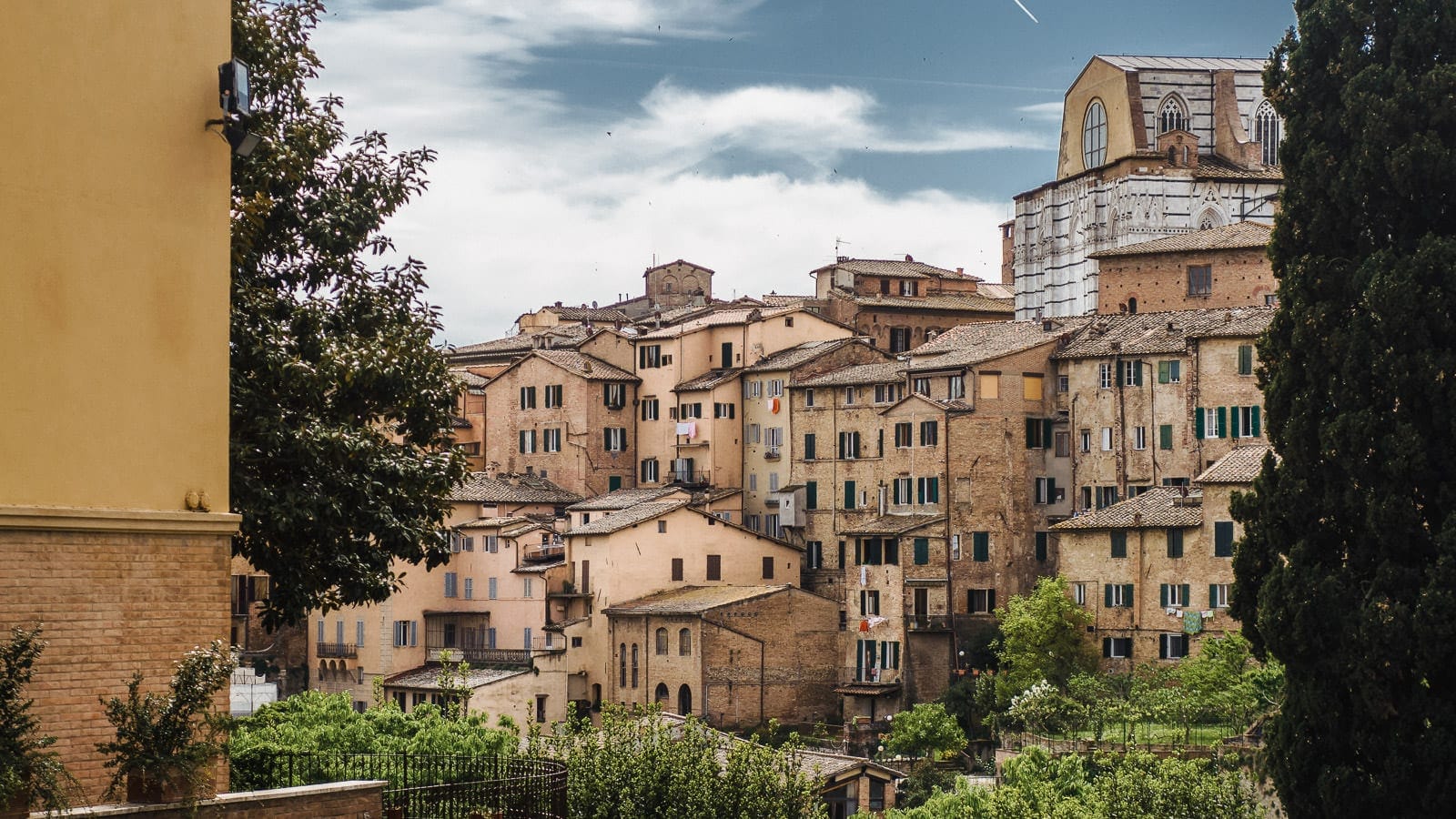 6 Best Places to Stay in Tuscany: Cortona, Lucca, Montepulciano & More
July 25, 2023
Florence is great, but sometimes you need to get outside of the big city! Luckily, you have the Tuscan countryside just waiting to be explored. Renowned for its breathtaking landscapes, the best places to stay in Tuscany often enjoy the benefit of being nestled amidst rolling hills, vineyards, and olive groves.
The views from these towns can be stunning and provide a sense of serenity and natural beauty. And, luckily, they are typically less crowded and less influenced by mass tourism, preserving their original charm and beauty. The architecture, narrow streets, and quaint squares often retain their traditional character, providing an opportunity to step back in time.
Lucca
Just a half-hour's drive from Pisa you'll find Lucca, a town dating back to Roman times. Unlike larger tourist hotspots in the region, Lucca has managed to maintain a more intimate and laid-back atmosphere. And its historical heritage is well-preserved, making it perfect place to stay and explore over the course of a few days.
Walking through the town's narrow streets, you'll encounter beautifully preserved medieval architecture, ancient churches, and Renaissance-era buildings. Don't miss landmarks like the stunning Lucca Cathedral (Duomo di Lucca), the Guinigi Tower with its oak trees on the top, and the Piazza dell'Anfiteatro, a unique circular square built on the remains of an ancient Roman amphitheater.
Lucca is perhaps most famous for its well-preserved Renaissance-era city walls, which encircle the entire historic center. The walls are wide and provide a lovely promenade with beautiful views of the town's rooftops and surrounding countryside. It's an excellent place for a stroll, bike ride, or our favorite activity – a picnic!
Pisa
Yes, Pisa's got the Leaning Tower, but that's not the only reason to go.
Just a half-hour's drive southwest of Lucca, Pisa reached the height of its dominance in the 11th to 13th centuries. Thanks to the stunning churches, palaces, streets and squares of the era, Pisa still feels like a medieval powerhouse today. Come on the last Sunday of June to see the Gioco del Ponte, a series of battles staged in medieval costume every year since at least the 16th century. And, okay, the Leaning Tower is pretty cool, too.
Another great reason to stay in Pisa? The city has a fantastic dining scene! Don't miss the best restaurants in Pisa, brought to you by our food-loving friends at Devour Tours.
Insider's tip: Visit the Leaning Tower in the evening, as the sun's just setting and after the tour buses have gone. You'll have the tower almost to yourself.
Montepulciano
A wine-lover? Add this to the list. Not a wine-lover? After visiting, you will be.
Montepulciano is another one of our picks for the best places to stay in Tuscany. It's biggest claim to fame is its Vino Nobile di Montepulciano, a DOCG-rated wine that's been consumed since the Middle Ages and is considered one of Italy's best. You could spend a whole afternoon here wandering the small town's medieval streets and taking advantage of the free wine, meat, and cheese samples offered in the stores, but don't miss the town's smattering of lovely palaces and churches, either.
Then again, if you do spend your whole time in a wine shop, you're in good company: After Henry James left Montepulciano, he said he struggled to recall the details of the town… because he'd spent all his time drinking!
Montalcino
Smaller than Montepulciano (at some 5,000, its population is about a third of Montepulciano's), Montalcino also is less touristy, even though its claim to fame is similar: It produces Brunello di Montalcino, often considered to be Italy's best wine. Other than that, the town's top boast is its Museo Civico e Diocesano d'Arte Sacra, with a wealth of medieval and Renaissance works surprising for the town's size. There's also a majestic 14th-century castle, still complete with a public park and walk along the ramparts.
Arezzo
This town served as the backdrop for scenes from Life is Beautiful, and when you come here, you see why: The historic center of Arezzo is lovely and unspoiled. Its tranquillity belies a powerful past that included being one of the 12 Etruscan capitals and then, in the Middle Ages, a wealthy independent republic.
Now home to nearly 100,000, it's a hot spot for art and culture lovers. Arezzo's Church of San Francesco boasts a great cycle of frescoes by 15th-century master Piero della Francesca. Vasari's frescoes in the Casa Vasari (Via XX Settembre, 55) depict an artist's life journey, and the Archaeological Museum (Via Margaritone, 10) displays numerous ancient finds. Perhaps it's not surprising that Petrarch, the "father of humanism," was born here in 1304.
Cortona
After Frances Mayes wrote about living here in Under the Tuscan Sun, Cortona, home to some 22,000, wound up indelibly on the tourist map. That means day-trippers aplenty.
Still, we think this town, located smack in the middle of Italy, remains well worth a stop for a day or an afternoon. The views alone are gorgeous, spreading from this dramatic hilltop town over the rolling countryside and Lake Trasimeno. And there are lots of worthwhile sites, like the Museo dell'Accademia Etrusca, chock-full of ancient Etruscan gems from the nearby area.
And towns aside… don't miss our video of Tuscany's gorgeous countryside, below!