For a more off-the-beaten-path experience in Tuscany, head 20 minutes north to lovely Lucca, known for its charming piazzas, ancient walls and quick access to some of the region's most beautiful beaches.
Here are 6 reasons why visiting Lucca makes for the perfect Tuscan vacation!
1.  Romanesque Churches 
Similar to the style of Pisa's iconic duomo and bell tower, Lucca boasts several romanesque churches constructed from gorgeous white and grey marble. Started in the early 1000's, Lucca's San Martino cathedral is home to the volto santo (holy face), a crucifix believed to have miraculously completed the design of its face overnight while the artist was sleeping. For more romanesque architecture while visiting Lucca, be sure to check out San Michele in Foro and San Giovanni.
2. Take Walks Through Centuries of History
Not only does Lucca have lots of charm… it also has lots of history! The city's Roman walls enclose centuries of art and architecture, with many characteristic piazzas and older buildings. Music lovers  flock to Lucca for the famous Piazza dell'Anfiteatro, an ancient Roman amphitheater converted into a perfect oval piazza with amazing acoustic, and to visit the historic birthplace of composer Giacomo Puccini.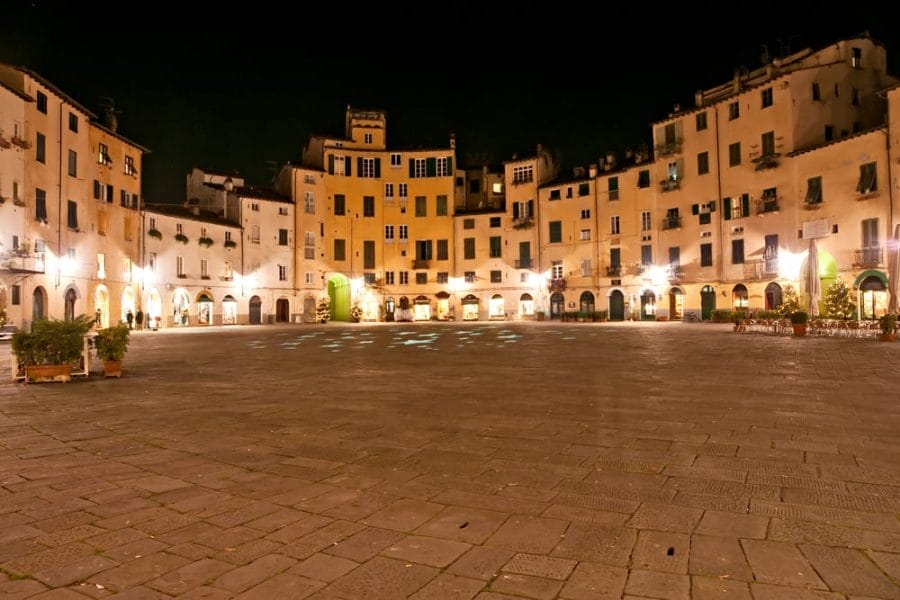 3. Less Tourists and Lower Prices
When tourists dream of Tuscany, they typically head to Siena, Pisa and Florence, unaware of the gems found in Lucca. With less crowds and fewer tourist traps, visiting Lucca is a more authentic experience. Plus you'll avoid hotels and restaurants well-practiced at ripping off travelers – so it's cheaper too!
4. A great base for Tuscan travel
Easily reachable from major Tuscan cities by bus and train, Lucca is the perfect "home away from home" for travel in the region (and beyond). Its idyllic location is close to Viareggio and the nearby beach resorts, as well as the lush countryside for picturesque panoramas and wine tasting. Learn more about our tours in
Florence & Pisa
 and the
Tuscan countryside
, perfect for half-day and/or day trip excursions.
5. Lucca serves up some of the best food in Tuscany
Cucina lucchese (cuisine from Lucca) is considered to be some of the finest food in the region – and usually served cheaper than many restaurants in Pisa. Look for these specialities for an authentic culinary experience: tortelli (pasta stuffed with meat, vegetables and cheese topped in a meat ragù sauce), garmugia (bean soup with pancetta and vegetables) and the unique torta coi becchi dessert pie made with rice, swiss chard, parmigiano cheese, sugar and spices.
6. An ideal place to get lost!
Many who visit Lucca say the best thing to do in the city is just explore! That means getting lost inside the walls of the ancient city along the narrow and winding streets, all while getting a feel for the beautiful Tuscan city. With very few hills, Lucca is great for a long stroll or bike ride.