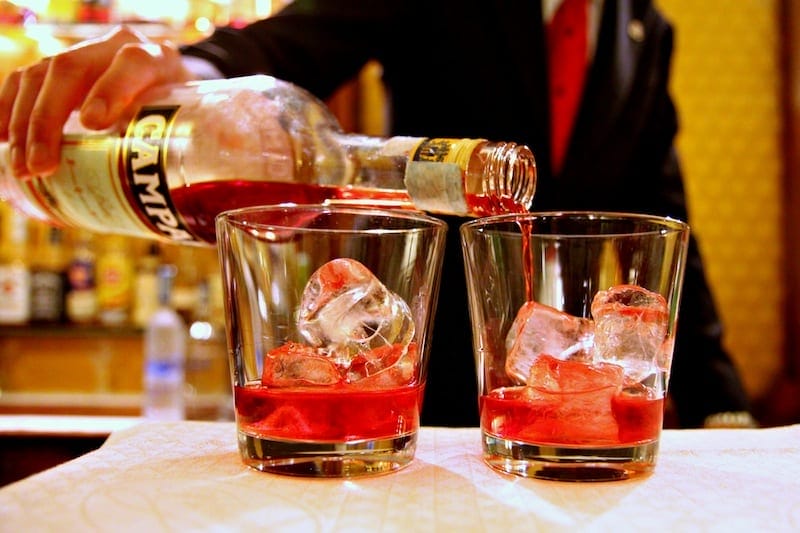 Aperitivo in Italy: What it is & How to Enjoy One
July 28, 2023
"When in Rome, do as the Romans do" is one of those maxims that tends to come in handy wherever you go, but it's especially informative in Italy where local festivals, seasonal eating, and a more relaxed pace of life are important parts of the culture. You can certainly visit without adopting any local habits and customs during your stay, but we don't recommend it. Perhaps our favorite Italian tradition is the aperitivo, a drink/light meal that takes place at the end of the workday as a kind of warm up to dinner.
Despite the intensely regional character of Italian culture, this is one observance, along with Sunday mass and soccer, that you will find in almost every single town and city in the peninsula. If you don't take part when you visit you are missing one of the quintessential cultural expressions of Italy, not to mention the best way to enjoy the sunset.
What is aperitivo?
An aperitivo (or apéritif) is often described as being similar to the American happy hour, but in reality, it's much more than that.
Today, the simple drink has evolved and spread south to encompass those glorious couple of hours all over Italy – generally between 7pm and 9 pm – when Italians meet to relax over a glass of wine or a light cocktail and finger foods. Since most people eat lunch around 1 or 2pm, and dinner around 8 or 9 pm, it's also a good way to kick start metabolisms and work up an appetite for dinner.
For visitors, hitting up an aperitivo bar can be just as useful. It's a great way to experience local culture, to people-watch, to unwind with a drink after a long day of sightseeing… and to take the edge off your hunger while waiting for that 9pm meal! 
The food for an aperitivo is not supposed to replace your dinner (but it can)
Traditionally aperitivo cocktail options tend to be light on alcohol and bitter on taste, meaning they pair perfectly with salty snacks. Appetizers and other light fare should be provided as long as you are drinking, though the types of foods vary immensely from cheeses and cured meats, to quiches, vegetables, pizzas and even small plates of pasta. The idea is to nibble, but many young Italians and other tourists have begun to use the aperitivo in lieu of a dinner, filling up their plates multiple times to satisfy hunger.
This is perfectly acceptable but not really the point of an aperitivo, assuming you aren't on a tight budget. Before taking too much food and being seen as a rude tourist, observe what the others are doing. Some bars put out enough food to feed a small army, and don't mind multiple trips back or plate-sharing, but in general one drink means one plate of food. If you want more food, you'll need to buy another drink.
Aperitivo is originally a northern Italian tradition
Like all Italian food customs, the style of your aperitivo will depend on where you are. Milan is, hands-down, the best place for an aperitivo in Italy. This is where the bars are buzzing and the selection of both food and drinks for aperitivo is excellent. The Milanese even have their own version of the aperitivo creation story, only theirs replaces Antonio Benedetto Carpano with Gaspare Campari, the inventor of another popular apéritif, the eponymous Campari.
The farther south you go, the harder it is to find a 'proper' aperitivo in the sense of a bar that serves a buffet at a set time every day—but the trend is catching on. Rome, Florence, Naples, and Venice all have aperitivo scenes, even if the Milanese might scoff at them, and many of the establishments are very lively and great for people-watching in the evenings!
Don't expect happy-hour discounts but do expect a good deal
You don't get a discount on drinks during aperitivo like you might during an American happy hour. Prices vary, of course, but they're generally fixed at around €8 to €10, no matter what drink you order. For that price you can enjoy a couple hours out and a "bonus" of a plate of snacks or access to a buffet of food. After you've ordered your drink feel free to move up to the buffet, grab a tiny plastic plate, a fork and a napkin and take your pick.
How to enjoy your aperitivo
Aperitivi come in one of two ways: either buffet-style, where you fill your plate with the food you'd like, or a one-size-fits-all plate of various fare that they will bring out to you along with your drink. Typically, someone will seat you and take your drink order. You don't have to drink alcohol in order to take part in the aperitivo, but you do have to order a beverage of some sort if you want to eat. Do yourself a favor and try something beyond a typical soda. After you order you're officially free to fill up at the buffet, if there is one. You'll be expected to pay as soon as they bring out the drinks. This is to eliminate confusion or, when the locale is packed, ensure that everyone pays.
Any time from about 7pm until 9 pm, aperitivo hotspots will be busy to overflowing. Window shop for the one that best suits you. Some search for a spot with the best food, others do as the truly chic do and go for the best cocktails. Aperitivi are offered in most bars in Italy, but choose wisely: do you want a down-to-earth place with piazza seating or the glamorous views of a rooftop bar? Hotels and designer bars usually offer special twists on classic cocktails, as well as the ritzy atmosphere to match, but the choices are endless.
Unfortunately, touristy areas are bound to have some tourist traps and they can be difficult to identify, but there are some things you can do and look for to avoid the typical tourist traps as much as possible. First, look at the price – anything over €10 is only acceptable if it's super ritzy, a special location (Duomo-view seating or five-star hotel), or has very particular cocktails. Whatever you do, don't be rushed into sitting down. Most locales will have a "host" standing outside inviting you in. It's perfectly ok to acknowledge them with a nod then ignore them while you look at the atmosphere, food, and menu. If all three seem appealing, ask to be seated and settle in to enjoy a great cocktail and a night out with friends!
What to order for your aperitivo drink
While wine is common, aperitivo hour is the perfect time to try a classic Italian drink, like the bitter Campari or the slightly less bitter Aperol. Both are fantastic mixed with soda, or in a slightly sweeter Spritz (sparkling wine, soda, and Campari or Aperol).
If bitter brews are right up your alley, Italy has a whole class of them called amaro. The most unique (and bitter) is Cynar, which is flavored with artichokes. For more info on Italian bitters and amari, you can pop over to the Tasting Table for the full lowdown.
If sweeter tipples are more your style, opt for the classic Martini Rosso or Martini Bianco. Both of these are types of vermouth, which have alcohol concentrations around 15%, as opposed to the famous martini cocktail which includes vermouth but is mostly composed of straight gin or vodka, making it a much more potent potion.
If you're after something with more of a punch that is still very Italian, you have to try a negroni, Italy's most famous classic cocktail. It's a sort of dark martini with gin, campari, and red vermouth. If that's a little too lush for you but you still want something with a bit more kick than the average spritz, try a negroni sbagliato, or "broken negroni" which replaces the gin with prosecco.
Update notice: This article was updated on July 28, 2023. 
Join our evening food tours in Rome, Florence, or Venice to experience a real Italian aperitivo with a local!