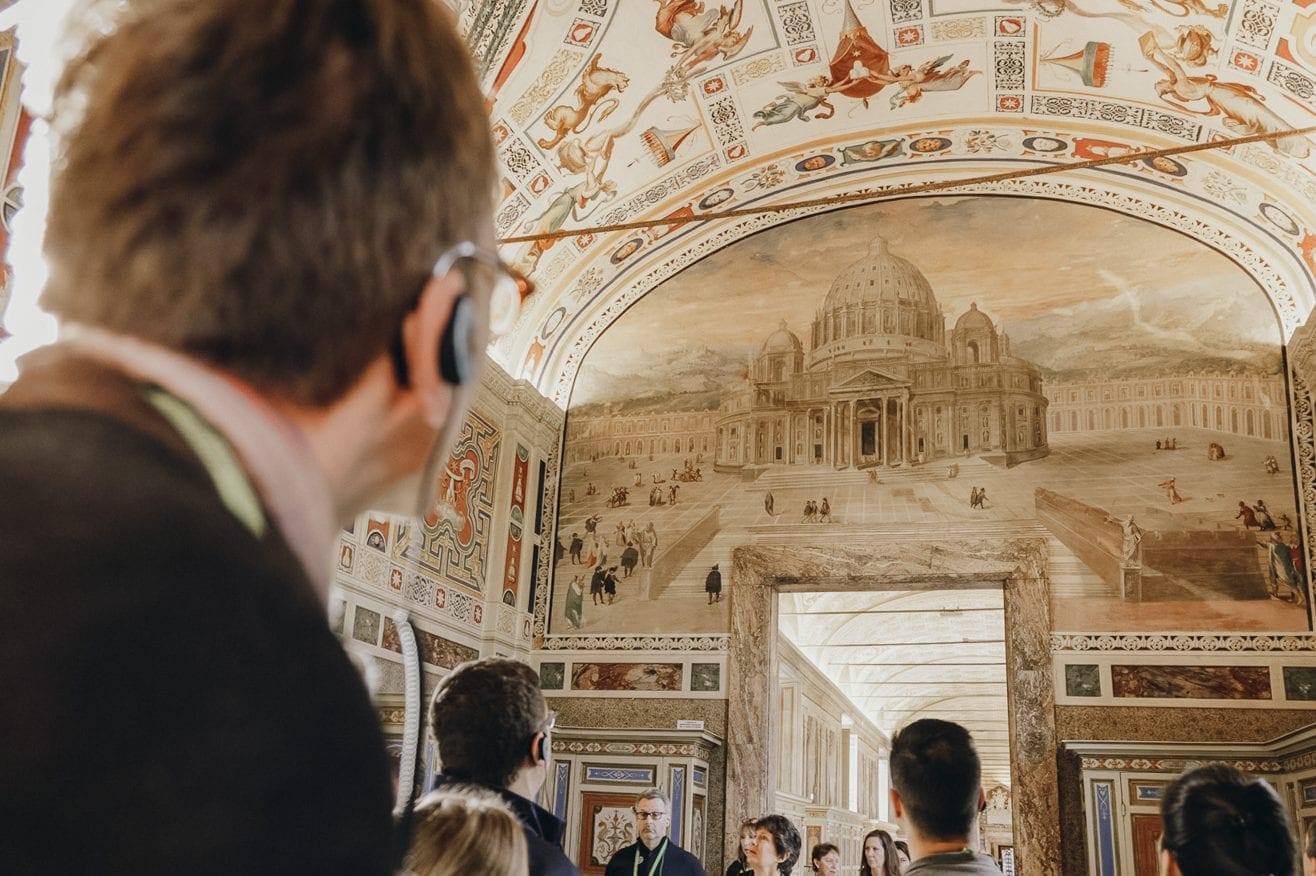 The Biggest Mistakes When Visiting the Vatican – and How to Avoid Them
August 25, 2023
Planning a tour of the Vatican? With so much to see it can be tempting to dive straight in without a second thought. Every year, thousands of visitors flock to Vatican City to experience one of the most significant religious sites in the world. Numbers soar well into the tens of thousands during the summer months, and are always high on Mondays and the last Sunday of every month. But with so much to take in, it's essential to plan ahead when visiting the Vatican.
What not to do when visiting the Vatican
Of all the sites in Rome, a trip to the Vatican is perhaps the one that takes the most planning and consideration. From the entrance lines, tickets, and dress code, to whether or not to book a guided tour, planning a trip to the Holy City can be disorientating even before stepping into the hallowed halls.
But trust us, it's worth the effort!
To steer you straight, we've complied a list of some of the biggest mistakes people make when visiting the Vatican – and how you can avoid them.
Arriving at mid-day
Numbers visiting the Vatican can reach as high as 20,000 per day. With ticket lines often snaking around the walls, it's best to get there early. The Vatican Museums opening times are 9am to 6pm Monday to Saturday and we recommend getting there when the doors open – if not a bit earlier to allow for delays.
Luckily, the Vatican is pretty easy to reach, which means you won't have to spend hours planning a route. Bus 49 stops outside the entrance to the Vatican Museums or simply hop on the Metro (Line A) and get off at Ottaviano or Battistini – both of which are approximately a 10 minute walk away.
Alternatively, you could plan a visit later in the day when the crowds have thinned out (and – if you're visiting during the summer – the heat has cooled down). Although the Museums officially closes at 6pm, keep in mind that the last entrance is at 4pm. The Vatican also opens for extended opening hours during the summer months which you can take advantage of on a very special Vatican at Night tour.
Not buying tickets in advance
If there's one thing you should do when visiting the Vatican it's buy tickets in advance. The best place to do this is on the official website.
How far in advance should you purchase your tickets? Ideally, aim to reserve your tickets as early as you know when you'd like to visit. (This will also make planning the rest of your trip easier). Occasionally you can be lucky and find last-minute availability for the next day. Other times, they can be sold out for the entire month. Don't take any chances – buy your ticket in advance. 
Dressing inappropriately
You've waited a long time to get inside the Vatican – don't risk being turned away because you weren't dressed the part! The Vatican operates a strictly enforced dress code, but it's not difficult to follow once you know what to avoid.
The official website says that only "appropriately dressed visitors" will be allowed to enter the Vatican Museums, Sistine Chapel, and St. Peter's Basilica. They explicitly state that low cut, sleeveless clothing, shorts, miniskirts, and hats are not considered appropriate. Of course, if you're visiting during summer, when temperatures in Rome can soar, this is easier said than done. What's more, it can often be left to the interpretation of the guards stationed at the entrance.
Our advice? Keep shoulders and knees covered, opt for lightweight materials, and consider bringing a scarf or wrap so you can cover up inside (you can take it off if it gets too hot later in the day). Also beware of inappropriate slogans or graphics on clothing – you may not find them offensive but if you think they may not be suitable for a religious site, leave them at home.
Trying to see everything
This one goes hand-in-hand with not booking a tour. Usually, people who are visiting solo rush through the museums, trying to fit everything in at once. Remember, this isn't a test – so don't try to cram! Not only is this a poor strategy to appreciate the real beauty that lies within the Vatican, but it's sure to result in a stressful visit.
There are a number of iconic parts of the Vatican that you should take your time with such as Michelangelo's Pietà in St. Peter's Basilica and, of course, the ceiling of the Sistine Chapel.
That said, there are also hidden gems within the Vatican that are worth taking the time to absorb. Find out what you're most interested in seeing and divide your time up accordingly. For example, most people tend to bypass the Borgia Apartments – but this is one you won't want to miss if you're an avid history buff (or just a fan of the Showtime series!).
Visiting during peak season
Sometimes this one is unavoidable. But if at all possible try to schedule your visit in the off season. Not only will you find the Vatican more manageable without the crowds, it will also be easier to follow the dress code when the temperatures cool down. Plan a winter visit to the Eternal city between October – Mid December for a calmer atmosphere, or February – March before the summer kicks off.
In a similar vein, it's worth noting that a Papal audience is held every Wednesday. This is a ticketed event where the Pope addresses the crowd in St. Peter's Square with a speech, blessings, and homilies, and can attract thousands of attendees. As a result, St. Peter's Basilica is closed every Wednesday morning while the general Papal audience is in the Square (it re-opens at approximately 12:30pm). So overall, it's a good idea to keep the general Vatican schedule in mind when planning a visit.
Going on a Sunday… or a Monday
The Sistine Chapel and the Vatican Museums are closed every Sunday, with the exception of the last Sunday of every month when entry is free. While this might come as welcome news if you're on a tight budget, it also means it is far busier and, with no option to pre-reserve a ticket, you could end up waiting in line for hours to get inside.
Most museums in Rome tend to close on Monday, which makes museums that remain open (like the Vatican) particularly popular. One of the attractions closed on Monday is the often-overlooked Castel Sant'Angelo, which sits above the Tiber River. The striking fortress is steeped in history but is also easily manageable within an afternoon, and with a nearby location so it makes a great pairing with a visit to the Vatican. Instead, use Monday to see an off-the-beaten-path attraction in Rome and save the Vatican for Tuesday – Friday.
Not booking a tour
Okay, we might be a little biased on this one, but hear us out. It may be the smallest country in the world but at 110 acres, the Vatican still has a lot of ground to cover – especially in one visit. The palace has an estimated 1,400 rooms, chapels, and galleries, all filled with beautiful paintings, impressive sculptures, and stunning architecture. This can make it difficult to know what to prioritise.
Unless you're planning to do some serious research ahead of time, trying to see all of these magnificent pieces without any real context can be a little like trying to read a map without a legend. So it's worth taking the time to research what tours are on offer.
Update notice: This article was updated on August 25, 2023. 
Walks of Italy have a number of Vatican tours to choose from – from our early-access Pristine Sistine Tour™ to a comprehensive Complete Vatican Tour.