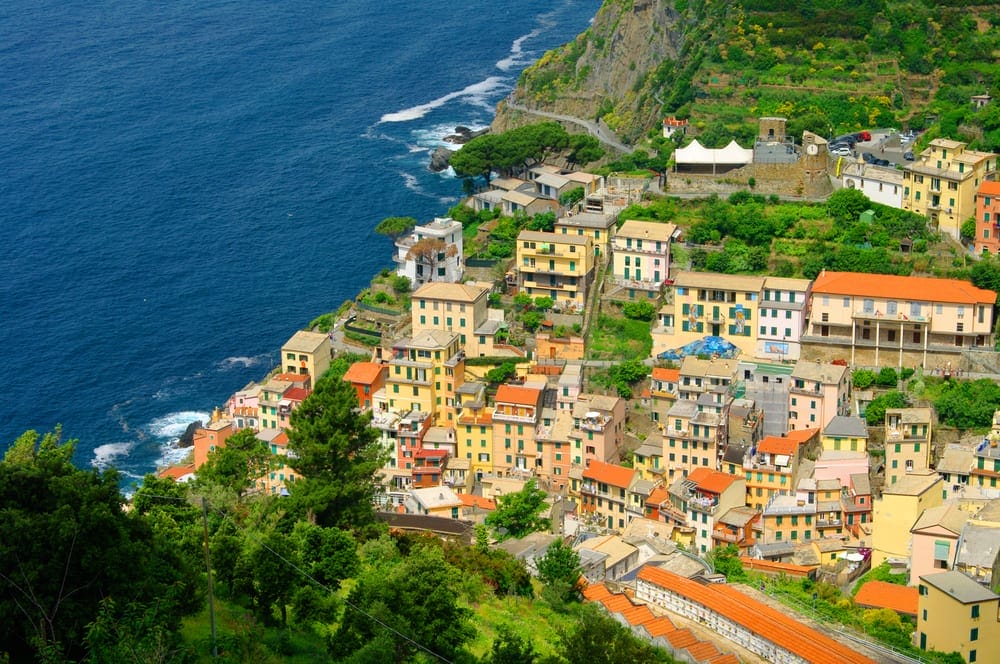 Navigating Cinque Terre Trains: A How-To Guide
July 7, 2023
You've bought your flights, booked your hotels, and made the excruciating choice between the Cinque Terre and Amalfi Coast (or if you still need help with that, check out our blog on how to decide between Italy's most popular coastlines) – you're going with the Cinque Terre! Now you just need to find out how to get there and get around when you're there. We're here to help!
Even though the Cinque Terre is famous for its hiking, you might not always want to hoof it from one town to the next. That's especially true if you're short on time, since several of the hiking paths take 2 or 3 hours. (Not to mention can be difficult, risky, and even closed!). Driving between these seaside towns, on the other hand, simply isn't an option. That's where the train comes in. Walks of Italy also offers a day trip to Cinque Terre from Rome, for a taste of this beautiful region on a fully-guided tour by high-speed train.
Taking the Cinque Terre train is easy, but if you're trying to figure it out for the first time—especially from far away—it can look more complicated than it is. Here are some of your most common questions, answered! (And here's our guide for figuring out train travel in Italy in general!).
Where does the Cinque Terre train line go?
The Cinque Terre trains connect six stops: La Spezia (just to the southeast of the Cinque Terre, and the main transport hub for the area), the "official" Cinque Terre towns of Riomaggiore, Manarola, Corniglia, Vernazza, and Monterosso, and the town of Levanto, in that order.
I'm coming from somewhere else in Italy, like Florence. How do I connect to the Cinque Terre train line?
Usually, you'll have to connect in La Spezia. This station near the Cinque Terre is connected to cities across Italy, including Florence, Milan, and Venice (although in some cases, you'll have to switch trains en route to La Spezia, as well).
But you don't have to book your tickets to La Spezia, and then on to your chosen Cinque Terre town, separately. Instead, just plug in your starting point (say, Florence) and destination (say, Monterosso) on Trenitalia. The resulting page will tell you exactly what route to take (and where to switch trains). If you don't opt for Trenitalia, why not try easy-to-use ItaliaRail? It provides 24/7 English-speaking customer service, facilitates multiple currency options and allows you to purchase tickets for up to 20 passengers in one booking. Oh, and it has a VIP Lounge in Rome Termini Station!
How long does it take to get between towns in the Cinque Terre on the train?
From La Spezia to Riomaggiore is 10 minutes. And between the actual Cinque Terre towns, it's less than 5 minutes.
How often does the train run?
Ah, now that's what makes this harder. The train doesn't run very often—in fact, generally once an hour. Here's the timetable for the Cinque Terre train for 2015, although it's worth double-checking on the Trenitalia site for the most up-to-date information.
How expensive is it, and can I save money with a day pass?
Like most local trains in Italy, it's very cheap between close stops. Vernazza to Corniglia, for example, costs €1.80. However, to save a little bit of money – and to avoid having to constantly buy, and validate (more on that later!) your tickets – you might want to get a Cinque Terre card. The card includes unlimited train travel on the whole Levanto to La Spezia line, as well as access to all hiking paths and some museum entrances. It costs €10 for one day or €19 for two days, and you can buy it at any of the area's train stations.
How do I validate my train ticket?
We're so glad you're asking! Because the train tickets you buy aren't time-stamped, they'll need to be before you get on the train – so that, if you're checked, the conductor knows that you haven't used the ticket more than once. You can do this at one of the validation machines located on the train platform (they're small and yellow). Just slide the narrow end of your ticket into the slot in the machine and wait until you hear it stamp your ticket.