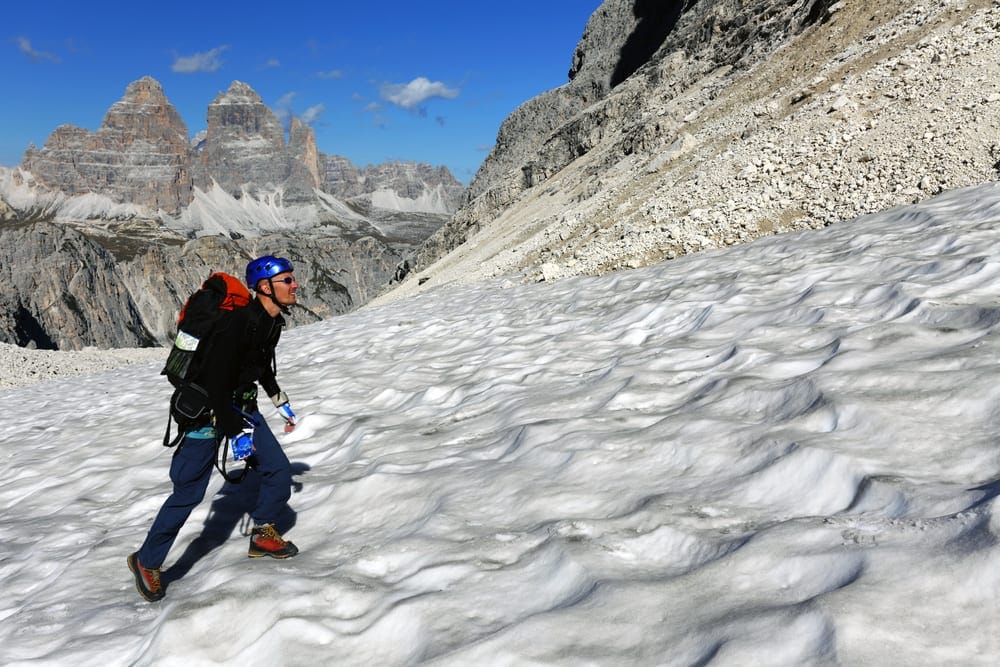 4 Best Hikes in Italy: Cervinia, Bocca di Brenta Pass & More
July 25, 2023
We've found that walking in Italy is one of the best ways to get off the beaten path and experience the country's charms. Luckily, Italy's most beautiful parks, mountain ranges, and nature reserves are criss-crossed with hiking paths and trails. And you don't have to be an athlete to enjoy them! Keep reading for our picks for the very best hikes in Italy.
Italy's paths include everything from strenuous trekking in the Alps and Dolomites, to tranquil countryside walks in Tuscany and Umbria. One favorite, of course, is the Cinque Terre. If you want to hike is famous trails check out our guide to hiking the Cinque Terre. But it's not the only great region for hiking (and in fact, in the high season, the paths are so crowded they can be risky and unpleasant). Here are four of our other favorites!
nota bene: if you love the outdoors read our list of the best destinations for adventure sports in Italy.
Bocca di Brenta Pass (Dolomites)
The Dolomites are a mountain range that are also a UNESCO World Heritage site. Nestled into northeastern Italy, these stunning peaks are reachable from Venice, Verona or Milan.  As one of our 8 Italian places to visit before you die, It's no surprise that they boast some of the best hiking in all of Europe! Perks include paths for every ability (from wheelchair-accessible paths to routes aided by iron cables), public transportation to trailheads, lots of day hike options, and no dangerous wildlife. Vistas include everything from sweeping alpine meadows to funky-looking rock spires.
The Bocca di Brenta pass, one of our favorite areas here, has both a tough-hike option (some 8 hours, and requiring helmets, crampons and equipment) and an easy-hike option (just 2 miles long and about an hour's walk). It's at some 8,330 feet, so make sure you're prepared for the elevation.
If you go: Know that for overnight hikes you can't pitch a tent. You have to book a rifugio (refuge), and it's recommended to do so in advance. Popular trails can also get crowded in peak season.
Best time to hike the Bocca di Brenta Pass
Mid-June to early October is the best time of year to hike the Bocca di Brenta Pass.
Anello del Rinascimento, Tuscany (Florentine hills)
Did you know the area around Florence has some beautiful hiking? The paths in the Anello del Rinascimento, or "Renaissance Ring," aren't particularly tough. (They're also great for cyclists!) These head through Tuscany's rolling hills and past little medieval towns, monasteries, castles, and churches. Talk about a different kind of day trip from Florence!
One of our favorite sections is the one from Calenzano to Vaglia. This section is 12.5 miles long, with both easy and medium sections, which makes a perfect day hike; it starts at the castle of Calenzano and heads past olive orchards, medieval churches, and inns. A gentle, upward climb, it also offers views of Tuscany, Florence itself, and even of the distant Apennines. For more places to visit on your walks, check out our guide to the best towns in Tuscany.
What to know: This is more of a gentle stroll than a strenuous hike. Much of it's unshaded, so bring your SPF. A lot of it also follows the normal (but quiet) road.
When to hike the Anello del Rinascimento
The best time to hike this area is from March to November – unless you want to walk in your winter clothes!
Cervinia, Valle d'Aosta (Italian Alps)
Walk in the shadow of the Matterhorn at Cervinia, just over the border from Switzerland. A popular ski resort in the winter, in the summer, it's tranquil and lovely, taken over by wildflowers, grazing cows, and the occasional hiker. Just don't be surprised to still see some snow on the glacier (these photos were taken in August!). It's also a great spot for skiing – if you prefer going down to going up, check out our list of the best ski destinations in Italy.
There are lots of hiking options throughout the region, but one of our favorites, pictured here, starts at Breuil-Cervinia, heads to Plan Maison, and circles around aqua-blue Lago Goillet; it covers about 8,885 vertical feet and nearly 14 miles. (Plan Maison itself is at 8,350 feet, so be prepared for the elevation.) For an easier and shorter hike, take the gondola up to Plan Maison and start from there.
If you go: Remember that up here, it's cold year-round, so dress accordingly! If you're planning on hiking higher than the path here, bring appropriate equipment for snow and ice. Cable-cars and chair-lifts, many of which run in the summer, are a good way to make a tough hike easier.
Best time to hike in Cervinia
With beautiful weather most of the year, the best time to hike Cervinia is from mid-June to early October.
Sentiero degli Dei, Amalfi Coast
You don't have to hike in the Cinque Terre for spectacular sea views. In fact, some of the prettiest seaside trails in Italy are actually along the Amalfi coast! Hiking the Amalfi coast is also a great way to get away from the crowds that tend to cluster in the towns, especially Positano and Amalfi, during high season.
The most famous trail, the Sentiero degli Dei, starts from Bomerano, a village at the foot of the mountains between Sorrento and Amalfi. It crosses an incredible gorge and passes vineyards and caves… not to mention takes in breathtaking views to as far as Capri! The whole path takes about 4.5 hours, and has easy and moderate sections.
If you go: Know that, if you don't want to do the entire path, you can cut it short by taking a bus from Nocelle to Positano or Amalfi. You also don't need a car to get to the trailhead at Bomerano, but can take a bus instead. The path can get a little crowded in high season.
Best time to hike the Sentiero degli Dei
March to November is a great time to hike the Sentiero degli Dei. However, to see the trail at its most tranquil, go before Easter or after October.
Whether you're hiking the Dolomites or visiting the Vatican, we want to help you experience Italy like a local. Check out our full offering of walking tours guaranteed to help you get so much more out of your travels in Italy.