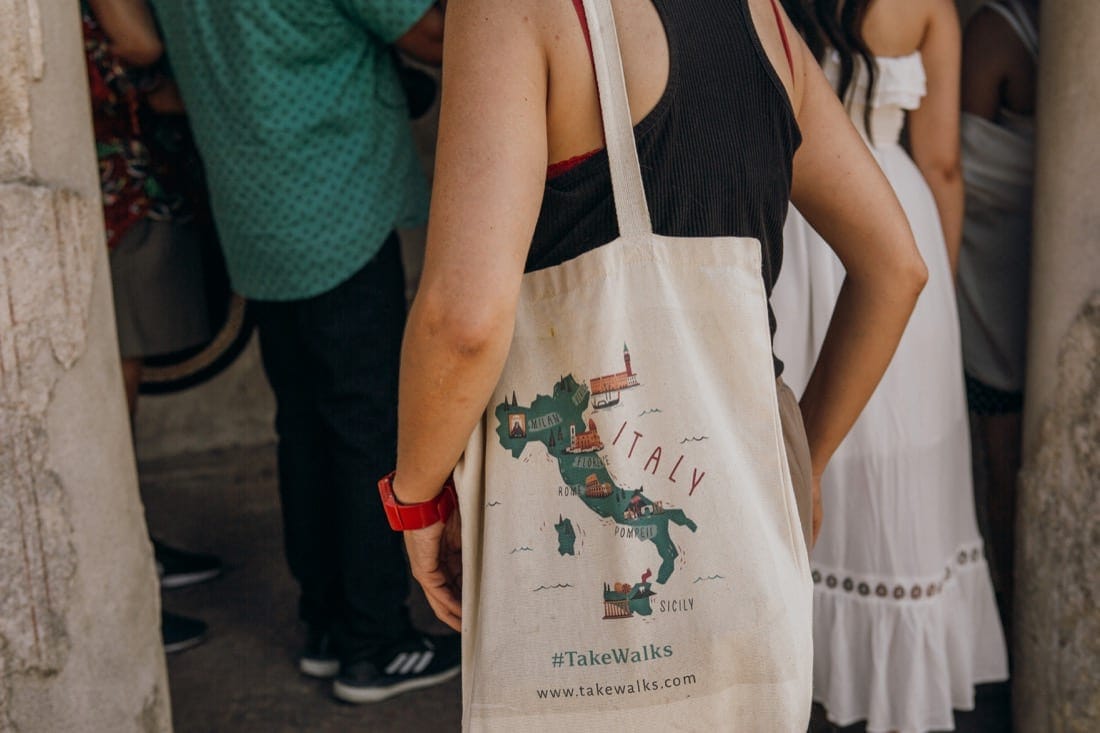 Ecotourism In Italy: Our Top 10 Ethical Travel Tips
September 12, 2023
It's no secret that at Walks, we're passionate about promoting sustainable travel and ecotourism in Italy. Our tours support the hallmarks of responsible travel, like getting off the beaten path, promoting local businesses, walking whenever possible, and increasing cultural awareness.
But taking a tour with us is not the only way to 'go green' and support local! If you love Italy and want to make your trip as beneficial for the country as possible, here are some tips to use in your sustainable travel plan.
How to be an eco-friendly tourist in Italy
Avoid fast food
Choose to eat local, organic produce instead. If you're not too confident about the food in a new city, opt to take a food tour with a local guide who can show you some of the best spots to try during your stay. Even more importantly, your guide can help point out which tourist traps to avoid!
Don't print your travel documents
Where possible – for flights, tours and hotel stays – avoid unnecessary use of paper by keeping your documents downloaded to your phone.
Carry reusable water bottles at all times
Avoid purchasing plastic water bottles when traveling. Fill up at drinking fountains or ask a member of staff to top you up before you leave a cafe, restaurant, or hotel. Where unavoidable, choose glass bottles or opt for larger plastic bottles instead of smaller individual ones.
Reuse your hotel towels
This one is pretty straight forward and requested by most hotels over the world; help to reduce water waste by reusing your towels.
Seek out lesser-known areas
As well as visiting the highlights of a city, try to seek out some of the lesser-known neighbourhoods to spend an evening somewhere different – or get out of the city for a few hours completely (e.g. take a trip outside Rome for an alternative look into the lives of the Popes, or visit an authentic working farm outside of Florence on a day trip to Tuscany).
Separate trash in your hotel room
 While most hotels around the world ask you to consider reusing your towels, many don't offer guidelines on waste disposal. Nevertheless, make it easier for staff to recycle by separating your general waste from your paper and plastics. And always set glass to the side.
Say no to takeaway coffee
One thing many tourists will notice about Italy is that locals don't zoom around in the morning clutching a paper coffee cup. However, recent visitors may have noted that takeaway coffee is slowly springing up as an option in some cafes. Enjoy your coffee at the bar – it's more of an authentic experience, anyway!
Travel slow
Take your time getting to know a city and spread out your time there. Visit the most popular areas just once if possible, following rules the city has set out. For example, think twice about buying lots of little plastic souvenirs and DON'T attach love locks to bridges.
Use public transportation
We're huge fans of public transportation, such as using buses and trains to get around Italy. But remember, when possible, getting around on foot is best!
Think ethically at attractions
Major attractions often feel the brunt of over-tourism, however nobody should feel bad about wanting to visit the smallest country in the world, or for dreaming of walking through the Gladiator's Gate: Special Access Colosseum Tour with Arena Floor. There are ways however of treading lightly; Don't litter (of course), get to know, and respect, the history of the attraction by taking a tour with a local, professional guide or opt to see the attraction out of hours (such as being alone in St. Mark's Basilica after-hours).
Update notice: This article was updated on September 12, 2023.