Sustainable Tourism: Local, Responsible Travel with Walks
April 19, 2023
Whether it's down to the convenience and accessibility of modern-day air transport, the unending daily inspiration we're fed across our social channels, or simply an inherent curiosity for life outside 'the daily grind', more and more of us are taking the opportunity to see the world; travelling to all new destinations to experience different cultures and to explore the history of some of the world's most beautiful places.
But with great travel comes great responsibility.
What is sustainable tourism?
Call it what we may — responsible, sustainable, tourism; ethical, eco-friendly globe-trotting or, to give it it's more trendy term; 'slow travel' — many of us are looking at ways to ensure we're doing what we can to tread carefully when we visit new places.
It's something that the staff at Walks are particularly passionate about and, in celebration of World Tourism Day, are currently reflecting on.
"Personally, I think because we are working in travel we have an even bigger responsibility to travel responsibly, " says Nastja Konic, London Guide Manager. "We have to ensure that future generations are given the chance to enjoy all of this beauty as well!"
Promoting responsible travel
So how does Walks promote responsible travel?
One of the major ways the travel company encourages slow, responsible travel and sustainable tourism is by choosing local guides whose raison d'être is to encourage visitors to develop a real connection with a city. By taking in its history, its attractions, its people, and its culture to heart, many of us develop a true affection for the city and its residents and culture, both past and present.
"We're proud that our customers want to seek out more than what's on the surface," says Stephen Oddo, CEO and co-founder of Walks. "They're not simply checking landmarks off a bucket list, they're really soaking in every element of the city they visit, hearing its story firsthand from a local, and choosing to dig deeper with our tours. We like to help visitors to make a real connection with a city, its people and its history — that in turn encourages respect for a culture, and promotes the idea of slow, responsible travel."
Some other ways Walks aims to support sustainable travel include:
Operating in small groups – the average group size of a Walks tour is about 15!
Employing local tour guides… who offer a real connection to the history and culture of an area.
Offering an alternative take on well-known attractions – many of our tours take place outside normal hours (such as the Colosseum at Night and After-hours at St. Mark's Basilica)
Promoting local food and wine vendors – our local food and wine tours and cultural experiences, like our famous pasta making classes, encourage people to go off the regular tourist trail and to try new ingredients and local produce offered by local merchants.
Using the latest technologies – our offices are moving towards being paper-free workplaces – and there are other inventive ways we're going paper-free on the ground.
Giving back to the community – Walks has supported local charities, restoration efforts, and sustainable travel organizations in many of our destinations. Some of these include: American Institute For Roman Culture, Equovento, Fondation Patrimoine for Notre-Dame, The Metropolitan Museum of Art, and The Victorian Alliance of San Francisco.
Eco-friendly travel tips from our employees
To celebrate World Tourism Day, we asked staff on the ground in some of Walks' amazing European destinations about the changes they've made to promote responsible tourism – plus their tips on how to travel sustainably in their cities.
Riccardo Bettella, Senior Central Ops Manager
'Reducing paper waste in Venice'
"Here in Venice, we stopped printing vouchers for attractions that utilise a barcode scanner and encouraged our guides to use those vouchers through their smartphones. It was a successful changeover – even the more 'technophobic' guides agreed with it!
"Our coordinators don't print the client list any longer for "easy" coordinations – they used a special easy-to-use coordinator portal Walks has developed on their phones! That's one small step for man, one giant leap for mankind!"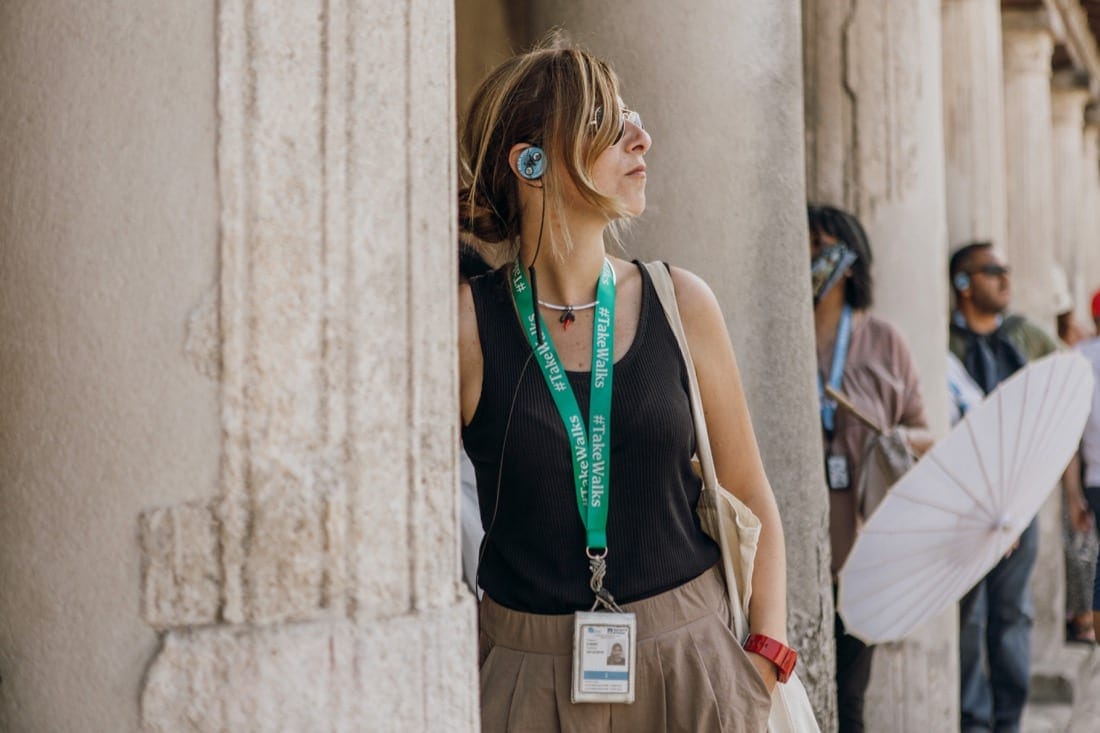 Our guides use a coordinator portal on their phones, which makes printed client lists a thing of the past.
Amehd Camacho, Ground Operations Manager, Paris
'Take walks!'
"I'd say the best tip for Paris is – walk! Paris is one of the smallest capital cities in Europe; it would fit into London almost 15 times over. Most of the major attractions are easily reached on foot and, since the streets of Paris are themselves a show, taking a stroll – or indeed a walking tour of Paris with a local guide! – is a wonderful way to get to know the city. It's such a tradition the locals have a word for it; to 'flâner'.
"My insider tips for visitors looking to connect with the city in a more eco-conscious way are: Go for the markets for food. There are several throughout the city each day and they're all full of organic and locally-sourced options. And for restaurants? Seek out those whose menus are written on a real blackboard, not just printed on one! This means they're more likely to change the menu regularly and feature seasonal and regional products. And finally, as in many of our European cities, carry a reusable water bottle everywhere. Access to clean water for all has been a priority for Paris since the time of Napoleon, and every café and restaurant will refill your bottle, free of charge."
We work with local food and wine vendors to support the local economy.
Anastasia Vasileiou, Product & Operations Manager, Athens
'Thinking local first'
"For me, breaking the mould, connecting with nature, culture and locals is the most important step when it comes to sustainable travel. At Walks in Athens, Greece, we hire local guides and tour coordinators who, by default, know the area intimately and can offer our guests accurate and concrete information on its history, culture and traditions.
"Another important aspect of our business is that we believe in paying a fair price for the excellent services and products of the local merchants and artisans we work with. Finally, when we need to travel around, our Athens team likes to support the local community by staying in small authentic family-run hotels."
We love supporting the local economy in all of our destinations.
Nastja Konic, Guide Manager, London
'Shop sustainably, and embrace the underground!'
"My one big tip for people travelling to London? Avoid driving! London has terrible congestion and you can be stuck in traffic for hours – not ideal for the environment by any means! Try to take public transport instead. The London underground is quite tourist-friendly, with lots of the main attractions located right beside the exits. There are maps to help you get around and once you don't get too swept up in the liveliness and take your time, you're sure to find it a bit of fun. We also have cycle hire bikes dotted around the city and you can hire them from as little as £2 per day.
"It's easy to get excited about the fabulous fashion in London but where you can, opt to shop sustainable fashion. There are plenty of eco-friendly boutiques dotted around the city. Visit independent boutiques and seek out local (upcoming!) designers – essentially avoid Oxford Street!"
We're proud to offer tours that take place outside normal hours, providing guests a unique way to experience major sights in a small group.
Emanuela Laguardia, HR & Culture Manager, Rome
'Watch for the signs!'
"When in Rome… carry a reusable bottle! There are fresh water fountains everywhere. Often tourists are unsure if the water is drinkable, but if it's not there is ALWAYS a sign saying it's not. Just don't fill your bottle up from the pool – go straight to the source!"