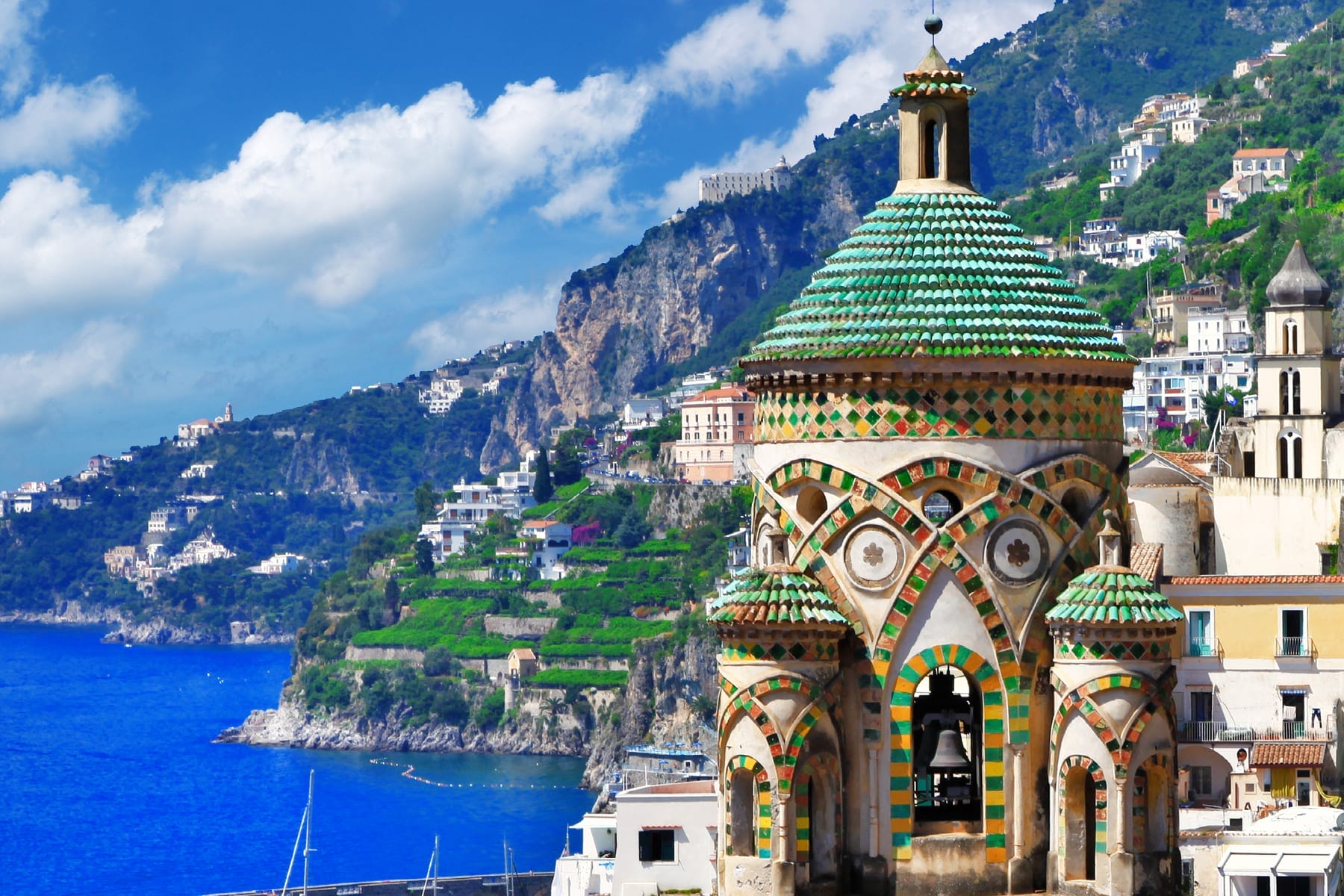 The Best Amalfi Coast Towns for Every Type of Traveler
February 21, 2023
Every year about 5 million people crowd onto the Amalfi coast to experience its UNESCO world heritage landscape and culture, sample its mouth-watering cuisine, and walk in the footsteps of celebrities past and present. While there is a lot to love about the Amalfi Coast (100 separate beaches, anyone?) it can also be one of the more crowded, expensive, and frustrating places to visit in Italy.  The secret to enjoying your visit here isn't going where your friends, or the guidebooks, told you to go – it's finding out exactly which of the numerous Amalfi Coast towns fits your style of travel.
Despite existing shoulder to shoulder for hundred of years, there is a surprising amount of variation between the towns on the Amalfi Coast. Do you prefer the hustle and bustle of Positano or the sleepy, laid-back vibe of Conca Dei Marini? Are you looking for a big, sunny beach like the one on Maiori, or would you be happier in the mountain solitude of Sant'Agata? Before you book that hotel, check out our guide to the towns of the Amalfi Coast to figure out which town is best suited to the style and price point of you Amalfi Coast vacation.
Sorrento
Sorrento is the official starting point of the Amalfi Coast and the easiest town to reach. This accessibility is both a blessing and a curse because it places Sorrento firmly on the Amalfi Coast itinerary of most day trippers – meaning its population swells to the bursting point during the summer high season.*
The positive aspect of this accessibility is that Sorrento is the perfect place to stay on the Amalfi Coast if you want to take day trips to Naples and Pompeii. Such excursions become more difficult the further along the coast you stay because the roads in an out are few and famously narrow. Any accident or breakdown can mean long traffic jams that waste your precious time. While it may be one of the busiest Amalfi Coast towns, it's busy for a reason, the location makes it the perfect base for a wide-ranging holiday in which you can visit many of the surrounding sites of interest.
Stay here if: You want to ease into your Amalfi Coast experience; you want to stay somewhere where most everyone speaks English; you want a strategic location for easy travel and day trips within the region; you don't have a lot of time on the coast; you want a mix between new world conveniences and traditional atmospheres; you want to day-trip from Naples or to Pompeii; you don't mind the crowds.
*It's worth remembering that Sorrento is substantially less crowded in the fall, winter, and spring.
Photo by Gina Mussio
Sant'Agata and Nerano
Sant'Agata (short for Sant'Agata sui Due Golfi) is a pretty hill town between two gulfs: the Bay of Naples with the imposing Mount Vesuvius and the Bay of Salerno with the Li Galli Archipelago. A bit off the coast, this tiny hill town has a great view of Capri as well. Visit the ancient Greek necropolis nearby, and the Monastero del Deserto, a Carmelite monastery that has been attracting travelers with its gorgeous panorama since Goethe visited in the late 19th century.
Just down the road is the fishing village of Nerano, whose beaches sit in the center of the Punta Campanella Natural Marine Reserve. Its rocky seabed and clear waters are a favorite among scuba divers, but be careful; according to Greek mythology, this is where the sirens sang to tempt Ulysses off course. Both Nerano and Sant'Agata are culinary wonders as well. Taste regional specialties like the  Sant'Anna tomato and Monti Lattari cheese, or if you want to go hyper-local, don't miss Nerano's legendary spaghetti with zucchini pesto.
Stay here if: You want to explore the Amalfi Coast with your taste buds; you're interested in ancient Greek history or archeology; you want to follow the footsteps of Ulysses; you don't mind being off the coast (if you stay in Sant'Agata); you want price options ranging from cheap to chic; you don't mind being outside the center of the action on the Amalfi Coast.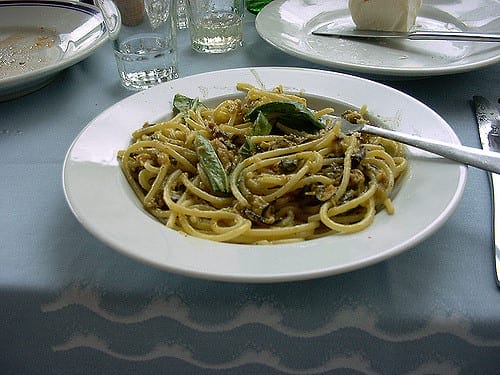 Photo by Pauline Kenny
Positano
Positano is perhaps best known for the pastel-colored houses that spill down its sheer cliffs into the sea. Though it makes for beautiful views, it also means a strenuous hike back up. They don't call it the "vertical town" for nothing: be prepared for a lot of steps!
Despite the inevitable workout involved in getting around it, Positano remains an extremely popular Amalfi Coast town, especially among the rich and famous. It's centrally located, has a beautiful, if small, sandy beach, and is bursting with life – especially nightlife – centered around the town's glamorous seaside bars, restaurants, and clubs. It's also one of the few towns on the Amalfi Coast known for its upscale shopping. That said, its popularity means that you'll have to contend with peak season crowds and perennially high prices – Positano hotels are among the priciest on the coast. Because of these factors, it remains the chicest place to take an Amalfi Coast Vacation, if not always the most tranquil or accessible. For more information on beautiful Positano, check out our insiders' guide—or explore it with us (during the high season) on a day trip from Rome!
Stay here if: You're want to vacation in luxury with a few A and B-list celebs; you want to shop; you're physically fit; you want to stay at a sandy (as opposed to rocky) beach; you're looking to splurge; you've come for the nightlife; your idea of an Amalfi Coast vacation includes those pastel-colored houses!
Praiano and Conca dei Marini
Located exactly halfway between Amalfi and Positano, tiny Praiano and even tinier Conca dei Marini are far too often overlooked. Much quieter than its two big sisters nearby, Praiano is generally considered the most romantic Amalfi Coast town due to its views – extending from the Bay of Positano to the island of Capri – and its gorgeous sunsets. The beach is also second to none, enjoying full sunlight from sunrise until sunset (a detail that is especially important to visiting Italians who can be found sunning themselves to the color and texture of leather handbags). The cherry on top is that Praiano is also a great base for hikers: the famous trail called the Sentiero degli Dei starts from here.
Conca dei Marini is home to just a hundred or so inhabitants living in cottages along the cliffs. These are the same cliffs that form the legendary Grotta dello Smeraldo or Emerald Grotto – a partially-submerged cave filled with beautiful, if somewhat eerie, green light. Despite being one of the smallest towns on the Amalfi Coast, Conca dei Marini has its very own dessert – the Santa Rosa sfogliatella. This unique treat, which sits somewhere between pastry and cake, was created in a monastery in 1600 and was so good that the recipe was kept secret for 150 years! Every August Conca dei Marini has a festival to honor it, but even if you can't make the festival this is one treat that is not to be missed.
Stay here if: You want non-stop beach time; you don't need to be near major transportation hubs; you want to soak in the small-town atmosphere; you're looking for the most romantic spot on the coast; you are on your honeymoon; you've come to hike; you want to explore the sea caves nearby.
Photo by pumaianoale via Flickr
Amalfi & Atrani
Amalfi is the largest town along the coast and one of the most popular towns to stay in after Positano and Sorrento. It's the perfect place to stay for those who want the luxury and beauty of Positano without the VIP nightlife/prices.
The town has a little something for everyone, with great pebble (and sometimes sandy) beaches as well as interesting culture and history. As one of the region's main maritime powers since at least the 6th century, Amalfi is packed with historical interest and beautiful medieval buildings—which, along with its delicious limoncello, make it a favorite stop on our Boat Hopping on the Amalfi Coast Day Trip from Rome. It's also smack dab in the middle of the coast – about 40 minutes from Sorrento in one direction and 40 minutes from Salerno the other – making it a perfect base for easy day trips to the island of Capri or smaller towns to the east and west. Just don't expect to have easy access to places farther afield like Pompeii or Naples.
Just a mile or two from Amalfi the tiny town of Atrani clings to the cliffside. The smallest town in all of southern Italy, its history and life are intimately linked to Amalfi – the two even share beaches! The sandy beach of Atrani is located directly across from the town. You can hop between the two towns' three main beaches during the day and explore their historic city centers in the evenings.
Stay here if: You're looking for an energetic daytime atmosphere; you want to be right in the middle of the Amalfi Coast for easy travel to the other towns on the coast; you have many different travel preferences to satisfy; spending a lot of time on great beaches is a priority for you; you'd like some art, architecture, and history along with your beach time.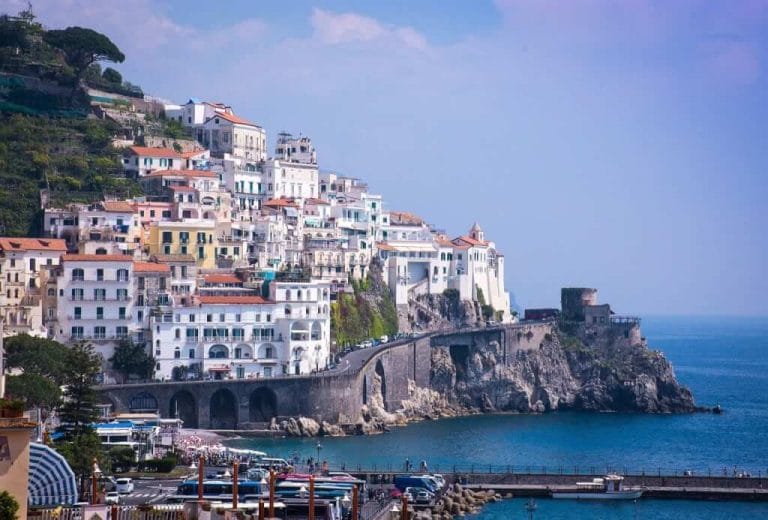 https://pixabay.com/photos/amalfi-amalfi-coast-coast-cliff-2254776/
Ravello
Ravello is a tiny village that sits back from the coast, perched atop a cliff overlooking the sea. Many visitors stop only during the day since there isn't direct beach access, allowing those who do stay to enjoy peaceful evenings with few crowds and spectacular views. Ravello is one of the most romantic places along the coast and a common choice for those who want all the glamor of Positano and Amalfi without the crowds. Take a break from the jaw-dropping vistas to ogle the gardens and opulent villas that Ravello is known for.
Stay here if: You want peace and quiet; you don't want to share your Amalfi Coast town with the crowds; you don't mind not being directly on a beach; you don't mind the lack of nightlife; you want to take beautiful travel photos.
Photo by Gina Mussio
Maiori and Minori
Maiori is home to the biggest beach on the Amalfi Coast as well as a host of other beaches only accessible by boat. In general, it's a little less quaint than other Amalfi Coast towns, but it's also a little less expensive. It's flat, sandy beaches, cheaper prices, and convenient beach-front hotels and restaurants make it a perfect destination for families with small children. Mom and dad don't have to worry about hauling around beach toys and the kids don't have to navigate pebble or rock beaches.
Maiori is also notable for being an ancient Roman settlement and is home to some spectacular ruins, most notably the Villa Marittima Romana, one of the most important Roman archaeological sites on the coast. After exploring the town, take a boat to the stunning sea cave called the Grotta di Pandora, or some of the other beaches of Maiori accessible only by boat.
Nearby Minori enjoys a fresher microclimate than many towns on the Amalfi Coast and is almost always blessed with a pleasant breeze. Its beach is small and can be cramped, but it also soaks up the sun for the entire day. Known as the "City of Taste", Minori's terraces house vineyards and lemon trees, but the town's real fame comes from its pasta. Minori has been a pasta powerhouse since the 16th century and today its fresh, carefully-made pasta is celebrated nationally. Minori's restaurants are on the Amalfi Coast itineraries of all real gourmands. Both Minori and Maiori are still curiously crowd-free when compared to the more trendy towns on the Amalfi Coast.
Stay here if: You're traveling with children and looking for a family-friendly atmosphere; you're not interested in nightclubs or VIP bars; you're hoping for a beach with some space between umbrellas; you want to avoid the crowds in Positano, Amalfi, and Ravello; you're interested in small boat excursions; you've come for the pasta!
Photo by Sabine Cretella
Cetara and Erchie
Cetara is still a working fishing village – home to one of the Med's most important fleets of tuna fishermen – making it the least reliant on tourism and perhaps the most old school of the Amalfi Coast towns. On a related note, it is also said to have the best seafood on the coast – though whether this is a fact or a matter of tradition is a matter of fiery debate. If your Amalfi Coast vacation revolves around eating good seafood, this is your spot. Try the town's famous Colatura di Alici, (a sauce made with fresh, local anchovies that is thought to date back to Roman times) or Cetara's world-famous tuna, when it's in season.
Right beside Cetara is Erchie, a tiny hamlet with a massive Norman tower on the coast and two small beaches. Legend has it that Hercules founded the town on his arrival from Greece.
Stay here if: You want a no-frills atmosphere that is as unchanged by tourism as you are going to get on the Amalfi Coast; you are a die-hard seafood lover; you're fascinated by ancient Greek history; you want to relax without the tourists; you're looking for a good value along the coast.
Photo by Alessandro Bonvini
Vietri sul Mare
Vietri sul Mare is technically the last small town on the Amalfi Coast and just two miles from the city of Salerno. As with all the towns along the coast, Vietri sul Mare enjoys great food and great views but its real claim to fame is its rich ceramics tradition. Vietri sul Mare is the cradle of Italy's brightly-colored earthenware pottery known as majolica. In fact, the whole town seems to be covered in beautiful ceramics! Vietri sul Mare is a no-nonsense town that doesn't specifically cater to tourists. As a result, there are fewer to contend with but not quite as many nice amenities for visitors
Stay here if: You don't need tons of tourist bells and whistles; you want to avoid tourists at all costs; you're a lover of fine ceramics; you don't need to hang out with a celebrity crowd; you've come for a simple seaside holiday.
Photo by Kārlis Dambrāns
Salerno
Though it's technically not an Amalfi Coast town, Salerno sits at the end of the 43-mile highway and bus route that we started in Sorrento and it's a great place to stay. To start with, it's a transport hub that is directly connected to Rome by train, and thus much easier to get to than the proper Amalfi Coast towns.
Salerno's size makes it less quaint but gives it an eclectic mix of clubs, pubs, and restaurants next to cathedrals and castles. Its centro storico is also exploding with life. Here you can visit the Medieval Cathedral when you're not lounging on one of Salerno's many beaches, which are also bigger than most of the beaches along the typical Amalfi Coast itinerary.
Travel tip: If you're planning to take the train through this part of the country, you can book your train tickets through ItaliaRail. This is the tourist-friendly version of the official, national train ticketing system TrenItalia, and offers a couple of extra perks as well as English-speaking customer service.
Stay here if: You want to be on the main train line to Rome or Pompeii; you're looking for convenience; you want a mix of small-town charm and city life; you're a public transportation pro; you want something less touristy than Sorrento.
If you have any questions about a certain town, or just want to let us know which Amalfi Coast Town is your favorite, let us know in the comments! 
Read More: How to Get to the Amalfi Coast
Photo by Sabrina Campagna