8 Reasons Why Salerno, Italy Should Be On Your Radar
June 26, 2023
The Amalfi coast is one of Italy's most popular, and most beautiful, destinations. And when it comes to where to stay in the Amalfi, most people—and guidebooks—have one big suggestion: Sorrento.
It's true that Sorrento is pretty. And it's convenient, especially with regards to the 5 must-see sights of the Amalfi coast. But it's also really touristy… and expensive.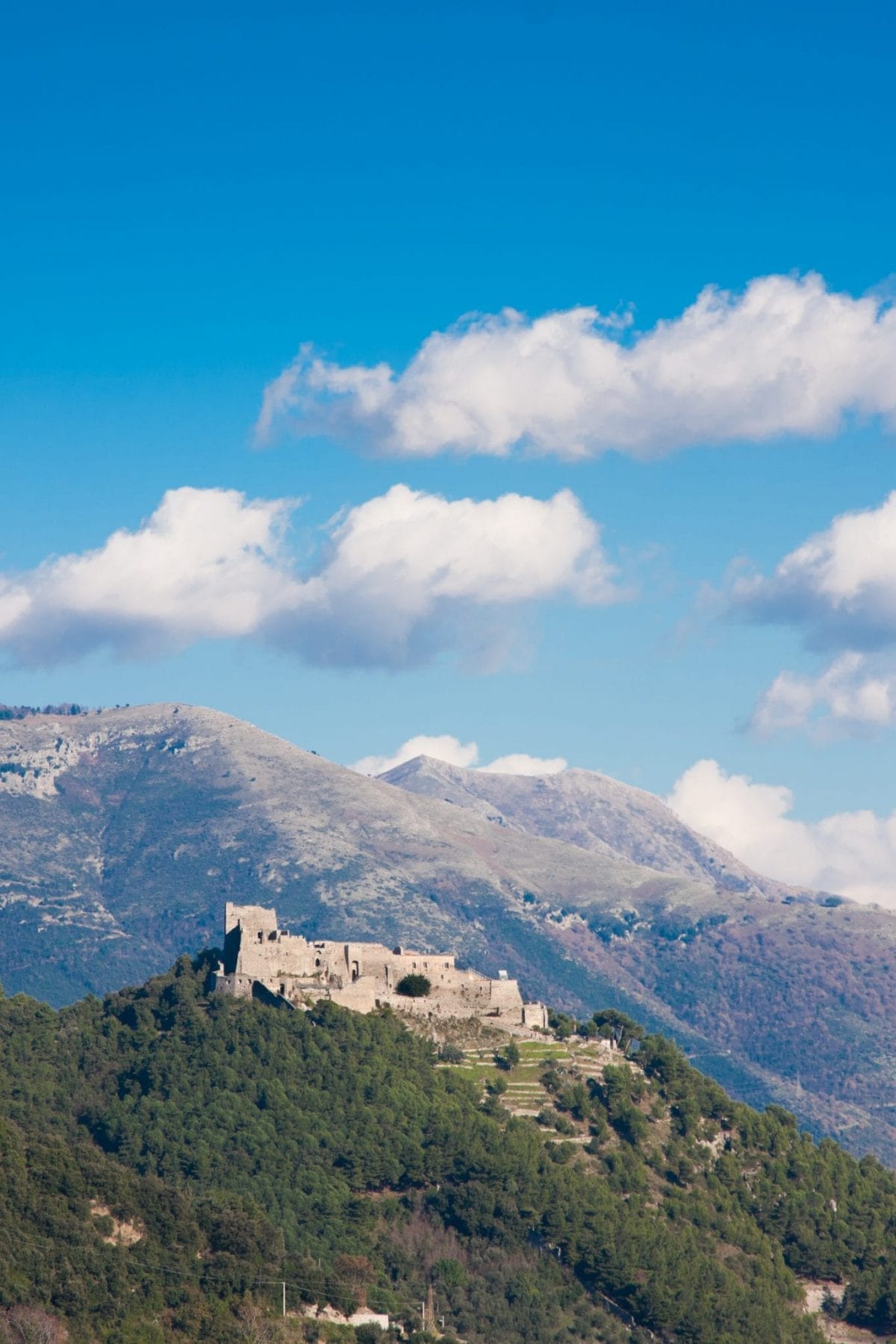 The good news? We've found an alternative to Sorrento. It's just as convenient, cheaper, less touristy, and, in our opinion, it has even more things to do, from museums and restaurants to a big, central beach and provides easy access to Positano.
Our alternative?
Salerno. Here's why.
8 reasons to stay in Salerno over Sorrento on any trip to the Amalfi Coast
Unlike Sorrento or elsewhere in the Amalfi coast, Salerno is on the main train line from Rome.
That means you don't need to change trains in Naples, or anywhere at all. And it's faster. The fastest train from Rome to Salerno is just 2 hours; slowest, 3 hours 30 minutes. To get to Sorrento, meanwhile, you have to take a train from Rome to Naples (fastest: 1 hour 10 minutes, slowest: 2 hours 45 minutes), then take the Circumvesuviana from Naples to Sorrento in around 1 hour.
In other words? With the amount of time it takes to switch trains, you can get to Salerno faster, for roughly the same amount of money as Sorrento. Or, if you're comparing the cheapest trains, you can pay around €10 more and get to Salerno about 30-45 minutes sooner.
Other towns on the Amalfi coast, meanwhile, aren't even connected to the Circumvesuviana, so if you were staying in, say, Amalfi Town, you'd have to take the Circumvesuviana to Sorrento, then switch to a bus.
Salerno is super-convenient for getting to other Amalfi coast towns. 
In fact, that Amalfi coast bus ride that starts at Sorrento? It ends in Salerno. That doesn't just mean that it's every bit as easy to get to Positano and Amalfi Town from Salerno as from Sorrento. It also means that, in a lot of ways, it's better. Since everyone stays in Sorrento, not Salerno (yet!), you're going in the opposite direction as everyone else —and the buses are less crowded. (What's that? You don't know about Positano? Read our blog to find out why you can't visit the Amalfi Coast without seeing Positano)
In fact, when we took the bus in the morning, from Salerno to Amalfi Town, the only other people on it were locals doing their shopping. We were even able to get the front-of-the-bus seats. If you've ever been on the Amalfi bus before, you know that you're much more likely to wind up without a seat, hanging on for dear life, strangers' elbows digging into you, than to get a seat with such a great view.
There is one caveat: Unless you take the line all the way to Sorrento (which you can do!), you'll miss that spectacular scenery that comes up when you're heading inland, across the mountains between the northern, Bay of Naples coastline to the southern, Amalfi coastline. But, instead, you get more views of the spectacular coastline itself. And the chance to see and even stop in a couple of towns between Salerno and Amalfi Town that are completely missing from the guidebooks… but look every bit as gorgeous as their touristy counterparts to the west.
There are other cool places that are easier to explore from Salerno. Like this one.
Paestum, an ancient Greek city founded in the 7th century B.C., has some of the best ancient Greek ruins found anywhere in the world. It's one of the gems of Italian archeology that many travelers don't know about but it should be on every list of things to see in Italy.  Its Temple of Hera dates to 550 B.C. (500 years earlier than many of the buildings you'd see at Pompeii!)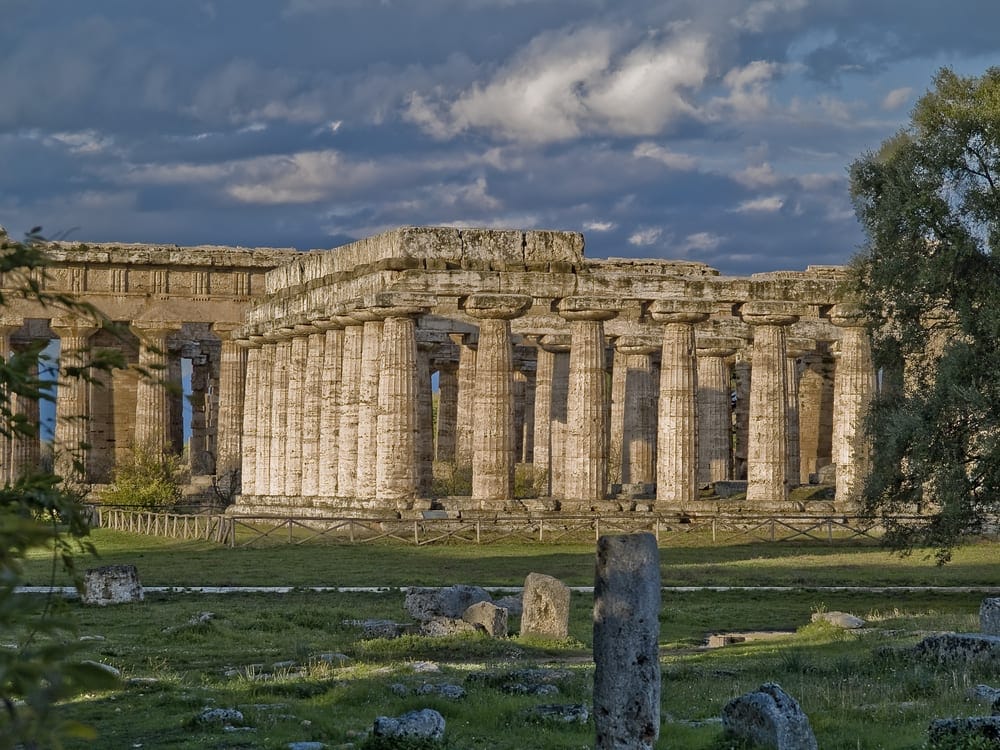 From the Amalfi coast, though, Paestum can be tough to get to. And to get there from Sorrento, it requires at least one, if not two, changes in transport. (Here's an example of just one traveler grappling with how to get to Paestum from Sorrento).
From Salerno? It's painless. These direct buses take you there in about 50 minutes.
It's also really easy to get to Pompeii.
Thanks to the Circumvesuviana, you can easily reach Pompeii from Sorrento. But you can get to Pompeii from Salerno by train, too. In as little as 20 minutes, you wind up at Pompeii town's station; a 10- or 15-minute walk brings you to the Pompeii excavation entrance. 

While the ancient city is utterly fascinating, Pompeii can be very difficult to make sense of on your own. The best way to get the most out of your visit is by taking a guided tour with an archaeologist, such as our Complete Pompeii Experience, an in-depth tour covering more ground than any other organized Pompeii visit.
Ferries also leave from Salerno. But if you're planning on Capri, there's a caveat.
Capri is one of the best day trips in Italy. If you want to go by boat, Salerno has lots of options. Take a ferry along the Amalfi coast for a great, and different, view of the coastline. The ferry to Positano from Salerno takes a little over an hour; the ferry to Amalfi Town, 35 minutes.
You can also get to Capri by boat from Salerno. Here, though, is one major benefit to staying in Sorrento instead: It's closer to Capri. The fastest boat from Sorrento takes just 20 minutes. Capri-bound boats are also more frequent. From Salerno, the fastest boat is 1 hour, 10 minutes; the normal ferry, 2 hours.
Then again, you could always go to Paestum (see #3) or Salerno's own beach (#6) instead.
Salerno's beach is big… and central.
Since it sits on a clifftop, Sorrento isn't known for its beaches. The closest beach is very small (and very crowded); the next-closest beach is a 15-minute walk from the center. The nicest beaches in the area are reachable only by bus.
In Salerno, though, the beaches are much bigger. They don't quite make it onto our list of Italy's best beaches, but they're far more convenient. They're a stone's throw from the historic center, so you can walk to them right from your hotel. That also means that they're close to Salerno's more-industrial port, but hey: At least it's a little more interesting than the cruise shops that populate Sorrento's harbor.
Salerno is much cheaper than Sorrento.
After all, Salerno is our little secret. Okay, it's not really a secret, but is has far fewer visitors and fewer tourists = lower prices. For everything. Dinner, coffee, you name it. As far as accommodation goes, we got a lovely triple in a charming bed and breakfast, in the heart of the historic center, breakfast included, with a private balcony, for €85 per night. At the start of high season – and that was one of the pricier places.
We think Salerno's one of the most interesting towns on the Amalfi coast.

Of course, there's a caveat: If you're looking for every shop to sell limoncello, postcards, and kitsch, then don't come here. Salerno is an authentic local's town. It's tough to find a postcard (but limoncello abounds!). But here are just a few of the things you can see instead:
One of the best-preserved historical centers on the peninsula, characterized by medieval, winding streets. (Sorrento technically has a "centro storico," but we're not sure you'd know that's what it was unless you were told!).
A castle, Castello di Arechi, dating back to the 6th century.
A number of museums, including the Museo Diocesano, with works of art including everything from medieval illuminated manuscripts to 17th-century paintings by Caravaggio's followers; the Pinacoteca Regionale with paintings by artists like Andrea Sabatini (who worked with Raphael in the Vatican); and the Provincial Archaeological Museum (currently closed for renovations), with finds including a 6th-century B.C. crown of silver and gold.
And all of the benefits that go with a town that's not tourism-based, like people-watching that lets you take in the locals, rather than other guidebook-clutching travelers, and restaurants that cater to local tastes, rather than serving up the spaghetti and meatballs that they think you think is "real" Italian food.
Read More: The Biggest Mistake People Make When Planning a Trip to Italy (And How to Avoid it)