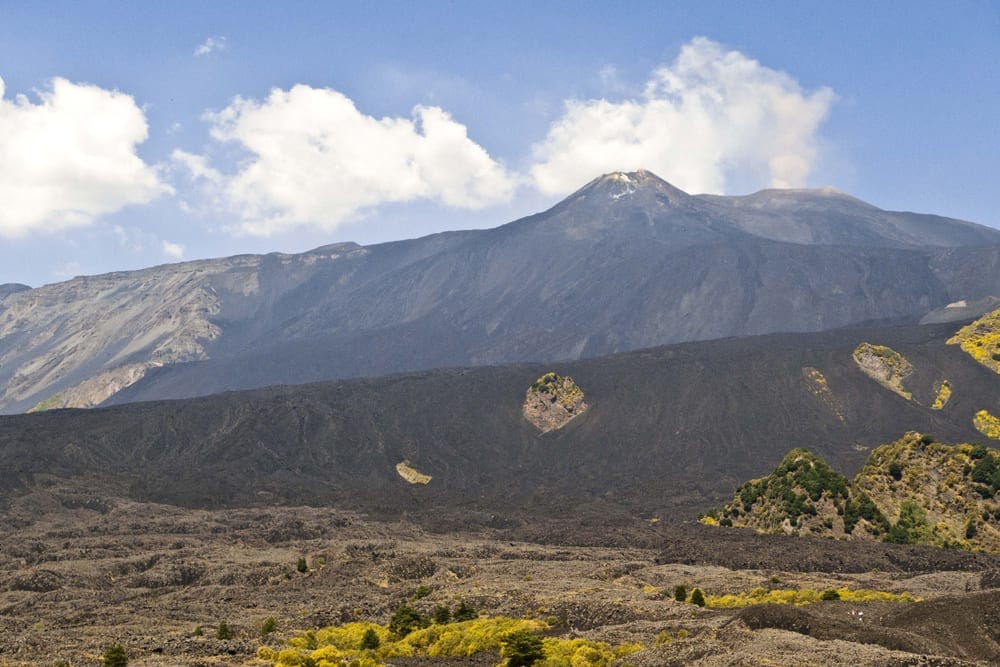 5 Reasons to Visit Mount Etna & What to Know Before You Go
January 25, 2023
Sicily's Mount Etna boasts the most otherworldly scenery in Italy. It's a lunar landscape of   black sand, volcanic rocks, and oozing lava flows that is as stark as it is beautiful. 
Declared a UNESCO World Heritage site in 2013 for its "exception level of volcanic activity" as well as global scientific, culture and educational importance, Etna is an important part of Sicily's topography, not to mention simply gorgeous. As Sicily's most beautiful natural attraction, this massive mountain is worlds away from the lazy beaches and historic architecture throughout the rest of the island but it's also one of the top attraction in Sicily. Below are all the reasons you should visit Mount Etna and what you need to know before you go. 
Why You Should Visit Mount Etna
It's one of southern Italy's most significant (and historical) landmarks
Etna formed about 35,000 years ago. Its first recorded eruption was in 1500 BC, and it has continued to erupt regularly since then (some 200 times!). Not only is Mount Etna gorgeous and exciting to visit, its legend and influence are integral to the history of Italy. The ancient Greeks who controlled the island believed that the imposing volcano was the home of the legendary one-eyed monster, the Cyclops. It was featured in Homer's Odyssey and played a central role in various myths as the home of both Vulcan, the god of fire and metalworking, and Typhon, a 100-headed monster.
Despite being a place of some particularly fearsome legends, locals have found many pragmatic uses for Etna. Chief among these has been ingeniously repurposing the roughly 200 lava-formed caves as both burial grounds and storage cellars for meat and wine. 
It's enormous, and still active!
Mt. Etna sits closest to the city of Catania, yet on a clear day the volcano is visible from well over half of Sicily. It is the highest mountain south of the Alps and the highest active volcano in all of Europe. And it sure is active!  Mount Etna's last eruptions was on May 17th, 2016, spewing plumes of ash and smoke above Sicily. Geologically, all these eruptions make it one of the most geologically important spots on the continent and also one of the most picturesque. Counterintuitively, they also make it a very safe volcano to visit. Without major buildups up lava and gas, eruptions tend more toward lava flows as opposed to massive explosions. Watching a lava flow (from a safe distance) on a starry night should be one every travelers' Italian bucket list. 
It offers great hiking and even better views
Mount Etna is the highlight of the Etna National Park. Founded in 1987, the park stretches over 224 square miles (581 kilometers) and about 20 towns. If you visit mount Etna during the spring, summer, or fall you will enjoy landscapes varying from volcanic craters to barren fields of lava to swatches of woods and vineyards. Whatever time of year you go, Mt. Etna offers the best views of the entire island. Make your way to the top to ogle the lunar landscape, and then look beyond it to the ash fields, vineyards, rolling hills and medieval towns below.
It has great skiing
Included in the UNESCO protection are two tourism zones, including hotels, car parks, restaurants, ski lifts and ticket booths for guided drives or hikes. The National Park offers many different trails and paths to choose from for all levels. If you visit Etna in winter the snow-covered slopes offer two of Sicily's three ski resorts. From November to March you can ski the slopes of the volcano one day and enjoy the beach the next! 
Its volcanic ash grows excellent wine
The volcanic soil surrounding the mountain is extremely fertile and supports extensive agriculture. Vineyards, as well as apple, chestnut, and hazelnut orchards grow on terraces cut into the lower slopes of the mountain. No Mount Etna visit is complete without tasting the local wine that grows from the rich, volcanic ash. It is a hyper-local product and one of the region's unique treasures. Some oenophiles claim that the wine from Etna alone is enough reason to visit Sicily. 
Know Before You Go
Travelers can visit Etna year round. Sicily is one of Italy's most southerly islands (just a short hop across the med from North Africa) and stays pretty balmy throughout the winter. The island can be boiling in the summer, but a little rise in altitude as you ascend Etna brings pleasantly cooler air temps. Remember that Mount Etna tourism is all about being outside, so no matter when you go, be sure you bring enough layers to prepare for typically more extreme weather the higher you go on the mountain. You'll want a jacket not only for the cold, but also to protect your skin against the sun and potential flying ash or dust if it's windy. On that note, a pair of sunglasses is useful too. Wear sturdy tennis shoes or hiking boots if you plan on hiking the volcano. There are some restaurants and tourist points that sell food on the mountain, but compared to the usual mouth-watering cuisine of Sicily they can be lackluster and overpriced. Bring sandwiches or plan your day to eat at one of the many beautiful towns that dot the landscape below the volcano.
Mount Etna is a wildly active volcano, so check weather and eruption conditions before you go. At times public access to the top of the volcano is prohibited for safety reasons. Most trips will begin from Rifugio Sapienza, the Sapienza Mountain Hut, on the south side of the mountain. From there, you can head up the volcano by foot or cable car. Weather permitting, the cable cars run all day and prices include a minibus from the cable car station to the main crater. The walk around the crater from Rifugio Sapienza takes about four hours.