How to Travel Italy with Kids: Insider Tips and Activities
January 24, 2023
There's no need to wait until the kids are grown to visit Italy, the country is safe, fun, and immensely educational. To top things off, Italian culture is one of the most kid-friendly in the world. Simply put, Italians love kids and are more than accommodating to children of any age – Don't be surprised to find your child helping you break through cultural barriers with the locals. Meanwhile traveling Italy with kids will literally be the trip of their lifetimes, introducing them to impressive sights, new cultures, heaps of history, and of course, delicious Italian cuisine.
If you want to know how to maximize the fun and educational aspects in Italy for kids, check out our short guide to the best ways to prepare for your trip and the best things to do in Italy for kids. 
Get the excitement going early
Begin amping up the family a couple of months before you begin your trip. Your best resources in this area will be age-appropriate books about Italy and the Roman Empire.  If you teach your kids about the places they'll be seeing ahead of time, they'll be more excited when they actually see them! Below is a short list of some of our favorite books about Italy for young people. If you have any favorites that we've missed, let us know in the comments.
Strega Nona: The classic picture book by Tomie dePaola is as beloved by adults as it is by young readers. We always have at least one copy on the shelves of Walks HQ. 
The Roman Mysteries: Caroline Lawrence's series about young detectives during the Roman empire spans 20 books, all of which are loved by young readers and respected by educators and Classics enthusiasts. There is perhaps no more accessible and entertaining way to introduce YA readers to life in the first century AD. While many of the early books are set in and around Rome, there is at least one story for many of the locations you might visit in Italy so you can almost usually find one that deals specifically with where you are going. 
The Thief Lord: A wonderful stand-alone YA novel set in the winding streets and misty canals of Venice. Written by the German children's author, Cornelia Funke, who is famous for her trilogy, Inkheart, this rollicking adventure is a favorite of both children and adolescents.
City: A Story of Roman Planning and Construction: If your kids are more visually oriented this is a must-read/see. David Macaulay brings a fictional Roman city to life with dazzlingly-detailed building diagrams that introduce the reader to the main elements of Roman architecture. If you're planning to visit the Roman Forum or Pompeii, don't miss this one.
Ancient Rome – Eyewitness Books: another stalwart of the Walks bookshelf, this book brings Eyewitness' all-seeing gaze to the art, architecture, and relics of ancient Rome. Although it's geared towards younger readers, we often find ourselves consulting it for reference. 
Kids' Travel Guides/Scavenger Hunts: There are a number of books that give kids tasks, info, fun facts, and other ways to interpret and enjoy all the things they see on their trip. Some people love them and some find them a little overprescribed and pedantic. They work the best when parents are willing to chaperone kids on some of the tasks and scavenger hunts contained in them. We recommend you do a bit of research and see if they're right for your traveling style. 
Plan kid-friendly sightseeing and activities
Include in each day's itinerary a visit that will especially interest your child. No one knows your child better than you, so ask yourself what he/she likes. Would she want to be outside hiking up Mt. Vesuvius or playing on a sandy beach in Positano? Or would he like to check out the costumes and armory in Florence's Pitti Palace? Regardless of what you choose, it's always best to budget a bit of time each day to something active. Even the most kid-friendly museums can wear on a child who just needs a bit of time to run around in the fresh air. You should not, however, expect to find many large playgrounds in Italy's big cities. Italians usually take their young ones to public parks and/or local plazas for ball games and general recreation and we recommend that you do the same.   
Insiders' Tip: Many of Italy's mainland Mediterranean beaches are rocky, which can be tough on kids who just want to frolick in the sand – not to mention dangerous. For info on where to find family-friendly beaches check out or blogs on the best beaches in Italy and the best beaches near Rome, Florence, and Venice. 
Here's are some of our favorite attractions for children in Italy:
The Colosseum: There's a reason this is probably the most enduring symbol of Rome – it's simply captivating to people of all ages. A bit of light study into how gladiator battles were held and what other spectacles took place in the arena – especially those including animals – goes a long way to bringing the experience to life for youngsters.
The Aquarium of Genoa: It's one of the largest aquariums in Europe and has outstanding displays of sea life from all over the world, including some spectacularly large tanks. 
The Catacombs of Rome: One of the perennial favorites of kids who come on Walks of Italy tours. The Capuchin Crypt contains real human remains; though it might be a little scary for some, the remains are presented within the context of Christian burial rights and most children find them thrilling. 
A train ride on the Bernina Express: One of the most scenic train lines in the world, this passenger service cuts through the Alps to connect Northern and Southern Europe. Did we mention is passes through a UNESCO world heritage site on the way?
The Bergamo outdoor Zoo in Lombardy: A 100,000 square meter park filled with all types of exotic fauna, including a giant aviary.  
Mirabilandia Amusement Park in Emilia Romagna: You probably haven't come all the way to Italy to ride roller coasters, but we couldn't resist adding an amusement park to the list. This is the largest theme park in Italy and a favorite of young people all over Europe. 
Matera: You'd be hard-pressed to find a more unique or whimsical town than this ancient settlement featuring extensive cave dwellings. These aren't ruins, though, they're still lived-in, and part of a thriving town.
Climb a Volcano in Sicily or Naples: For an active kid, nothing is quite as thrilling (or full of guaranteed exercise) as hiking up/around an active Volcano. The best destinations in Italy for volcano hiking are Mt. Vesuvius in Naples and Mt. Etna in Sicily. 
The Leaning Tower of Pisa: All the "perfect" architecture around Italy can start to run together for young eyes – the antidote to architecture ennui is the most famously imperfect building in the world – you can even climb the top – just be careful you don't slip off.
Pizza Making: Italian pizzas are a must-try for most kids when visiting Italy. As a special treat, take them behind the scenes of a real pizzeria to see how the pros do it and make their own pie. 
A Venetian boat ride: You can go to Venice without ever setting foot on a boat, but we don't recommend it. Either take a boat tour, suck it up and pay for a gondola, or just use a local water taxi, aka vaporetto, which will only run you around €1.50.
Make
sightseein
g
kid-friendly
Of course, there are some sites you will want to see, even if they aren't, strictly speaking, kid friendly. You can battle through them or you can adapt your approach to them to make them fun even for the young ones. Our expert guides have a little trick for dealing with antsy children in famous museums: they invent scavenger hunts. Before entering a museum like the Vatican (which has been known to tax even art-loving adults) they take a moment to set certain visual challenges for the youngsters. How many Roman gods can you identify in the artworks? Can you catch every type of animal depicted in sculptures? How many angels can you find in the frescoes of the Raphael Rooms? This works best if you give them a little notebook to take notes in and make sure to catch up at the end of the day discuss what they found. 
You can apply the scavenger hunt idea to many different places – they don't actually have to be museums. Here are a few of our favorites:
Count how many small dogs you see in Milan

Keep track of the number of churches you see in Rome

Who can count the most replicas of David in Florence

Decipher the location of St. Peter's tomb is in the Vatican City

Connect family symbols to famous works of art – like the bees representing the Barberini family on the baldachin in St. Peter's Basilica. 
If you want some ideas you can find scavenger hunt themes for free on various blogs, or you can get them in books like Kids Go Europe.
Take a tour
Taking tours is a great way to have a cultural experience that will also stimulate your children. They're clear, fun, and loaded with a lot of information in a short period of time from local guides who know their cities and sites like the backs of their hands. They can help you to save time and are also a great way to efficiently see a city from a new perspective. Choose one dealing with sites that your child will find particularly interesting and you'll be surprised by all the fun facts that they'll pick up and spout off later! A word of warning: a full day tour (which usually run 6 to 7 hours) is often too long for most children's attention spans and/or legs – though teenagers will be fine. If you are traveling with children under 12, go for a half-day experience and keep your eyes peeled for outings that offer hands-on fun or food tastings, like our pasta making class.

Give them the reins
Another way to be sure kids stay interested and enthusiastic about your trip is to let them make some of the decisions. If you have the time and the patience, let them guide you through the alleyways in Venice to find Piazza San Marco, or let them decide to stay and play at Rome's Forum, rather than rushing off to the next activity. Depending on their age you can hand them the GPS and have them navigate you to the Ponte Vecchio or read aloud facts about the Basilica of Santa Croce in Florence. Not only will they learn, they'll be more connected to the destination and have a lot more fun, too.
Plan ahead
The lines that form outside the most popular Italian attractions try the patience of adults; you can imagine what waiting in them is like for children. Avoiding the big crowds and long lines around the best attractions in Italy is another key trick to enjoying Italy with kids. Plan ahead as much as possible a book anything you can in advance. By doing this you can ensure that you have skip the line tickets for the big attractions and high-speed train tickets for seamless travel. The only other trick – a surprisingly effective one – is showing up early. We know how hard it can be to get kids out of bed but if you can drag them out early you will be doing better than 90% of the other travelers in Italy.

For families catering to short attention spans, we run the Sistine Express Tour and the Vatican Highlights Tour, both of which will get you in and out of the Vatican City before the crowds while still showing you the best that the Vatican has to offer.
Time your itinerary with kids in mind
Budgeting your time correctly is one of the often-overlooked preparations that can make a good trip a great trip, whether traveling with kids or not. Within reason, plan your trip on your kids' time. Generally speaking, this means budgeting plenty of time for breaks, extra time to get where you're going, and of course, snack time. Trips with too much travel and too many sights packed into too little time often become stressful for everyone – kids and parents alike. The single biggest mistake that travelers to Italy with or without children make is jamming too much into their itinerary. Instead, base your itinerary on your children's age, be prepared to cut some stops as energy levels wane, and be sure you have time to simply play!
Push Back Bedtime
In Italy, dinner is often eaten later than in countries like England or the United States. Breakfast tends to be light and filled with sweets (which we're sure your kids will love) and lunch is at a flexible hour – anytime from 12 to 2:30pm – but you won't find a restaurant open for dinner before 7:30pm. Many Italians don't eat until 9pm or later and it's not uncommon to see their small children with them. Babies might fall asleep in strollers while the adults chat over a nice meal but more often than not, toddlers to teenagers are kept awake well past 10pm. Anything in the name of a delicious dinner! Plan accordingly with plenty of snacks and time to get on the new schedule. Speaking of snacks… 
Stop for gelato – always!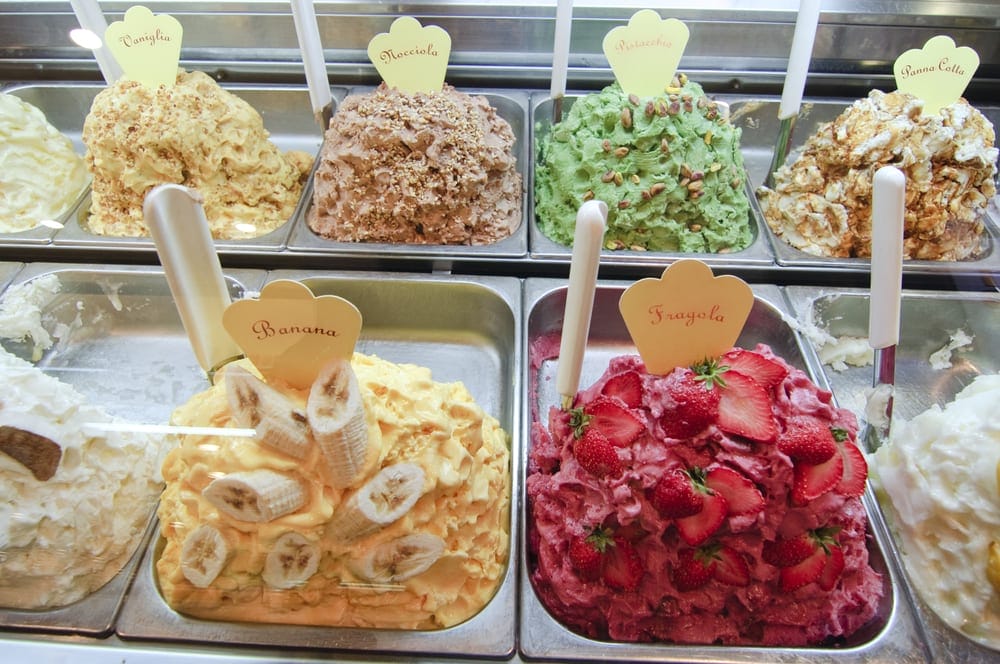 Nothing stops us from ordering that post-dinner dessert when we're on vacation, so why should it stop your kids? Gelato – Italian ice cream – is one of the most kid-friendly treats in Italy and you are never far from a gelateria. Take advantage and make everyone happy with plenty of gelato pit stops. It's a perfect time to rest tired feet and enjoy a sugar recharge, plus, it's a part of the culture!
Make sure your kids never go hungry
Visitors in Italy with kids don't have to be worried about sideways glances and snorts of disapproval when toting them around restaurants. Generally speaking, Italians are very indulgent towards children and having them out in public is an important part of the culture. Italians themselves go everywhere with their kids – even to fancy restaurants! As long as your child is relatively well behaved, you can take them anywhere: from a pub to happy hour to a fancy restaurant. While some restaurants might offer a children's menu (menù bambini), many will not, so you'll have to choose from the regular menu. Luckily for you, Italian food has some of the most accessible dishes in the world. You're sure to find something on most menus that your child likes, but if not, don't hesitate to ask for changes! Many a child has survived a trip to Italy on nothing but gelato and the old reliable: pasta with a bit of olive oil and parmesan cheese. If a restaurant has the food your child wants, they're usually happy to accommodate changes.