Michelangelo's David in the Galleria dell'Accademia, Florence
January 18, 2023
If you only see one statue on your trip to Italy, Michelangelo's David is the one to see. Hailed as an instant classic from the day it was unveiled in 1504 ("….to tell the truth, this work eclipsed all other statues both modern and ancient," wrote the great art historian Giorgio Vasari) its prestige has only grown in the ensuing 500 years.
It's a work both strikingly familiar yet overwhelmingly larger than life, a statue you have seen 1,000 times before, yet it still reveals new secrets every time you see it. No postcard or picture can do it justice.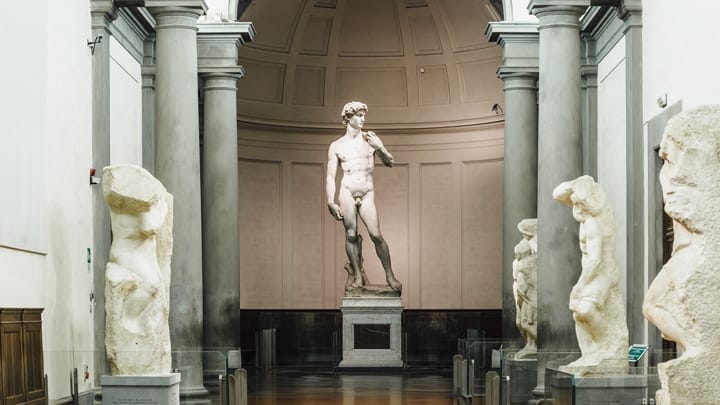 To stand in the room at the Galleria dell'Accademia in Florence with this titanic marble – it's almost 17 feet tall – is to experience humanity on the grandest possible scale and feel both dwarfed by it, yet strangely ennobled. There is nothing quite like it in the world of art. It is not the most emotional or even the most moving of Italy's great marble sculptures but it is certainly the most awe inspiring.
All about Michelangelo's David
Did you know that the story of Michelangelo's David begins with a mistake?
While Michelangelo was in Rome sculpting the Pietá for St. Peter's Cathedral, a Florentine Master named Simone da Fiesole had been given an enormous block of marble to design a figure for the roof of the Florence Cathedral but had badly botched the job. Large blocks of marble were expensive and tough to get your hands on as a young artist so Michelangelo, just 26, returned to his native Florence to plead his case for the commission.
He was up against no less than Leonardo Da Vinci and San Sovino, but crucially, no one believed it could be hewn into a figure without adding additional pieces of marble. No one, that is, besides Michelangelo. After inspecting the mutilated block, which already had a large hole cut in it that would become the space between the legs, he declared that he could cut an entire figure from the single stone. It's unclear whether the trustees of the works department at Florence Cathedral actually believed him, or just figured that the stone was a lost cause anyway, but they gave it to him and he set to work.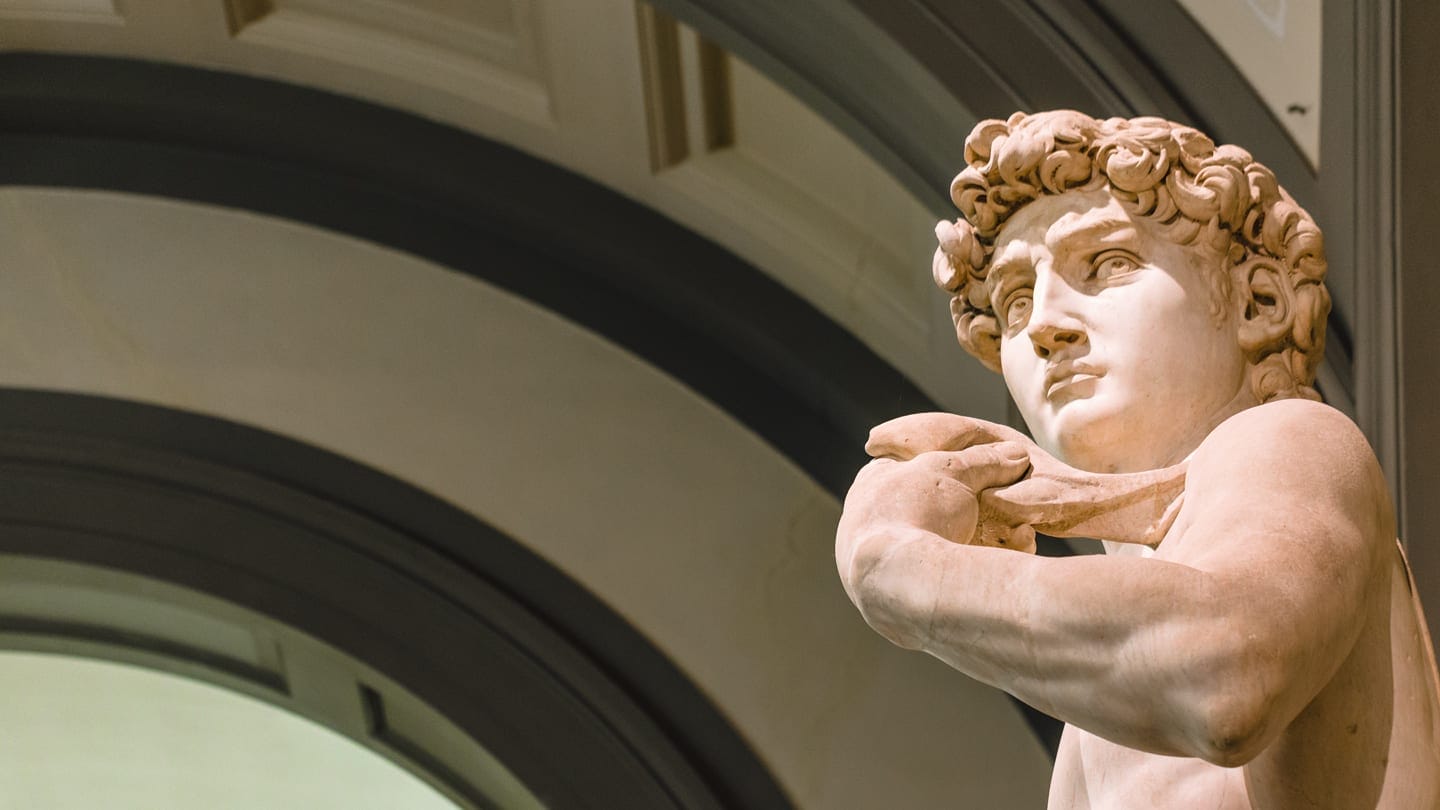 Michelangelo worked on the statue in relative secrecy for three years. His choice of David – the biblical hero who slayed a giant with only his sling and a sharp sword – was a safe and well-established choice. Like many statues of David stretching back to the Ancient Greeks, he used a "contraposto" pose (weight on one foot, shoulders twisted off axis from the hips) to show intended movement. Unlike all the past Davids, he didn't depict the hero in his moment of victory, but at the exact moment before he hurls a rock at the head of the waiting giant. It's a moment of extreme pathos, almost cinematic in its scope – an entire story told in form, posture, and expression.
It's unclear whether or not Michelangelo's statue was originally intended for the roof of the cathedral. Certain elements, like the overly large head and hands, seem to indicate this. But when Michelangelo finished this colossal masterpiece, there was no question that it was going to have to stay firmly on the ground.
For many years it sat in Piazza della Signoria in Florence, with gold gilding covering David's sling and the tree branch near his foot (which Michelangelo cleverly included to provide more structural support). However, in order to protect it from the elements, which eventually stripped it's gilding, it was eventually moved into the Accademia where it can be seen today.
When you go, make sure to walk all the way around the statue. Notice how the expression differs from the side view that is on all the pictures to the straight-ahead view in which the real ferocity of David's gaze becomes evident. Admire the musculature in the legs and the veins in the arms. Check out those immensely powerful hands! There really is no sculpture on earth quite like it so linger over it and enjoy a bonafide wonder of art.
Tips for Visiting Michelangelo's David
Opening Times
The Galleria dell'Accademia in Florence is open Tuesday through Sunday from 9.00am to 6:45pm, with the last admission 30 minutes before closure. On Saturday and Sunday, bookings are required.
The museum is closed every Monday, January 1, and December 25.
In order to accommodate visitors, the museum is usually open on holidays. However, if the holiday falls on a Monday it's up to the board of directors to decide whether or not to open. Whatever they decide will be announced on the Accademia's website.
Tickets
The Accademia offers three types of tickets: Full, Reduced, and Free.
Full (price) tickets are for any non-EU citizen 18 and over and any EU citizens 25 and over. There is no senior citizen discount.
Reduced tickets are available for EU citizens between 18 and 25 with an valid ID and public school teachers from within the EU with proof of their position.
Free entrance is given to anyone under 18 years old regardless of nationality with proper identification, people with certifiable physical disabilities who are accompanied by a family member, ICOM (International Council of Museum) Members, and Journalists with a valid ID showing professional status.
Please visit their website for the latest updates.
Rules
The museum is entirely wheelchair accessible, so unlike many of the most famous attractions in Italy, it's easy to get around for those with impaired mobility. There is a strict no-photo policy in the Accademia. Even having a camera on your neck is grounds for a strong reprimand from the guards. Do yourself and fellow visitors a favor and just enjoy the art with your eyes.
The Best Time to See Michelangelo's David
The Galleria dell'Accademia usually has a line out front and the later you go in the day the longer it gets. It isn't as long as the line to climb Florence's Duomo but it is long enough. There are two good ways to avoid it.
First, you can visit the museum with a guided tour that includes skip the line access. You can also book your own tickets online for a particular day and time. Be aware that tickets do sell out so book them as soon as you know your travel dates.
If you want to keep your itinerary loose the best option is show up outside the museum at least half an hour before it opens so you can be one of the first people in line to buy your ticket for that day. Please note that if you are planning to visit on Saturday or Sunday, booking is required.