Where to next? Paris with Jennifer Dombrowski
July 4, 2023
No matter where you travel in the world, there is usually one special place that you never tire of visiting. In this exclusive "Where to next?" blog series, we talk to some of the biggest travel influencers in the industry, as they give us expert insights into their favorite parts of the world – shining a light on beautiful destinations through the eyes of some of the world's most well-traveled people.
It's time to take out your travel bucket list and start filling it up!
Here we're joined by Jennifer Dombrowski of Luxe Adventure Traveler, an award-winning travel blog filled with heart-pumping adventures and amazing luxury experiences. Jennifer and her husband Tim are avid travelers who have visited over 60+ countries on 4 continents and have lived in multiple cities. While they now call Bordeaux home, their spirit of adventure is timeless. We're excited to have Jennifer share invaluable advice for Paris, one of the world's most desirable destinations.
What did you do before you began traveling, and what drew you to eventually travel full-time?
I've loved traveling for as long as I can remember! I went on a study abroad program in Costa Rica with my high school, and it was that experience that cemented wanting to grow up to do something in travel. It wasn't until I was in my thirties that I finally made my dream of working in travel a reality, though.
My background is in business administration and marketing. Before I finally made a career in travel as a professional travel blogger, I was managing a team and oversaw the blog, social media and communications at a US university. I eventually decided to leave the university to pursue building my business as a professional travel blogger full time, and it's definitely way more fun writing about travel than it is blogging about higher education!
In 2009 I moved abroad from the US to a small town in Northern Italy with my husband for his job. With limited time to explore Italy and Europe, we took every opportunity, holiday and vacation day we had for trips. I also started my blog at the same time, though back then, it was only a hobby.
By 2012 I was attending travel blogging conferences and working to take my blog from hobby to a career. And more than a decade later, my husband Tim and I are still living in Europe. Tim has since retired from the US Air Force, we bought a home in Bordeaux, France and travel blogging is my full-time career with both my blogs: Luxe Adventure Traveler and Bordeaux Travel Guide.
What do you love most about this part of the world?
There's just something about France. It has that je ne sais quoi! Of course, Paris was the first place in France I ever visited long before actually moving to Europe. Tim and I would often come to France when we were living in Italy, traveling to Provence or the French Alps. We'd talk about how we could see ourselves living in France someday. Now we called Bordeaux home, and love that we have everything from one of the world's top wine regions to one of the world's most beautiful beaches practically out our front door.
Of course, Paris is only a 2-hour train ride away on the Paris Bordeaux TGV high-speed train. We take advantage of that often, popping up to Paris for everything from a day trip to see friends, visiting special exhibitions or even taking tours like Walks's Champagne Day Trip from Paris.
What should more people know about this place?
Paris is so much more than the Eiffel Tower. Though it's definitely worth seeing, Paris truly has something for everyone. For outdoor enthusiasts, I recommend taking an urban hike along the nearly 5-kilometer long Promenade Plantée that is raised up 10 meters above Paris's streets.
Foodies can't miss a food tour to discover all the delights of French cuisine. As a foodie myself, I've had loads of fun learning to make one of my favorite French pastries in a macaron making class. Wine lovers will be thrilled to discover Paris even has an urban vineyard in Montmarte.
There are so many museums and cultural sights that even in the height of the summer, you can practically find yourself alone in some of the smaller and lesser-known museums like the Musée du Vin. You really could spend a lifetime exploring Paris, and still never see it all. I've lived in France for more than four years now, and I've still only scratched the surface of Paris.
What is your favorite thing to do here?
Paris at Christmas is my absolute favorite. It's just magical with all the Christmas markets, decorations and special events. Ice skating on a Parisian rooftop while the Eiffel Tower twinkles, sipping a French hot chocolate or a vin chaud, touring around the shop window displays and the festive atmosphere of the Christmas markets are all things you simply must experience.
If you had just 24 hours here, what would you do?
With just 24 hours in Paris, I'd mix one or two highlights like the Eiffel Tower and the Louvre with some other experiences. I'd start the day with a skip-the-line ticket to visit the Eiffel Tower. Instead of sitting down to lunch, I'd take a food tour like Walks Montmarte food tour. Food tours are always one of my favorite ways to discover a city because you learn some interesting history and discover some amazing foodie spots you might even like to revisit later.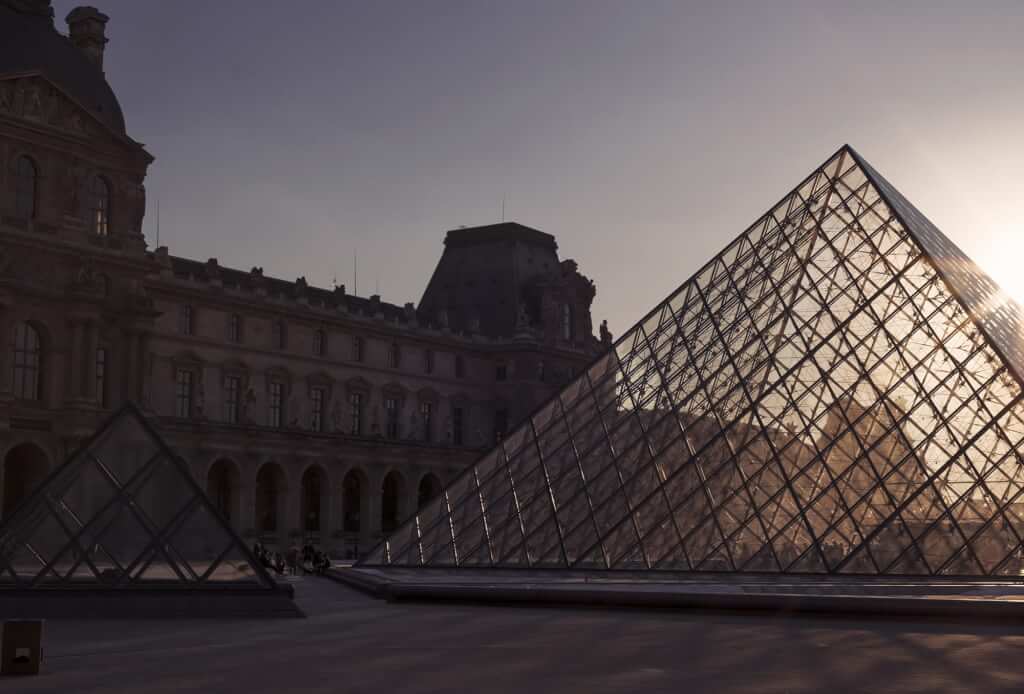 For the afternoon, Walks has an excellent Louvre tour that I can definitely recommend. Trust me, the Louvre is massive and can feel overwhelming. With a Walks expert guide leading the way, you'll see some of the best this museum has to offer – of course, including the Mona Lisa at the least busy time of the day.
After drinking in the culture of the Louvre, the perfect evening is getting a drink and watching Paris go by. In summer, head to 43 Up on the Roof on the 9th floor of the Holiday Inn Paris Notre-Dame. It has a view of the Eiffel Tower, Sacré-Coeur and Notre-Dame that make it a surprisingly chic stop while visiting Paris.
Where is your favorite place to eat in Paris?
Of course, you can't leave Paris without an incredible meal. To me, especially living in Bordeaux, duck is the epitome of French cuisine. And there's no better place in Paris to sample France's famous duck than at Canard & Champagne. The menu features duck and duck alone, which is why they are regularly renowned as serving up some of the best duck in all of France.
Do you have any quirky or off-the-beaten-track spots that you'd urge people to visit?
Paris was once upon a time filled with vineyards before it became the metropolis that it is today. Monks cultivated a vineyard and produced wine in the 15th century right along the banks of the Seine. The cellars of their former abbey, which was destroyed during the French Revolution, remain, and today those very cellars house the Musée du Vin.
There's an exhibit of two thousand years of wine-making history, you can do wine tastings, the museum hosts various classes from everything like a beginner how to taste wine to food pairing classes, and there's even a delightful onsite restaurant with a wine menu featuring some 200 references.