Meet our Italian Chefs: Denyse and Roberto
August 1, 2023
Let's get up close and personal with our Italian chefs! Today, we're joined by Denyse and Roberto, who lead our team of amazing chefs in Italy, as they share their story, cooking tips, and favorite dishes in Italy and abroad.

1. Tell us a bit about yourselves
We are a couple based in Rome. Roberto is Sicilian from Modica and he grew up with the smell of the meatballs simmering in the tomato sauce on Sunday morning and Denyse was born in Treviso the hometown of Tiramisù. We realized we were meant to be together when we ordered dinner on our first date.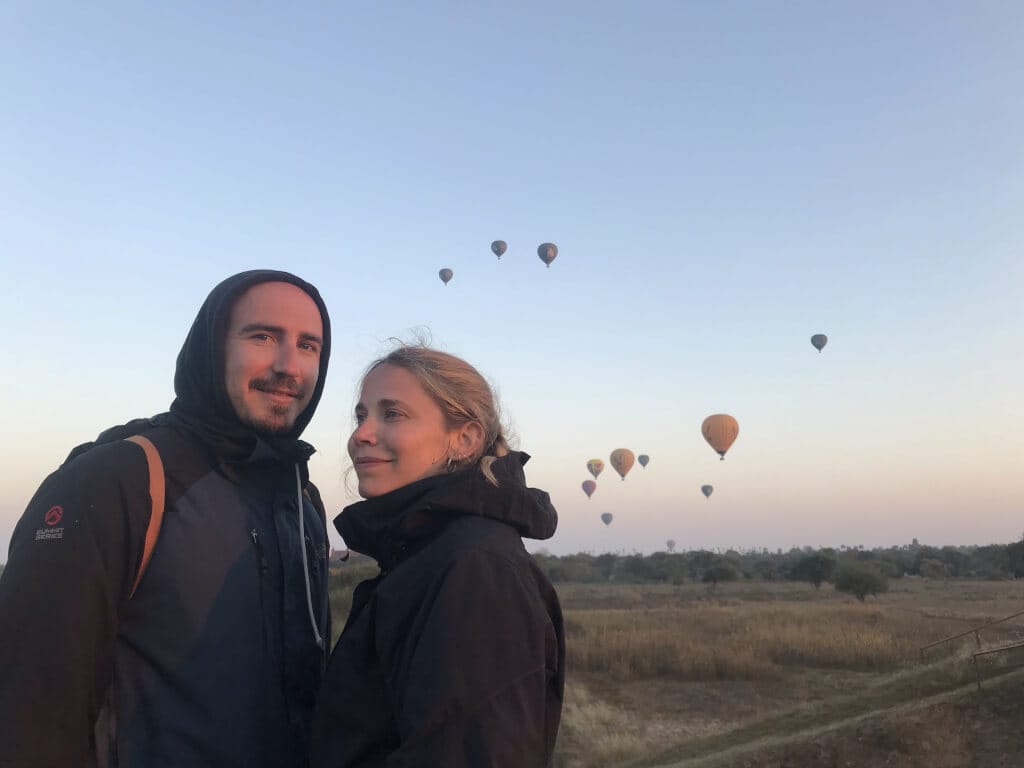 We think that food can be more than survival…with it, you can make new friends, overcome prejudices and find out how creative human beings can be. We are starving travelers and we are always seeking out new recipes around the world.
But we are Italians after all, our passion and pride spill into pasta…there are more than 300 pasta shapes and we haven't tasted them all yet!
2. What made you decide to become a chef?
We are both born in families where you spend Sunday morning in the kitchen kneading, chopping, fighting (a bit of Italian drama), and cooking. Before deciding that cooking would be our profession we had different experiences.

In the last 6 years, we have taught how to make pasta on a beautiful rooftop in the center of Rome, there is nothing more exciting than seeing people from other cultures appreciate the simplicity of pasta. Rob is a natural baker talent and Den is a foodie nerd…she knows a lot of food fun facts.
3. What is your favorite Italian dish to make at home?
Rob: Pizza, bread, and gnocchi
Den: risotto with squid ink
4. Do you have any Italian cooking tips for our readers?
The key to Italian cuisine is…less is more! We see tons of Italian recipes with an endless list of ingredients, if you have tasty tomatoes you don't need much more! Invest money in fresh and seasonal ingredients from small producers that work consciously.
The secret behind an Italian recipe is…love, it goes way beyond just simple nourishment.
Remember that pasta is the queen, don't pair it with a side dish (like salad) and try to find the perfect pasta shape for your sauce (you have more than 300 options!).
5. What food or dishes travelers to Rome (or your home city) must try and if you have recommendations on where to try them.
When in Rome…you must try the supplì a deep-fried rice ball, known as the supplì, is Rome's quintessential street food. Popular as a starter before pizza or as a satisfying street food snack! Our favorite spot to get Supplì is SUPPLì ROMA, via San Francesco a Ripa n.137

6. Outside of Rome, what is your favorite place in the world to visit?
We are both in love with Asia, we have visited many countries and the main reason is the food and the people. In Europe, we love to travel to Spain and Greece.

7. In which city have you tried the best food and what was it. Where did you try it and would you recommend it?
As a couple, we had the best food on our trip to Vietnam so diverse and exciting! We had the best dish at Hoi An food market sitting on little plastic stools: stuffed crispy omelette/pancake (Banh Xeo).

Rob: sushi at Tsukiji Market in Tokyo
Den: Apricots and chicken tagine in Morocco
9. Where would you travel to next?
Rob would like to visit Argentina (huge meat lover), Den would go to Okinawa (love islands). Hope to be able to travel again, in the meanwhile, we are enjoying the beauties of our country!
10. Which city of place in the world do you think is the most underrated and would urge people to visit?
We think that Sicily and Sardinia are often skipped but if you are looking for the authentic Italian lifestyle, unspoiled nature, history, and the best food…these 2 islands are the best destinations.
Update notice: This article was updated on April 9, 2023.