5 Reasons Why Fall Is The Best Time To Visit Italy
August 4, 2021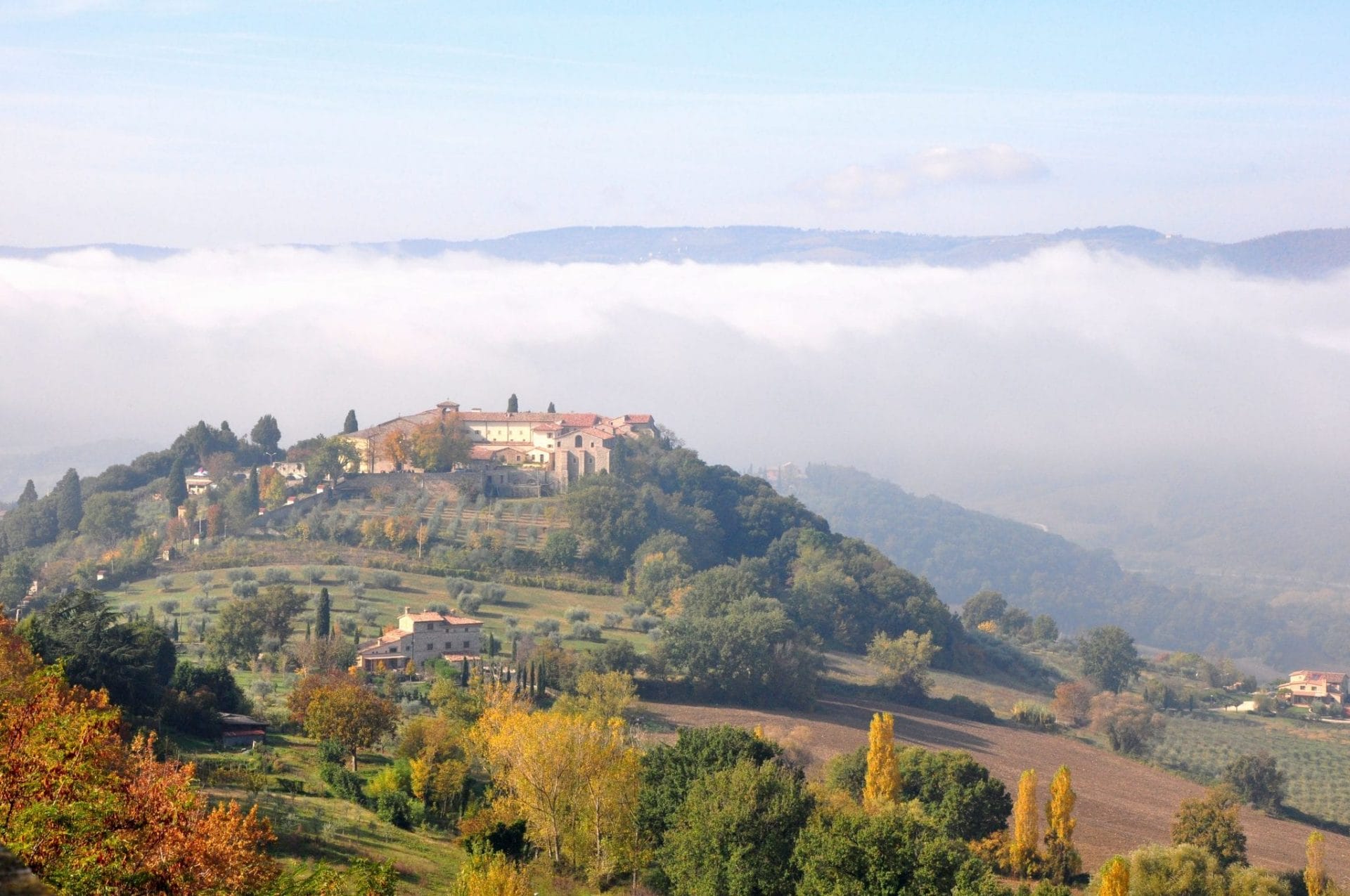 If you've already booked your trip to Italy this fall, check out our walking tours to get an incomparably authentic taste of Italian art, culture, and history. 
Coming to Italy this fall?? You're in luck—many think it's the best time to visit Italy! From the amazing weather, to an abundance of food festivals, here are our top 5 reasons to visit Italy in the fall.
1. Enjoy the harvest at one of Italy's famous fall food festivals 
In the autumn, sagre, or festivals celebrating a local food or wine, pop up all over Italy. We adore sagre; they're just about the most authentic way to experience the local produce and culture of any given area, usually with hardly any other tourists! In the fall, there's a festival for every taste: wine, chestnuts, chocolate, truffles, porcini mushrooms, fish, polenta, even potatoes!
There are so many sagre in Italy at this time of year because it's harvest time. Olives and wine are harvested in the fall, and participating in a harvest—or even just tasting the result!—is a fantastic experience. Other foods being harvested now include almonds, chestnuts, white truffles, and produce like arugula, broccoli, potatoes, and zucchini. If you love eating, the fall is really one of the best times to visit Italy and try some of the different regions' most delicious seasonal cuisine. (For more on fall foods, check out our post on four favorite autumn dishes in Italy!).
To figure out which sagre and fiere are taking place across Italy, check out the sites Sagre e Ditorni and Sagre in Italia (They're in Italian but you really only need to check dates and what the sagre is celebrating. Alternately, you can always run them through Google Translator for the English versions). Don't miss our blog post on Italy's truffle festivals, which are also popular in late autumn.
If you want a more guided intro to Italian food, check out our food tours in Italy.
2. Italy in fall means fewer crowds… and lower prices
For many, of course, lower prices are one of the number one things that make fall perhaps the best time to visit Italy during the year. Not only are prices generally lower, fewer travelers come to Italy. Like cooler temperatures, lower prices begin to creep into the country at the end of August.
But don't jump the gun: In high-trafficked destinations like Rome, Venice, Florence, the Cinque Terre, and the Amalfi coast, high season prices can run through September and even the start of October. (Check out why we love Rome in fall, and why you should wait for October or November to come.) To take advantage of lower accommodation prices in September look to travel in more off-the-beaten path areas like Puglia, Abruzzo, or Molise. But If you want to go to the classic places and still avoid crowds while enjoying lower prices, come as late in the season as possible, between late October to early November.
3. Ogle the gorgeous fall colors
It's not just New England that gets brightly-colored leaves in the fall! Italy, too, shows off a range of beautiful colors come October. Of course, the best places to see the fall colors are in Italy's wooded national parks. But even a drive through the countryside of Lazio, Umbria or Le Marche is a feast for the eyes. (Here are 7 gems not to miss in Rome's region of Lazio).
4. It's the start of soccer season
Finally the buying, trading and deliberations are over, and the games are ready to begin. No sport is more beloved in Italy than calcio and the start of the season comes with much fanfare. Check out the game schedule and slip into any pub in any town – you're sure to watch the game in company! Or better yet, buy tickets for a truly cultural experience. Wear the right colors and get ready to scream your head off, this is soccer in Italy! 
5. Say benvenuto to beautiful weather and cooler temperatures!
In the early autumn Italy has a very comfy climate. In fact, as far north as Venice, temperatures can often be expected to reach the 70s and 80s through September. Compare that to the sweltering heat of August and things are staring to look pretty good.
By October the daytime highs and lows are in that fantastic range where you can put on a light jacket in the morning and shed it in the afternoon before dawning it again while watching the sun go down over an aperitif. This climate is also better for pictures because the light becomes less harsh and the shadows deepen, meaning all those pictures of old Roman ruins look that much more dramatic.
The only downside is that there are more rainy days mixed in, which is something you have to watch out for especially in Venice, starting in November.  But in general the sunshine is fantastic and unless you are a real sun lover, it's much more comfortable during the day than the summer.
Do you love the fall in Italy? Tell us why, or why not, in the comments!