Guide Spotlight: Barbara
August 1, 2023
In this blog series, we get up close and personal with some of Walks' guides around the world, showcasing some of the amazing people who take Walks with us from Rome to New York. Along with our Tours from Home, we hope this blog series will add another bit of travel inspiration to your life – hearing from the men and women who inspire us and Walks guests around the world!
Today, we're joined by one of our Rome guides, Barbara Ciolli, who shares her tips for the Eternal City including her insights into a Renaissance villa in Trastevere, a hidden gem in Rome, along with some places around the world that should inspire our travel bucket list! We'll let Barbara take it from here.

Tell us a bit about yourself
I am an anthropologist. I was born and grew up in Rome but I lived and studied abroad for 6 years, mostly in Spain, and in Egypt for a short while. I traveled around for some time but in the end, I came back to Rome and settled here. I became a tour leader first, and then a guide. At this moment I'm focusing my studies on a couple of topics. One is a specific site, Villa Farnesina, the second is the early middle ages in Rome, especially the figure of Emperor Constantine.
Can you tell us more about Villa Farnesina in Rome?
I love Villa Farnesina because it is the perfect summary of the Roman Renaissance. In the 1500s in Rome, power and beauty are deeply connected. Art is at the service of power, and beauty is the way to enjoy human time on earth but also to show off richness and power.
The great banker Agostino Chigi, the creditor of the pope Julius II and personal friend of Raphael the painter, is the perfect "Renaissance man". Extremely rich, passionate about art, astrology, Greek mythology, he married a Venetian woman of a lower social class, just because he loved her.
His Villa, which hosted the best parties and the most sumptuous banquets of the 1500s, is a precious pearl of beauty. It is the perfect picture of the joy of life of the Reinassance, perfectly interpreted by the great painter Raphael.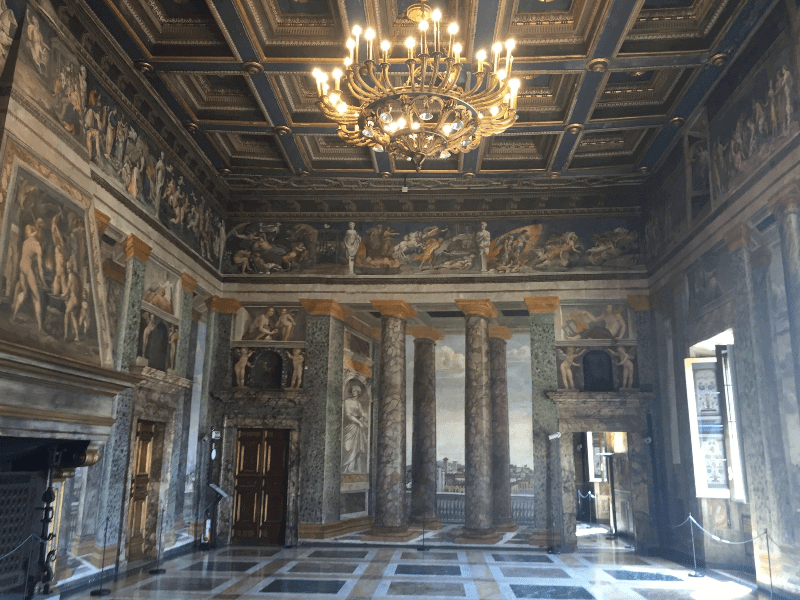 What is your favorite story to share with guests?
Being an anthropologist, I am particularly interested in the human profile beyond history. I have always conceived history as the sum of the stories of the people. Some of them made exceptionally important decisions and have definitely changed the life of the rest of us.
That's why my favorite story is a gossip about Gian Lorenzo Bernini. He had a lover, Costanza, who was the wife of one of his workers. He used to visit her when her husband was at work (and of course he knew it). But Bernini's brother had…ehm…the same lover. When he discovered all this, he almost killed his brother and had the girl scarred in the face by a servant… But then portrayed her in an extremely beautiful way, and keep the portrait for himself. Of course, Bernini's brother was banished from Rome, by the Pope, because Gian Lorenzo was guilty, but he was too necessary to the Pope.
Do you have a favorite piece of artwork?
As I love biographies, my favorite pieces of art are obviously portraits. But my absolute favorite piece has got nothing to do with nothing. It's just the fragment of the face of a deity, dating back to 1st bc. It is ivory, part of a chryselephantine sculpture. It is preserved in Palazzo Massimo and to me, it is absolutely magnetic.
What draws you to the fragment of the face of deity?
The unknown deity face of Palazzo Massimo is magnetic to me because in some way it touches my subconscious. I can't say why but it captures my whole attention when I look at it. Maybe it's because of the unusual material, ivory, or maybe because the loss of the eyes allows me to imagine the look of an ancient god as I envision.

Which is your favorite neighborhood in Rome?
My favorite neighborhood is the Aventine hill. If you walk around there on a summer afternoon, you will feel the silence. You feel like you're in a small village. But you're in the very center of the town. And the view is astounding.
Is there a hidden gem in Rome you would recommend travelers to visit?
My most beloved hidden gem in Rome is the minuscule church of San Carlino al Quirinale. It is so small that it could fit into one of the pillars of St. Peter's dome, but it is a mystical place, where faith, beauty, power, and freedom are perfectly expressed by the revolutionary architecture of Francesco Borromini.
Outside of your home city, what is your favorite place in the world to visit? Why?
Istanbul is the city I consider my "second home". In some ways, it is very similar to Rome because of the many layers of history lying one above the other and still legible. On the other hand, they are extremely different, like the same sentence in two different languages.
Where would you travel to next? Why?
My next trip will be to Japan. I deeply love my country and its culture, but sometimes I really need to face the difference to compare my habits with the daily life of people who see the world in a very different way and learn something about myself by comparing myself with others.
What city or place in the world do you think is the most underrated, and would you urge people to visit?
Personally I think that too many places in Italy are underrated, shaded by the great popular cities like Rome, Florence and Venice. In my opinion, everybody should visit Palermo, for example.

In which city have you tried the best food and what was it?
Food is a matter of taste, and I love Mediterranean food. If I exclude my mother's house, one of the best dishes I've tried is an eggplant cream called Baba ganoush in Alexandria, Egypt.
Update notice: This article was updated on April 9, 2023.