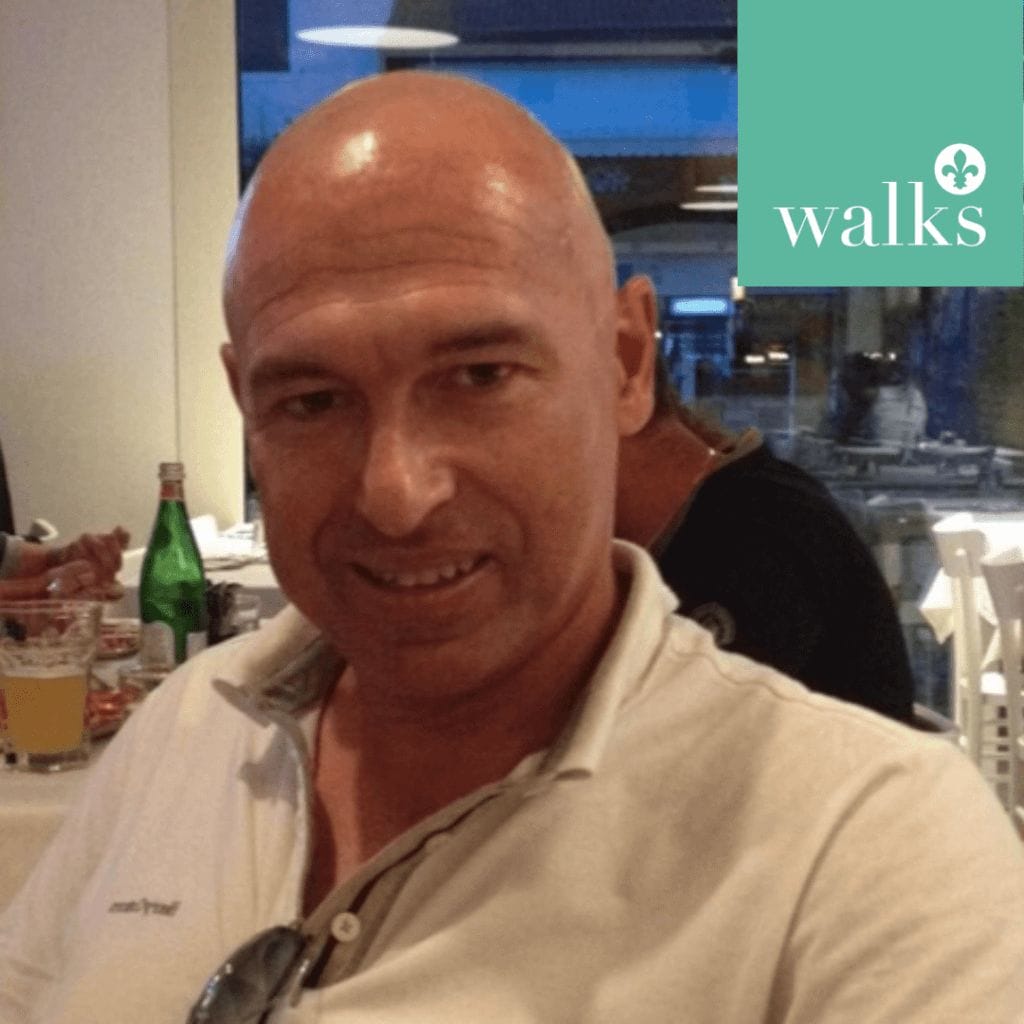 Guide Spotlight: Alessandro
August 1, 2023
In this blog series, we get up close and personal with some of Walks' guides around the world, showcasing some of the amazing people who take Walks with us from Rome to New York. Along with our Tours from Home, we hope this blog series will add another bit of travel inspiration to your life – hearing from the men and women who inspire us and Walks guests around the world!
Today, we're joined by one of our Venice guides, Alessandro Trabucco, who shares tips for the city including his favorite piece of art, a hidden gem in Venice, along with his favorite place in the Veneto region and places around the world to inspire our travel bucket list! We'll let Alessandro take it from here.

Tell us a bit about yourself.
I was born in Venice and got my history degree at Ca'Foscari University in Venice. I have been a Professor in secondary school teaching history, Italian, and geography since 2000 and in 2017, I decided to realize my dream to become a guide in my "dream" city. I passed the exams and today I am a European guide "Guida Nazionale" and I am so proud of this as I love to explain my city to tourists more than teaching nowadays.
Share with us your favorite piece of art.
My favorite piece of art is the famous "Pietà" painted by Titian Vecellio and kept in The Accademia Gallery in Venice. It is my favorite because you can see the sufferance in Jesus' body and how incredibly Titian painted it with his fingers on the white color when the painter realized he was ill due to the plague 1575/6 in Venice and he eventually died from this illness. This painting was a prayer to ask the healing for Venice and Venetians. Another thing I like in this painting is Mary's face and eyes they are so realistic. This opera was finished by Palma the young upon Titian's death.
What is your favorite story of Venice to share with guests?
I always introduce my favorite story that is the beginning of Venetian life inside the lagoon from the 3rd century AD when there were barbarian invasions and many Venetians from the mainland escaped and saved themselves inside the lagoon. I explain the relations they had with the Byzantine empire and how Venice was not like what you see today as it was simple islands with hunters and fishermen, huts, and small wooden bridges.

Is there a hidden gem in Venice you would recommend travelers visit?
One of the hidden gems in Venice is Scala Contarini del Bovolo, located near Campo Manin in a narrow alley. This beautiful staircase that goes up to a beautiful palace was built during the 15th century for the Contarini noble family in Venice by the architect Candi and Spavento. It is called "Bovolo" because it's going around like a snail. From the top, you have a wonderful view of the city.
Do you have a favorite area in Veneto region?
Treviso is a famous city in the countryside and most of the buildings there are from the 14th/15th century like the Palazzo dei Trecento, the building that is the government council of the city. In Treviso, you can also visit the Duomo with a neoclassical facade, one romantic crypt, and a painting by Titian. Also, Santa Caterina complex has a lot of medieval frescoes.
Outside of your home city, what is your favorite place in the world to visit?
I would like to go to the USA to visit a lot of areas in particular Boston with the pilgrim fathers episodes; The wonderful outdoor areas like the lake regions in the north as well as in Colorado and Texas. I would like to visit New York too.
What city or place in the world do you think is most underrated, and would urge people to visit?
I suggest a visit to India as I think a lot of tourists have to go there for a mystical reason and for meditations, as well as to visit some important areas like the famous Taj Mahal.
Update notice: This article was updated on April 9, 2023.