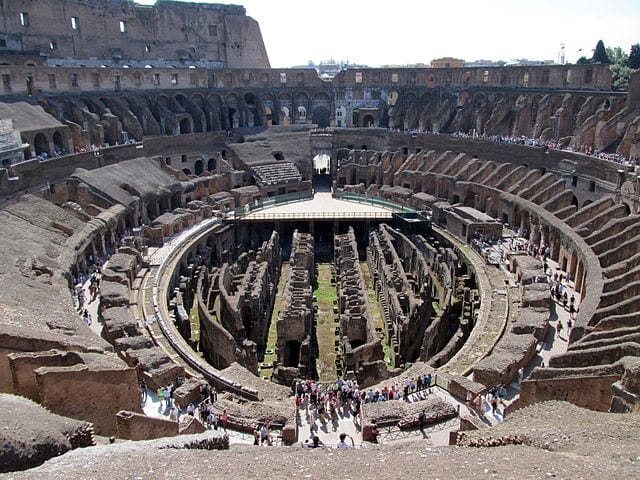 Colosseum Underground Tours Extend Opening Dates & Allows Independent Visits
February 17, 2023
When the underground of the Colosseum opened to the public for the first time in 2011, there was lots of press and excitement. Then the hypogeum—the subterranean area where gladiators and animals would have waited for their turns to fight—closed. And reopened again in the spring. (The third level did, too).
As of this week, though, we've got two big pieces of news that change all that.
LATEST NEWS: June 26, 2021: New areas of the Colosseum Underground has reopened to the public after two years of restoration work. More details here.
LATEST NEWS: June 10, 2015: Colosseum underground tours are still running through the summer. As is to be expected, tickets are getting harder to come by as demand is off the charts. To help accommodate this, Walks has launched a new VIP Ancient Rome tour, which includes newly-opened, special access sites in the Roman Forum & Palatine Hill archaeological area just outside the Colosseum. This visit includes exclusive access to Caesar's Palace, aka the house of first Roman Emperor Caesar Augustus. You'll see ancient frescoes, grand salons, and an ancient staircase. For more information and booking, visit the following links:
LATEST NEWS: August 5, 2014: After being closed for most of July, the Colosseum is now reopened. That means that all tours currently will access: the Arena Floor, the Underground (hypogeum), and the Third Tier (top level). Keep in mind, there are still ongoing restorations happening so closures to certain areas are to be expected.
UPDATED NEWS April 5, 2012: Colosseum officials announced today that the underground will reopen this Saturday, April 7th! See our post on the reopening for more.
UPDATED NEWS December 30, 2011: Since October, because of flooding from heavy rains, the Colosseum underground has remained closed. However, the top level with its fantastic views is still open (to those on tours only). The Colosseum plans to keep the top level open through at least the end of August 2012, so the tour remains an excellent way to get an exclusive experience and a different view—literally!—of the Colosseum. We'll let you know, though, as soon as the underground itself reopens! We're crossing our fingers that it will happen soon. And when it does, all tours booked to the top level will automatically include the underground section as well, with no extra cost to you.
UPDATED NEWS July 5, 2011: We've now got confirmation that the Colosseum's underground and third tier will remain open through the end of SEPTEMBER. And they might not be open after that since September is when they're planning on starting the restoration work on the Colosseum — so make sure you book now for this once-in-a-lifetime opportunity!

UPDATED NEWS June 8th, 2011: Colosseum officials at Pierreci have announced underground and third tier areas will remain open through the end of July AUGUST (Yay!). (What hasn't been officially confirmed is whether the Colosseum's hypogeum and third level will be open past that date, much less to October, as some sites and agencies are claiming).
Secondly, here at Walks of Italy, we're both offering tours of the Colosseum underground — and we've gotten permission to use our own guides. As far as we know, that makes us the only tour agency that's actually using its own guides to lead tours into the hypogeum and third level. That also means that our tours of the hypogeum will be capped at 12 people, just like all our walking tours. The tour also visits the Roman Forum and Palatine Hill.
We don't really like tooting our own horns, especially on our blog. After all, it's a travel resource for readers. But you know what? At the end of the day, we think this is pretty helpful news. Especially because it means that for the first time, when it comes to visiting Colosseum underground tours, you have options.
You might also like:
Pope John Paul II: The Man, the Pope, the Road to Sainthood
Beat the Heat: Escape to the Top City Parks in Florence, Rome, and Milan