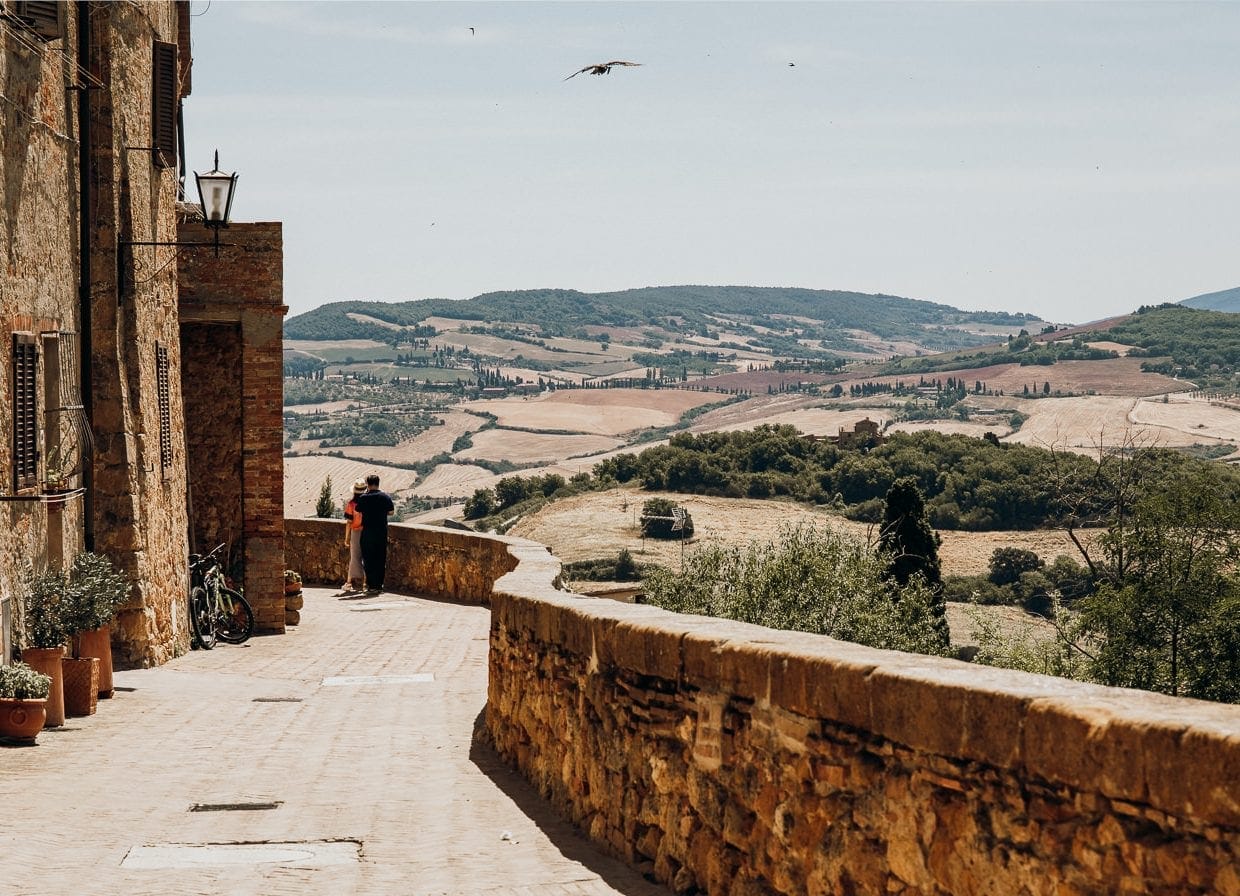 Must-Visit Destinations in Italy: Bologna, Matera, Urbino, & More
May 24, 2023
While last year might have been all about Positano, the Amalfi Coast and sporadic celeb-spotting by the sea, Parma, Rome and the Dolomites among others will be taking centre-stage in the eyes of the world for the year ahead.
How to choose a destination in Italy
So how does one go about finding the perfect Italian vacation spot for the year ahead?
Maybe you've been hearing discussion about the Dolomites or simply fallen in love with a photo of Lake Garda? Perhaps Parma has caught your eye or the Venice Carnival has always been on your bucket list?
Whether you're travelling to Italy alone, as a couple, as newly-weds, with kids or as part of a larger group, when it comes to travel plans, something tells us that Italy is about to feature very highly!
So without further ado, let's take a look at the eight must-see regions or – more specifically – 12 stunning destinations that shouldn't be missed.
The delights of the Dolomites
A mountain range located in northeastern Italy, the Dolomites' 18 peaks span an impressive 350,000 acres and act as a backdrop for stunning locations like Lake Garda and Cortina d'Ampezzo, among others.

Declared a UNESCO World Heritage site in August 2009, the Dolomites are an absolute must-see next year, and considering the number of incredible destinations nestled amongst them, it's time we took a look at our top three Dolomites picks.

Quick, grab your pen and decide on your Dolomite destination!
1. Lake Garda
As the largest lake in the country, Lake Garda has always been a firm favourite among visitors to Italy. The idyllic surroundings of the lake are bettered only by the spectacular views which await you at the Dolomites.

You can enter the mountain range from the northern half of the lake, spend summer days pottering around the picturesque villages dotted along the water, and capture photos not even the greatest filter could compete with.
2. Cortina d'Ampezzo

Decided that this will be the year you finally hit the slopes? Or maybe skiing holidays have always been your forte? Either way, it's high-time you make your way to Cortina d'Ampezzo, a stunning town nestled in the province of Belluno, and just 30 minutes from the stunning Giau Pass.

Located in the heart of the Dolomites, the town is a veritable paradise in winter; ideal for anyone interested in snow sports, eager to visit the locations featured in the James Bond movie For Your Eyes Only, or keen to simply relax in a setting just made for a little cosy R&R.
3. Bressanone
The oldest town in Tyrol, Bressanone – also known as Brixen – is an all-year round resort.

As idyllic in winter as it is in summer, this town is the perfect choice for anyone who appreciates the traditional fairytale aesthetic.

Narrow streets, proud steeples and enough cultural and historical touchstones to keep any tourist interested, Bressanone is a must-see if you plan to experience the Dolomites.

Read more: 6 Favourite Spots in the Dolomites of Italy
PSSST! Choosing a location can be tricky, but choosing a tour doesn't have to be! Walks of Italy knows Italy – and its stunning destinations – inside out, and we love sharing our knowledge on local-led tours!

walksofitaly.com
Exploring Emilia-Romagna
From the Dolomites to Emilia-Romagna!

Located in northern Italy, this region boasts a staggering 13 UNESCO Heritage Sites.

And if that wasn't enough, it's also home to Parma, Bologna and Modena, so Emilia-Romagna is certainly worth devoting time to when drawing up your travel plans!
4. Parma

Lauded for its architecture and art history, Parma guarantees its visitors a multi-sensorial experience. Famed for its rich gastronomy scene, it was named UNESCO Creative City for Gastronomy in 2015. In addition, this friendly university city Italy's Capital of Culture for 2020.  

Why not experience the beautiful city of Parma during any time of year?
5. Bologna
If Parma has piqued your interest, let's chat about the region's other incredible cities. Let's talk Bologna!

The capital of the Emilia-Romagna region, Bologna is home to the oldest university in Europe, boasts more than 50 museums and, like Parma, is certainly worth a visit if food features highly on your list of holiday indulgences!


6. Modena
The third destination in the Emilia-Romagna region worth considering is the picturesque city of Modena. The birthplace of the late operatic tenor, Luciano Pavarotti, Modena is nestled between Parma and Bologna, and less than an hour's drive from both.

Famed for its culture, cuisine and cars – Ferrari named one of their models after the Italian city – Modena is also home to three UNESCO World Heritage sites; the Piazza Grande, the Duomo of San Geminiano and the Torre Ghirlandina.
Luxuriating in Lazio
Traveling south through the country from Emilia-Romagna, we arrive in Italy's Lazio region. Lazio is divided into four distinct provinces, and is also home to the country's capital, Rome.

One of the most popular cities among travelers to Italy, it's easy to assume you know what to expect from the capital, but that's not always the case!

With that in mind, it's time to consider what Rome has to offer visitors!
7. Rome
Rome might be considered a haven for history buffs, but next year it'll be a must-visit destination for football fans!

That's right; anyone eager to get in on the UEFA Euro 2020 action would do well to include the Italian capital in their travel plans for next year, as it will be hosting the tournament's opening game in June, as well as three others in the Stadio Olimpico.

But that's not all! UEFA will be celebrating the first UEFA Festival which promises to 'bring the city of Rome to life, with a celebration of arts, culture, music and most importantly football!'

So, even if you're not fortunate enough to secure a ticket to any of the games, you will be perfectly placed to revel in the unique atmosphere created during iconic tournaments like the Euros.
Word to the wise: If football fatigue sets in, why not join us for an evening of pasta making or sink beneath the surface of the city for a stroll through Rome's catacombs?
Making the most of Marche
The next port of call on our whistle-stop tour of Italy for 2020 is the Marche region, which borders the aforementioned Emilia-Romagna region.

Often overlooked in favour of Tuscany, Marche is equally as picturesque, and most definitely worthy of inclusion in any 2020 travel plan!

Made up of five provinces, we're about to focus our attention on the Pesaro and Urbino region, or perhaps more specifically, the city of Urbino.
8. Urbino
Set on a hillside, this medieval walled city is an absolute must-visit for fans of Renaissance history and artwork.

Home to the Palazzo Ducale, which was listed as a UNESCO World Heritage Site in 1998, the palace boasts one of the most impressive collections of Renaissance art in the world.

Every August, Urbino celebrates the Festa del Duca – the Duke's Festival – which pays homage to the city's medieval history, and gives locals and tourists alike an opportunity to immerse themselves in the spirit of the city.
Travelling through Tuscany
One of the most popular destinations among tourists to Italy, it's no real surprise that Tuscany features on our must-visit destinations for 2020!

Home to the beautiful cities of Florence, Pisa, and Lucca among others, it's likely you may feel overwhelmed by the number of incredible destinations at its core, so let us guide you a little.

In 2020, why not take some time to stroll the streets of Siena?
9. Siena
If immersing yourself in the history and architecture of a city by slowly meandering its narrow streets strikes you as the perfect way to spend time in Italy, Siena should feature highly on your must-see list for 2020!

Declared a UNESCO World Heritage site in 1995, the Tuscan city is as postcard-perfect a destination as you are likely to find in Italy.

Awash with awe-inspiring churches, idyllic piazzas and peppered with a host of restaurants to pique even the most casual foodie's interest, Siena is a must-see destination for anyone eager to lose themselves in the sights and sounds of a much-loved medieval city.

Read more: What to Do in Siena… In Pictures
Visiting Veneto
Less than two hours north of Emilia-Romagna, the Veneto region is home to one of the most iconic cities in Italy, if not the world.

And yes, you guessed it, that city is Venice!

If you're planning a trip to Italy in February, here's why you need to make sure the Veneto capital is top of your list.
10. Venice
Think Venice; think canals, think gondolas, think carnivals!

The Venice Carnival is among the most famous festivals in the world, and next year it takes place between the 8th and 25th of February, so why not get involved and tick it off the bucket list?!

Every year, visitors travel from all over the world to watch parades, attend balls, celebrate street parties, and marvel at the distinctive masks which feature predominantly throughout the Italian city for two weeks.

The Venice Carnival is a truly magical interlude in the lives of Venetians, and all those who travel far and wide to take part in the celebrations.

Read more: The Top Non-Touristy Things to Do & See in Venice
The best of Basilicata
Basilicata, which is home to two provinces; Potenza and Matera, is steadily gaining in popularity among visitors to Italy.

Indeed, Matera was even awarded the European Capital of Culture in 2019, and here's what you can expect from it!
11. Matera
Parma may be Italy's Capital of Culture in 2020, but Matera is current flying the flag as Europe's Capital of Culture for 2019 alongside Plovdiv in Bulgaria, and will likely be a sure-fire hit among film fans!

Matera is home to Sassi di Matero – an ancient city which was awarded UNESCO World Heritage Site status in 1993 – and has direct links to a number of Hollywood productions.

The Italian city has featured in The Passion of the Christ, Wonder Woman and the remake of Ben Hur, among others!
Seeing the sights in Sicily
Long-legged Italy kicked poor Sicily into the middle of the Mediterranean Sea…"

For many of us, an early introduction to Italian geography came in the form of this schoolyard rhyme, so while we might be able to visualise Sicily in our minds, how many of us have treated ourselves to a trip there?



12. Agrigento
On Sicily's southern coast lies the city of Agrigento; a no-brainer for anyone interested in archaeology and ancient history.

It's in Agrigento that you will find the archaeological site, Valley of the Temples, which was listed as a World Heritage Site in 1997.

As the name suggests, the area is host to a number of temples – seven, to be specific – all in various stages of preservation, and undoubtedly worth your time during any trip to Sicily!
And remember guys, if you include any of our must-visit destinations in your travel itinerary for 2020, be sure to send us a postcard!