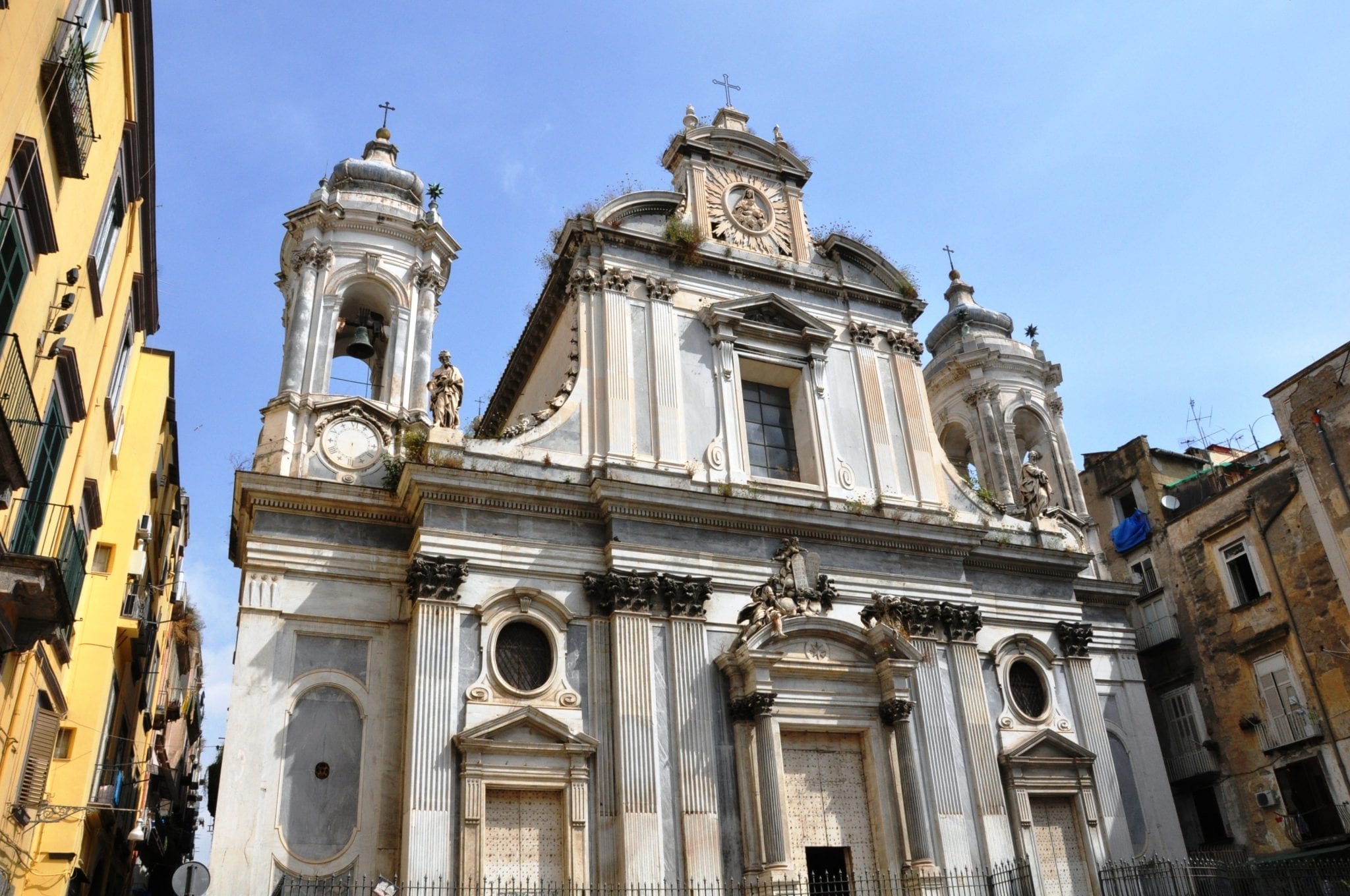 Why Visit Naples? 9 Reasons Not to Skip Napoli
April 26, 2023
Tell even the most resolute lovers of Italy to visit Naples, and the reactions vary — from shock to horror. For many, the name alone seems to conjure up images of garbage crisis and Mafia, runaway crime rates and bullets flying in the street.
And yes: Naples is gritty. It's chaotic. It's crazy.
It's also one of the most utterly fascinating places in Italy. And unlike anywhere else you'll go.
Here, nine reasons why you shouldn't skip this crazy, and beautiful, city.
Naples boasts the best pizza you'll ever taste
Ask any Italian where the best pizza in Italy comes from, and the answer will be – begrudgingly – the same: "Napoli." This is where pizza was invented, and since the 19th century, the Neapolitans have raised it to a fine art. Some of Naples' best pizzerias can be found on Via dei Tribunali, a kind of holy grail for pizza-lovers. Our advice: Head past longtime favorite Da Michele — which, particularly since its incarnation in Eat, Pray, Love, has become increasingly touristy — for I Decumani (Via dei Tribunali 58-61) or Di Matteo (Via Tribunali 94). But don't take our word for it: Try them all. If you want to make your own pizza at home don't miss our blog on how to make real Italian pizza.
All those treasures from Pompeii? They're in the National Archaeological Museum… in Naples
Very, very few of the frescoes, sculptures, mosaics, and everyday items from Pompeii, Herculaneum, and the other sites devastated by Mt. Vesuvius are in situ. Instead, they're in Naples. The city's archaeological museum is one of the best in Italy, if not the world, chock-full of such ancient treasures as the Farnese Bull, Artemis of Ephesus, and dozens of extraordinary frescoes. If you're lucky, the Gabinetto Segreto, with erotic artifacts taken from the, ahem, less-respectable establishments of Pompeii and Herculaneum, might be open (it's been closed for ages). This doesn't mean you should miss Pompeii though. Check out our comprehensive guide to visiting Pompeii. 

Naples has an entire underground city

Naples is built on tuff, a soft, volcanic stone. For the past 2,500 years, residents have made use of this tuff, from the ancient Greeks on up to today, by digging chambers and passageways beneath the city. Today, Naples' subterranean gems include everything from ancient Greek aqueducts to pagan burial chambers, Christian catacombs to World War II air raid shelters. You can visit the underground with an English tour with Napoli Sotterranea, or visit the catacombs at the Catacombs of San Gennaro on Via Capodimonte 13 or the Catacombs of San Gaudioso at Piazza Sanità 14.
Naples has three castles

Count 'em. There's the Castel Nuovo, built in 1279 by Charles I of Anjou; Castel dell'Ovo, with ancient origins and pretty much the best name ("Egg Castle") ever; and Castel Sant'Elmo, a fortress towering over the city that dates back to at least 1275. There's also Castel Capuano, a 12th-century castle at the east end of Via dei Tribunali, but it was so heavily restored it's tough to see the 12th-century character beneath the facade. If you love visiting castles, you should read our list of the most beautiful castles in Italy.
Caravaggio, Michelangelo, and Raphael, oh my!
If you have even a passing interest in art, you must pass through Naples. Why? Because of the Capodimonte. This museum has more gems than any collection in Italy aside from the Uffizi — and yet you don't have to vie for space in front of its masterpieces. The Capodimonte boasts pieces by Caravaggio, Raphael, Michelangelo, Botticelli, Titian, Bellini, El Greco, Artemisia Gentileschi, even an Andy Warhol of Mt. Vesuvius erupting… among others.
The city is laid-back but lively
On the one hand, few cities could seem more laid-back than Naples. Few stores or sites open before 10am; everything closes again around noon or 1, not to reopen until 3 or 4pm.
But in the evening, the streets, particularly around the university and the Spaccanapoli (literally "breaks Napoli," this is the street that cuts Naples' historical center in two), comes alive. Hotspots include Piazza Dante, the coastline stretch of bars and restaurants by the Castel dell'Ovo, and the Chiaia, an elegant nightlife area between Piazza Amadeo and Piazza dei Martiri.
Pastries, pastries, pastries
Pizza is far from the only food Naples does well. Its fritti (fried offerings), seafood, and pastas are top-notch, too. But the one thing you can't miss is the bakery. Thanks to Naples' mixed heritage — from the 12th to 19th centuries, the French, Spanish, Austrians, and Bourbons all claimed control at some point — its pastries have picked up the best of all foreign influences. Don't miss the baba, zeppola, sfogliatelle or, around Easter, the pastiera.
You'll find sculptures both Baroque and bizarre
Art in Naples is hardly limited to the Capodimonte or archaeological museum. For some of the best, check out the Cappello Sansevero, a 16th-century chapel filled with 18th-century sculptures of the late Baroque period, all emotive and over-the-top. The most famous, Giuseppe Sanmartino's Veiled Christ, is a masterpiece of expression — even through the veil covering the face.
Don't miss the sculptures of another kind, just downstairs from the chapel: These "anatomic models" are 18th-century people whose skeletons, arteries and veins have all been preserved to this day (the other theory, that the blood vessels are actually made of beeswax, wire and silk, is far less fun). Turns out, Bodies was an exhibit long before the present day.
You can't beat scooter-dodging as an adventure sport
When people say Naples is "crazy," this is the kind of scene they mean: A motorino whizzing down a narrow, cobblestoned street at 50mph, scattering locals in its way. Dad's in the front, Mom's in the back, and little Paolo is squeezed tight between the two of them. None of them have helmets on.
Since we don't have a death wish for our readers, we absolutely don't, and won't, recommend getting on a scooter while you're in Naples. But simply walking down the street can be adventure sport enough. Who knew strolling through a city could be so, well, fun?
Let's be honest, you're probably going here anyway…
Or at least passing through. If you're planning on making a trip to Pompeii, Herculaneum, or the Amalfi Coast, you're so close. And if you're heading to those spots from Rome, you're most likely passing right through Naples. And given the eight reasons listed above…wouldn't it be a shame to stay on the train?
Discover Italy's unofficial culinary capital as you taste your way through the pastry shops, wine bars, and pizzerias of Naples on our Ultimate Naples Food Tour! Join us for 10 food tastings, two glasses of wine, a coffee and a limoncello throughout four vibrant neighborhoods in Naples.