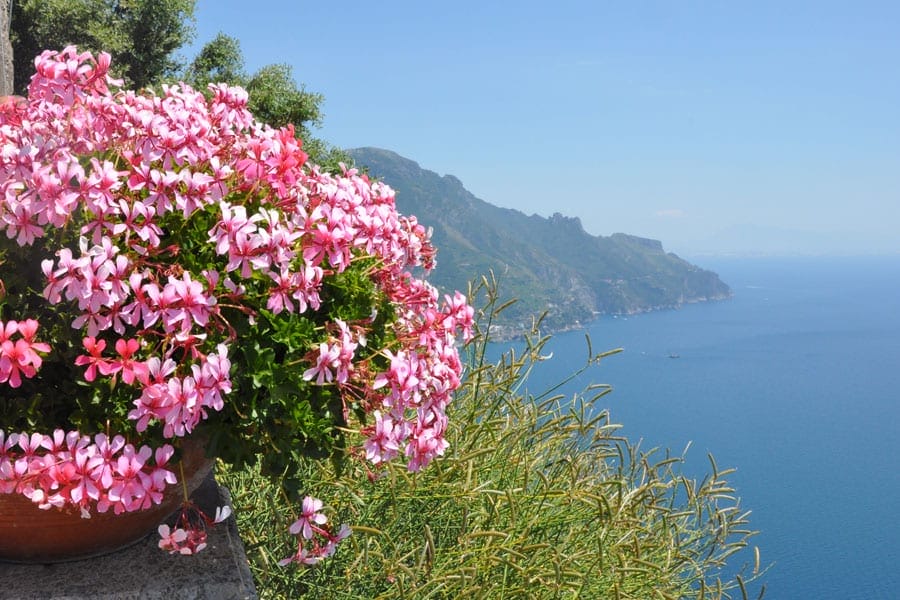 6 Best Places to Enjoy Spring in Italy: Lake District, Val d'Orcia & More
July 10, 2023
Spring in Italy? Stunning! But while that's true no matter where you are (in fact, here are 6 reasons we love Italy in springtime), we tend to think that nothing shouts spring!… more than blooming flowers. And gorgeous views. And verdant landscapes. Especially in a country as full of natural beauty as this one.
Do you agree? Then make sure you check out our list of places you especially won't want to miss in Italy in springtime. Here are six of our favorite places to visit during spring in Italy.
The Dolomites
The Dolomites are great for skiing in winter, and hiking in summer… but when it comes to the combination of vibrant greenery, beautiful flowers, and just a trace of snow on the mountains, we love the spring! Above, wildflowers grow in the Brenta Pass, a popular place for hikers.
Ravello, on the Amalfi Coast
Sure, all of the Amalfi Coast is pretty beautiful in spring. The terraced hills are bright-green and spotted with flowers, the temperature's balmy… and yet, because it's not high high season, towns like Amalfi and Positano aren't yet shoulder-to-shoulder with tourists.
That said, Ravello is our favorite springtime spot on the Amalfi Coast. Why? Its villas and stunning gardens. The 13th-century Villa Rufolo has enchanting, flower-filled gardens and views of the seaside. Oh, and so does Villa Cimbrone. And just exploring the tiny town, you'll probably find other villas and vistas that couldn't make you happier to be in Italy in springtime.
The Umbrian countryside
The countryside of Umbria, the region next to Tuscany that's often dubbed the "green heart of Italy," is beautiful year-round. But in the springtime, when the weather is balmy (but not too hot) and, yes, the flowers are blooming, it's particularly pretty. Seek out a medieval hilltop town like Spoleto, shown above, to get gorgeous views of the rolling, verdant countryside.
Abruzzo's Campo Imperatore
Although people often pass it by for Tuscany or Umbria, the countryside of Abruzzo is stunning. One of our favorite spots is Campo Imperatore, an alpine meadow not far from L'Aquila, which happens to be the largest plateau in the Apennine Mountains.
In the springtime, shepherds emerge from neighboring hill towns to graze sheep, cattle, and horses here. Wildflowers are everywhere, like those above. And for real flower enthusiasts, there's the Alpine Botanical Garden  of Campo Imperatore, which includes about 300 species of plants and flowers indigenous to the mountains region.
Tuscany's Val d'Orcia
Is there a reason to visit the Val d'Orcia, the picture-perfect area of Tuscany that's even a World Heritage site, any time of year? Absolutely. But one of our favorite times has to be the spring—if for no other reason than the way the grasses turn electric green this time of year. Oh, and the baby animals at the farms are nice to see, too.
Italy's lake district, including Lake Maggiore, Lake Como, and Lake Garda
The lakes of northern Italy are a perfect destination in April or May. As with the Amalfi coast, the weather's much better than it would be over the winter, and the restaurants and hotels are open—but the real crowds haven't yet arrived. Better yet? The lakes are famous for their opulent villas… and villa gardens. And if there's anything prettier than a beautiful, flower-filled landscape, it's a beautiful, flower-filled landscape that's perched on a sparkling-blue lake. (Don't miss our post on how to choose between Lake Como or Lake Garda!).
Want to fit in with the Italians during your visit? Check out our post on how to dress like an Italian, in the spring!