Italy with Dietary Restrictions: Eating Vegetarian, Vegan, Gluten-Free and Lactose-Free
May 22, 2023
If you're a vegetarian or vegan or have any other dietary restrictions, you might be wondering if it's possible to navigate Italy's restaurants, cafes, and grocery stores. Don't worry, it can be done!
True, excluding meat or dairy as a lifestyle choice is, literally, foreign to Italians. And that means not just that you might get a funny look if you try to explain you're a vegetarian – but that they won't quite understand, and you'll wind up with, say, guanciale in your pasta anyway.
Meanwhile, although Italians are familiar with the idea of being lactose-intolerant, celiac, or anything else – and while they'll probably understand it better than choosing to eat that way – it can be tough to find restaurants that will cater to you. Read on for our top tips for eating in Italy while on a restricted diet.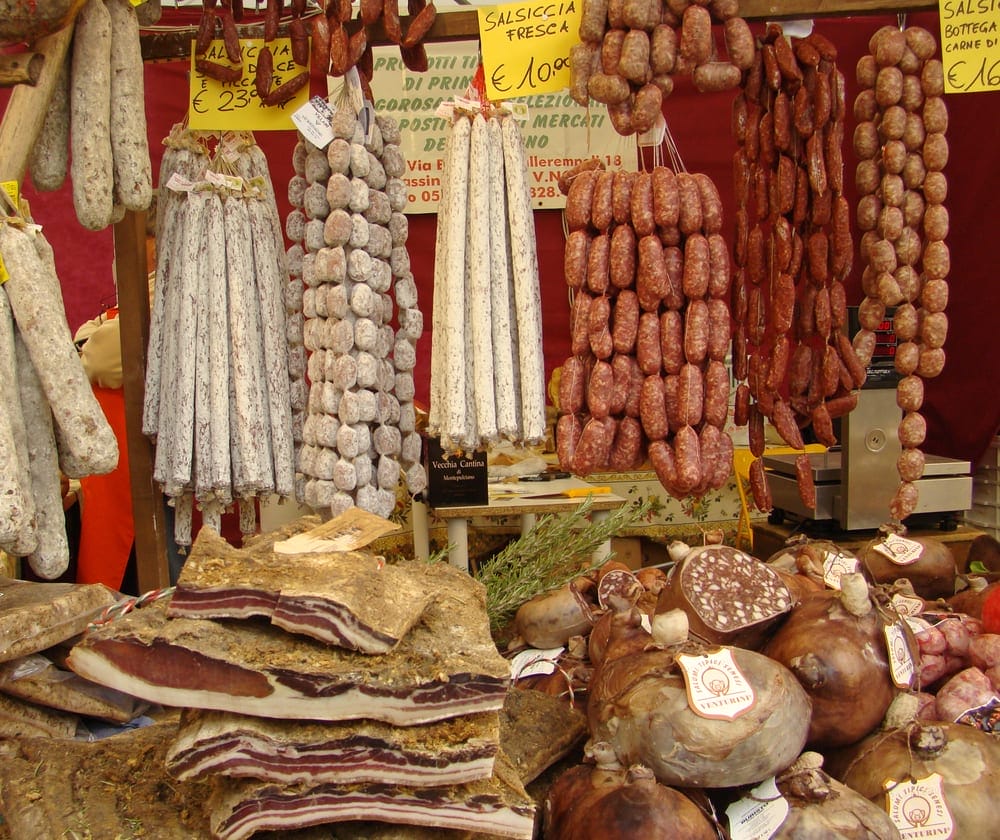 A note about common ingredients in Italian cooking
In restaurants in other countries, it's common to see dishes drenched in butter or cream sauces – not ideal if you're vegan or lactose-intolerant. But in Italy, the base for pretty much everything is olive oil. Many Italians don't even own butter. And heavy cream sauces, of the kind you have to be careful of in, say, France, are very rare. Even carbonara, usually made with cream outside of Italy, doesn't have cream when it's made by Italians.
Meanwhile, other traditions that crop up in Italian-American restaurants, like shaking grated cheese over pasta, you just don't see at restaurants in Italy. Very occasionally, you'll be offered cheese to add to your pasta, but that's it.
On the other hand, guanciale (pork jowl) is often used in tomato sauces for various pastas (although, if the menu describes each kind of pasta, guanciale should be listed), and pancetta often winds up in soups. Fritti also tend to have meat or fish inside, including even fiori di zucca and suppli. Cream is also a popular base for desserts, like tiramisu or millefoglie, so always ask to be sure.
Tips for traveling in Italy with dietary restrictions
Research restaurants in advance
It's possible to find vegan or vegetarian options at normal restaurants, but sometimes, you want some more options. If that's the case, check out Happy Cow's list of vegetarian/vegan restaurants in Italy.
Meanwhile, being celiac can be one of the tougher restrictions in Italy. Wheat is, after all, in all the main staples of Italian food, from bread to pasta to pizza. So, if you're celiac, check the Italian Celiac Association's website. While it's in Italian, it's fairly simple to navigate. Click on the category you want on the left (i.e., "Ristoranti/pizzerie/alberghi/hotel"), then scroll down. Put the correct region in on the left and the province, if you know it, on the right. (Rome would be Lazio and RM; Florence, Toscana and FI; Venice, Veneto and VE). Restaurants that come up are those that offer gluten-free options and are familiar with celiac disease.
Head into an Italian restaurant knowing what you can (probably) eat
For those with restricted diets, the good news is that Italian cities and regions tend to be known for particular dishes. And those dishes appear again and again on local menus. In Rome, for example, you'll see a lot of amatriciana, cacio e pepe, and carbonara (in fact, it's hard to find a Roman restaurant that doesn't offer these three dishes). And, while in other countries, each restaurant would probably make the dish almost completely differently from the next, that's not so much the trend in Italy, where people like to know exactly what they're getting when they order a certain dish (and where they want it to taste exactly like Grandma's!).
So familiarize yourself with local specialties you can eat ahead of time. More on some safe bets for different diets at the end of the post.
Be specific about what you don't eat
Saying you're a vegan is confusing even in the States, where one self-labeled vegan might eat dairy but not eggs, another nothing that ever touched an animal at all. It's even more confusing in Italy, where it's rarer. So go easy on the poor waiter. Be specific. After you've picked out a couple of things that might be okay, ask: "È senza glutine?" (Is it gluten-free?), "È senza carne?" (It's without meat?), "È senza formaggio?" (It's without cheese?) or "È senza noci?" (It's without nuts?).
Describe what you don't eat as an intolerance or something you don't digest
This goes along with many Italians not understanding a diet as a lifestyle choice. What they do understand is digestion (as the number of yogurts, drinks, and other foods marketed as being "good for digestion" attests!). So consider saying "Non posso digerire …" (I can't digest …) instead of "I'm a vegetarian" or "I'm vegan."
Lactose-intolerant? In Italy, you might be more tolerant than you think
If you are lactose-intolerant, you might find that you can eat dairy items in Italy that you can't back home. For one, some people find that it turns out that they're not intolerant of lactose – they just can't handle the preservatives and additives that tend to be added to dairy in the States, but aren't as much in Italy.
For another, when cheeses are aged, the bacteria actually consumes lactose. Most lactose, in fact, is gone after just three months of aging. On top of that, processed cheeses have more lactose than other cheeses. (Velveeta, for example, has 9.3% lactose). So you might find you're just fine when you eat Italy's harder, aged cheeses, like Parmigiano-Reggiano ("parmesan") or pecorino. Even if you can't eat "parmesan cheese" in the States, of course, you might be able to in Italy; in the U.S., what's sold as "parmesan" is rarely the real thing,
If you're a vegan or vegetarian, then order…
bruschetta
A traditional antipasto, this is toasted bread rubbed with oil, garlic, and with a variety of toppings to choose from. Bruschetta al pomodoro is bruschetta with tomato, and we've yet to see it with any meat thrown in!
pasta all'arrabbiata
Literally "angry pasta," this is pasta with a spicy tomato sauce. There shouldn't be any meat or cheese (generally, if cheese isn't already tossed with the pasta, as in cacio e pepe, it won't be sprinkled on after, as we do in Italian-American restaurants in the States).
pizza
If you're vegan or lactose-intolerant, opt for the pizza marinara, which is pizza with tomato sauce (no cheese). If you're vegetarian, you have lots of options, the most simple of them the classic pizza margherita (tomato sauce and mozzarella). If meat's not listed as a topping, it won't be on the pizza. Just make sure you understand what all of the toppings are! Peperoni, by the way, isn't "pepperoni," but peppers.
grilled vegetables in the contorni section
Contorni means "sides," and this is usually where you'll find a plethora of vegetable dishes, from grilled eggplant to roasted potatoes to boiled spinach (depending on the season).
If you have celiac disease, then order…
polenta
A dish made from boiled cornmeal, polenta is particularly popular in northern Italy.
farinata
A kind of "bread" made out of chickpea flour, it's a particularly popular snack in northern Italy and in Liguria (including the Cinque Terre).
risotto
A rice-based dish that's especially popular in Milan, Venice, and the north. The broth might have gluten, so ask.
gnocchi
How gnocchi is made can vary, so make sure you ask how it's made. One traditional way to make it is with potato, in which case you're good to go; sometimes, though, flour is used. Just ask.