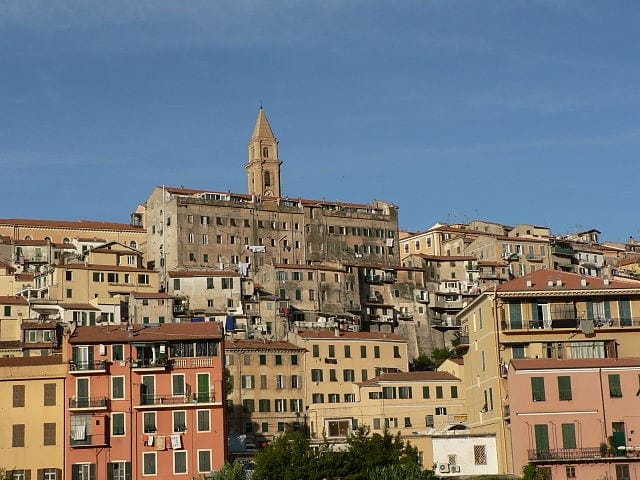 Ventimiglia, Italy: 8 Surprising Facts About this Gem of the Italian Riviera
April 30, 2020
The last town in the Italian Riviera before hitting the French border, Ventimiglia is one of our favorite destinations in northern Italy. With its fascinating history, beautiful beaches, open-air markets, and gorgeous gardens, it's a gem of the Ligurian coastline.
It also couldn't be more convenient. It takes about two hours to drive to Ventimiglia from Genoa, or two and a half hours on the train. If you go by car, here's a tip: Keep your eye out for road signs that say "x.x. miglia"—that means "Ventimiglia"!
Here are five facts you didn't know about this gorgeous town on the Italian Riviera (along with reasons why you should plan your trip there… now!).
The name "Ventimiglia" doesn't come from what you think.
Thought the name came from the phrase for "20 miles" (venti miglia) in Italian? We did, too. But nope. Turns out, the name derives from ancient Ligurian dialect "Albium Intemelium", meaning capital city of the Intemelii (Ligurian coast).
Want to explore the oldest part of Ventimiglia? Go up.
The Roia River divides Ventimiglia into two sections: new and old. City walls encircle the old part of the city, which, because it's up on a hill, is called Ventimiglia Alta. So if you want to see some of the town's most historic gems—including ancient ruins and churches dating back to the 10th century—then you have to go… up! Bonus: You also get picture-perfect views of the Ligurian sea.
Friday in Ventimiglia means shopping… on the beautiful boardwalk.
Shopaholics, rejoice: In Ventimiglia, not only do you have an open-air market, but it's in the most picturesque spot possible—on the extensive lungomare (boardwalk). On Friday, the boardwalk is lined with open-air stands offering deals on handmade clothing, leather goods, furniture, produce, freshly caught fish, Italian food specialities, wine, and, of course, flowers.
Can't make it on Friday? Not a problem! Many of the same products can be found at a more limited market along the same promenade every day of the week except Sunday.
Some of the best beaches in Liguria are near Ventimiglia.
Want to hit the beach? Ventimiglia offers two breathtaking beaches right near the city center. The Spiaggia dei Balzi Rossi ("Beach of the Red Jumps"), surrounded by red cliffs and wild plants and flowers, is actually part of an archaeological site. Definitely not your typical beach! For a more traditional alternative, Spiaggia delle Calandre is ideal for long walks… and, of course, admiring (or enjoying) the turquoise water. Don't forget your board, since surf's up on breezy days!
Ventimiglia is home to one of the most important libraries in Italy…
It's not all beaches and promenades in Ventimiglia. The medieval town also is home to the Biblioteca Civica Aprosiana. A must-see for any bibliophile, this huge public library, founded by the writer and Augustan monk Angelico Aprosio in 1648, is one of the oldest in Italy. And it houses the country's 2nd-largest collection of manuscripts and books from the 17th century.
And, just like Ventimiglia, the library is divided in two! The historic collection is in Ventimiglia Alta. A more modern collection can be found in the city center. Best of all, both are open to the public every day of the week except Sunday.
…and to a 12th-century castle that inspired Monet.
Located about fifteen minutes from Ventimiglia, this castle has been standing since 1177. Sometimes referred to as Castello di Doria, after the royal family it belonged to, the castle and its tiny village is so picturesque, it inspired the famous Impressionist painter Claude Monet. Two of his masterpieces feature the scene!
If you've ever wanted to be bombarded with flowers, now's your chance.
Local flower-lovers prepare year-round for the Battaglia di Fiori, or Battle of the Flowers, held every June. After all, Ventimiglia is located on the Riviera dei Fiori (Riviera of Flowers)! The main attraction of the two-day event is the fabulous, themed parade, filled with lavish floats and dancers. Want to watch? Be prepared to be bombarded with flowers of all different colors. (And know that you're in good company, since past participants have included Alfred Hitchcock and Cary Grant!).
Not going to be there for the festival? You can still get your fill of flowers. Head to Hanbury Gardens, just a short drive from Ventimiglia's city center. Founded by Sir Thomas Hanbury in the late 1800s, it boasts 2,500 types of Mediterranean plants and flowers—plus a breathtaking view.
In Ventimiglia, your ravioli might be served cold. On purpose.
As we've said time and time again, food in Italy is extremely regional. So it's no surprise that the cuisine of Ventimiglia is unique!
Local specialties include barbagiuai, a crispy butternut squash and cheese ravioli. In a twist on the usual way ravioli is served, barbagiuai can be eaten either hot or cold. Piscialandrea, a deep-dish focaccia topped with tomato sauce, anchovies, olive and garlic, makes for a flavorful midday snack.
If you're looking for seafood, of course, there's no end of options; many dishes served in Ventimiglia include fresh-caught fish.