Meet our Italian Chef: Raffaella
August 1, 2023
Let's get up close and personal with our Italian chefs! Today, we're joined by Raffaella, who shares cooking tips, her grandmother's recipe, must-try dishes when in Rome, and more.

1. Tell us a bit about yourself
I'm 36, born and raised in Milano, my parents are from a little town in Campania region called Benevento, they moved in the north during the 70s. A big brother and 2 nieces. As for me, I'm single and I have a cat. I've lived in Rome since 2017 and YES, this is home. MAMMA ROMA 🙂
2. What made you decide to become a chef?
I've always loved cooking, and my dream when I was 14 was to attend a chef school but mamma was looking for something better for me (until 15 years ago or so, chefs were not rock stars like they are now at all, and "kitchen life" is really really hard) so I chose art school instead, but you know, my heart was with the grease and tomatoes.
3. What is your favorite Italian dish to make at home and why?
Sooooo many! One of my favorites also because of Nonna's memories would be "polpette di melanzane" (eggplant veg-balls). It takes some time but its really easy. Here's the recipe:
4 servings circa
1 medium eggplant
100g grated parmesan cheese
1 egg
1 clove garlic
2/3 anchovies (usually i put a lot more but i know not everyone loves them..)
A handful of parsley and fresh mint
Salt and pepper
Bread crumbs (as much as needed) i suggest to use "real" dried bread (or panko) instead of the "sandy" one that u can find at the store
peanut or seeds oil for frying
1. Roast the eggplant, whole and unpeeled, in the oven (400°F). After 15-20 min remove them from the oven and let them cool a bit. Skin the eggplant and place the flesh into a food processor, or a bowl using a fork.
2. If you find the flesh is too watery, drain out the excess liquid with some paper towels in a strainer. Put them into a bowl and add the remaining ingredients, except the bread, and process until well amalgamated and fairly smooth.
3. Then, spoonful by spoonful, (pulse function on your processor), mix in bread crumbs until the mixture holds together into a soft but workable paste.
4. Shape them into balls using a spoon and fry you POLPETTE!
Tip: best oil to use is peanut oil. Using olive oil is ok but it can be tricky managing the temperature.
4. Do you have any Italian cooking tips for our readers?
Cook from scratch as much as possible! You will train your senses also and you'll be able to recognise good or "bad" food. And, dont be afraid to use your hands, the best tools that we have 🙂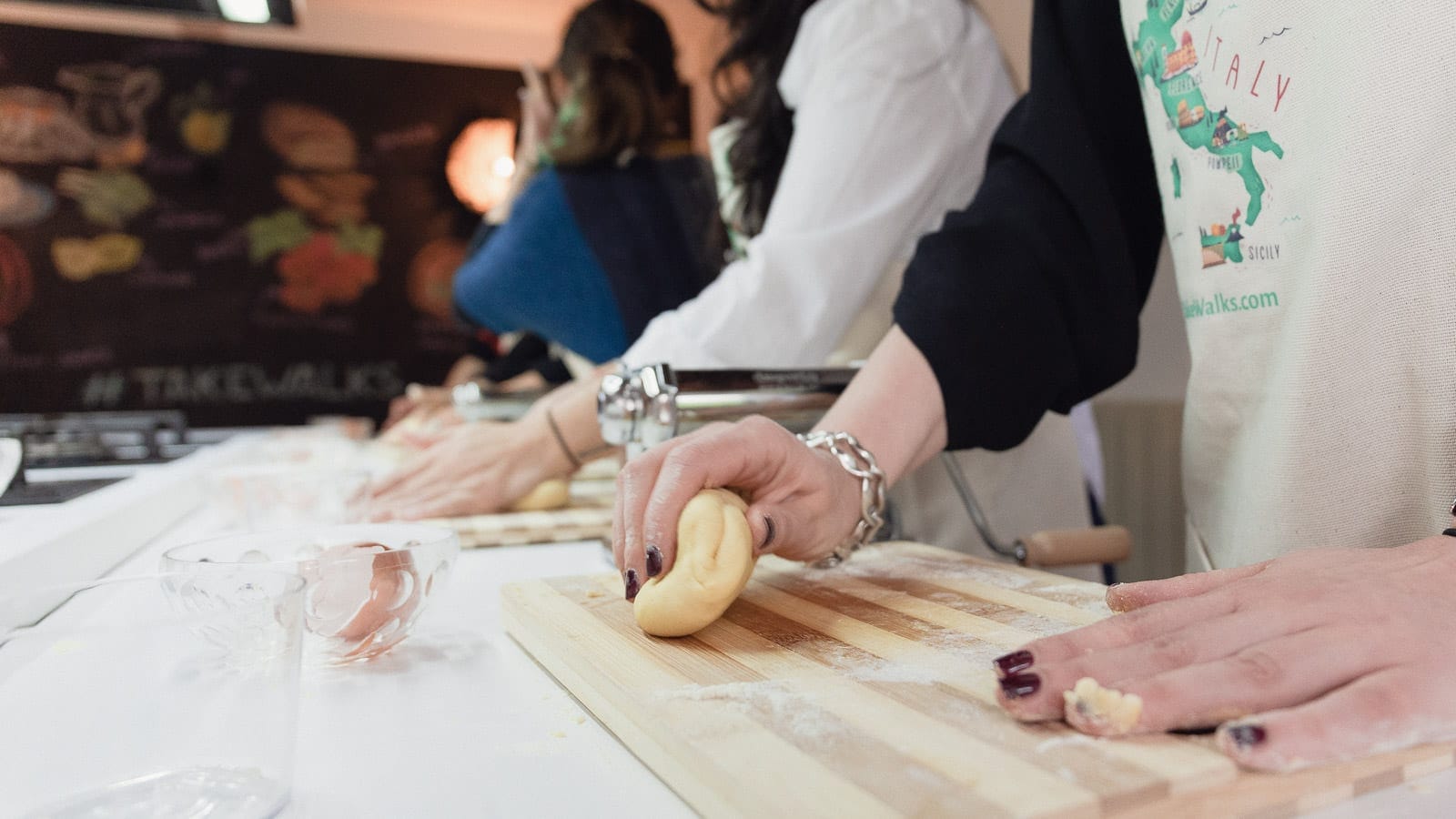 5. What are food or dishes travelers to Rome (or your home city) must try and if you have recommendations on where to try them.
In Rome, absolutely "pizza romana", thinner and crunchier than the Neapolitan one. Carbonara (the real one, no cream, no peas, no mushroms, no crazyness 😀 ) and all the street food.
In Milano, Risotto e Ossobuco. Polenta concia. Cotoletta orecchia di Elefante. Rane e lumache. (you see, the north was a swamp…)
6. Outside of Rome, what is your favorite place in the world to visit?
Oh my… I think Barcelona.

7. In which city have you tried the best food and what was it. What made it special?
My Nonna's home. I know, I know… but it is the truth 😀
8. What was the most unique/interesting food you have tried? Where did you try it and would you recommend it?
A typical Sardinian cheese called "callu de crabittu", crazy strong flavor, yet lovely. I recommend it but be prepared…
9. Where would you travel to next?
Sardinia! And then who knows… will see next year.
10. Which city of place in the world do you think is the most underrated and would urge people to visit?
North and South of Italy. It is not only about Rome, Florence, and Venice!
Update notice: This article was updated on April 9, 2023.