Guide Spotlight: LeAnne – San Francisco
April 13, 2023
In this blog series, we get up close and personal with some of Walks' guides around the world. While this blog is usually dedicated to Italy, during this time we decided to open up the space a little, and showcase some of the amazing people who take Walks with us from Rome to New York.
First up, we have LeAnne J. Smith – our bright and bubbly Operations Manager and Guide in San Francisco. Born and bred in San Francisco, LeAnne has lots to say about her home city, and everything in general really! Ask her a question, you're sure to get an honest answer – but one thing's for sure, you will not be bored.
We hope you enjoy LeAnne's take on everything from art to the most underrated places to visit!
LeAnne, tell us a bit about yourself: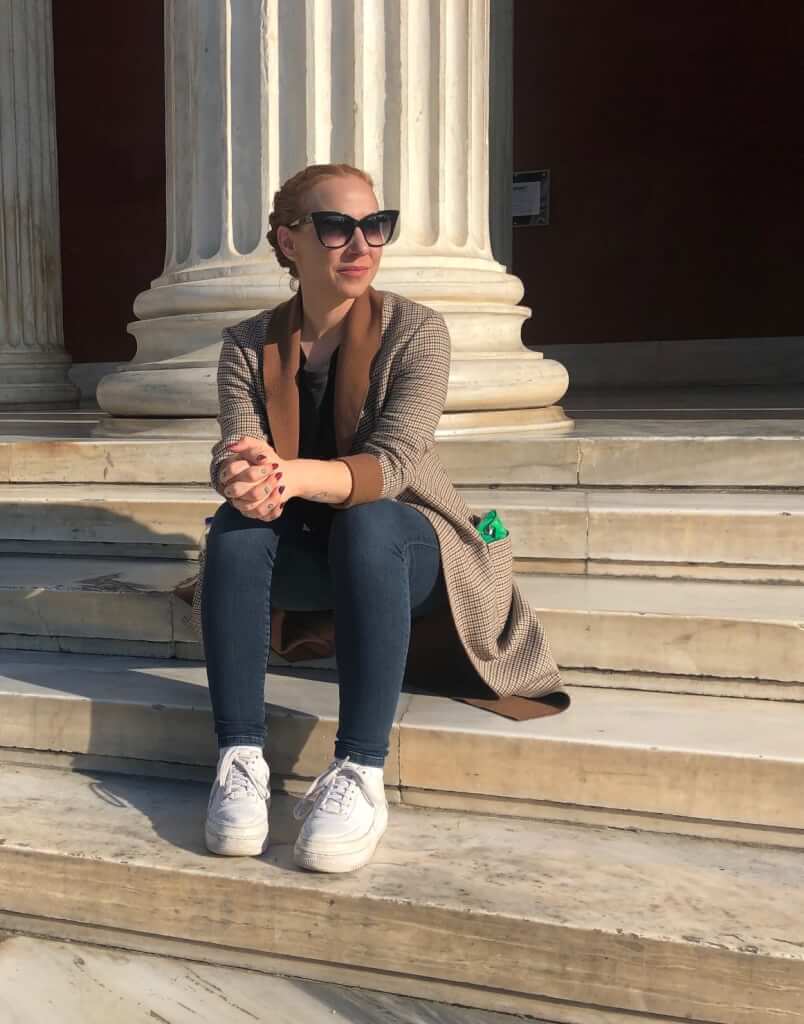 I grew up in San Francisco to Italian parents (best of both worlds!) I studied Classics and Humanities in Rome and San Francisco. I live, breathe, and work connecting people to history – why it matters, and culture – why it's important to who we are as a global community.
What is your favorite story to tell guests on your tours?
I love talking about the Golden Gate Bridge. That piece of orange steel just does all the heavy lifting on a tour. I love asking people as they are standing facing this modern wonder, "What do you like about it?" People have such incredible reactions to that bridge. And I enjoy exposing Walks guests to Gertrude Irving, the only woman to be a major contributor on the building of the GGB. As a seasoned architect her firm was hired to articulate the design details, particularly the aesthetic qualities of how it would look. More often than not this is credited to her husband, Irving. Yet all the Art Deco elements that move this bridge from nice to incredible came from the talented vision of Gertrude. She even picked its famous color. I just think that it is so lovely to envision this woman, way ahead of her time in the 1930's sitting behind her desk making the Golden Gate Bridge what it is today.
Do you have an all-time favourite piece of art?
Judith with the Head of Holofernes, Caravaggio. Not in San Francisco but in my second home, Rome. In San Francisco it would be this obscure triptych in the Legion of Honor called "The Damned in Hell" by a Tyrolean master. Very Bosch. Monsters everywhere.
As a tour guide, what is your biggest challenge during this period? 
If you ask any guide around the world, our biggest challenge (professionally speaking) is not meeting the people we meet each day on our tours. A HUGE part of the allure of being a guide is making "instant friends" for the day. A captive audience, a way to learn your subject inside and out, the interesting people who come to you for only a few hours – they can, and do make a big impact on your life. But on the other side of it (the joy) is the chance to do research – I've been diving deeper than ever before on topics I just never had the time to get to – right now I am into the Beat Poets of the late 1950's. Talk about a bunch of intellectuals! One part middle finger to "traditional American life", one part conscious mind, one part fashion icons. Super interesting and the geographical focal point of this movement happened six blocks from where I grew up!
How do you see the travel industry evolving during and after this time?
This is a tough one because I don't like to make assumptions – we can only predict how this goes and hope we are right. Travel is going to thrive. What's that silly saying? "Travel is the one thing that you buy that makes you richer." People will always dream of foreign lands. I anticipate the lesson learned in all this is that we can live with so much less and we can allocate those funds into experiences – into greeting places and learning from them and the people who know them, love them, and want to share the best of them. Younger generations are so inspiring – they don't need a mortgage, every household tech item, and a big SUV. They want to connect to people and places. They see the value in travel as a means to explore, to learn, and to take a great Instagram photo (which I argue inspires others so I am happy to take that photo of you jumping under the Golden Gate Bridge). Travel will thrive and we are ready to meet you when you are ready to visit.
Outside of your home city, what is your favourite place in the world to visit? 
I am fairly lucky to have not only grown up in one great city – San Francisco, but to have a second home in another great city. I have two degrees in fields surrounding Rome. My entire home library is dominated with Italian history, art and architecture. I have lived there on and off for over 10 years, and I have SPQR tattooed on my wrist – so I'd say my favorite place to visit is Paris. No really, there is no other city in the world that can compare to the Eternal City and nor should there be. She is the perfect balance of good and evil, beauty and more beauty. She's interesting, she'll break your heart over and over, and she does it with such elegance, you are proud to just be in association with her.
If you have any chance to visit, find the right company to show you her, (hint, it's Walks) take some deep breaths, and walk out into the streets to explore. Learn how to "take" a coffee like an Italian. Wander through museums and ancient ruins during the day, have a glass of wine (or two) at lunch, eat in a crowded ristorante during the evening, then walk everywhere after nightfall. Take a mental snapshot of the way the lights at night illuminate the stones. It's an essence and memory you will summon on your deathbed.
Where would you love to travel to next?
I'd love to just be able to travel across the bridge to see my Grandfather! Sorry, but I have a list. A traveler's heart should never have just one place. Quebec City is at the top of my list right now. I have covered Europe for the most part so I've a growing interest in the Middle East – Armenia, Lebanon, Jordan, and Israel.
What city or place in the world do you think is the most underrated, and would you urge people to visit?
I have two answers to this question – first and foremost, I cringe when I hear people say they fear or hated Naples. I think Naples just may be the perfect illustration of a maddening but beloved city. I say Naples is culture with a capital "C". It's the soul of so many dichotomies – its history, as one of the oldest urban cities in the world, is fascinating. Its pagan superstition alongside heavy Christian symbolism. Its architecture is a mix of cramped spaces where absurdity just blends to form the perfect vision. There are motorini jumping the sidewalks to get around with kids kicking the soccer ball nearby. I got my heart broken in the worst way a few years ago and I ran away to Naples of all places. I stayed in a fancy hotel (yes, they have them) and in over a week's time, I came out in love with someone else – Napoli.
Second answer. I implore people to visit places that they hold strong biases against – for Americans that may be somewhere like Iran, which, hands down, has the most generous, friendly, open people in the world. I ate the best food I have ever tasted, and the entire country is a kaleidoscope of colors spread across the environment that is joyful and healing. What we learn of others is largely shaped by the governments in place and not the everyday people who live, love, and lose just like you and I.

Case in point. My father served in Vietnam and (as ashamed as I am to admit) once had some biases against the country and its people. A few years ago, my mother put him in charge of a trip. The day they arrived at their destination for their two-week-long trip, they entered the bus to find all the other travelers staring back at them were Vietnamese! My father had booked a Vietnamese group trip! We all had such a roar over it but I knew what was to come – within 24 hours, my mother was sending photos of my Dad, all smiles and joy at every historical site, embracing all his new Vietnamese friends! He brags now that it was the best trip of his life because of the friends he made.
In which city have you tried the best food and what was it? 
Listen, I am not trying to be difficult or biased. But Italy has the best food, hands down. It is a traditional cycle of seasonal items, locally sourced dishes and recipes that have been perfected over millennia. What is it? It is everything.
Update notice: This article was updated on April 9, 2023.