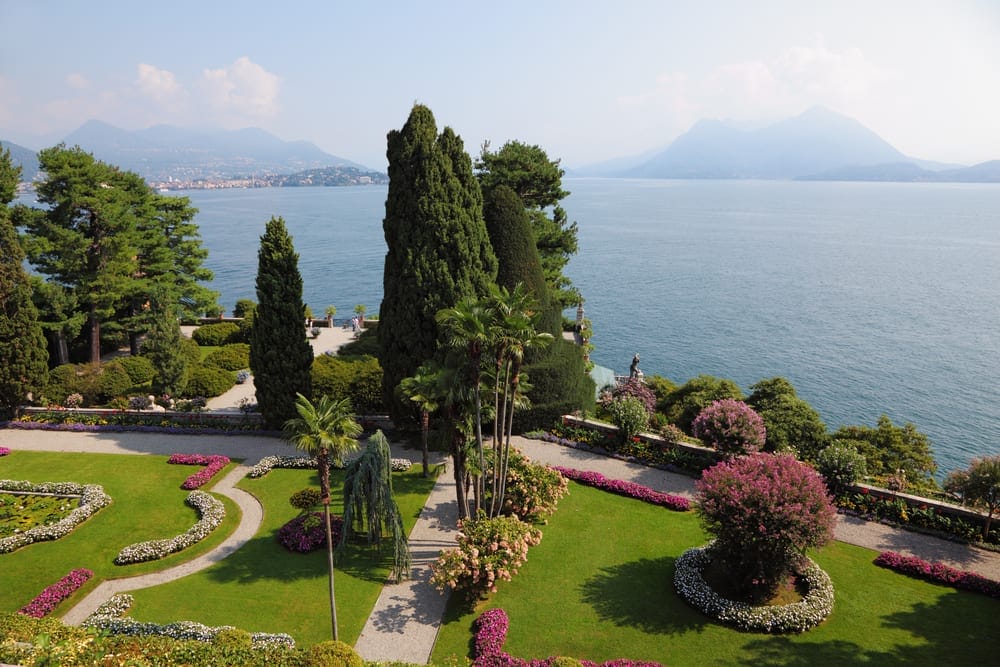 5 Must-See Gardens of Italy: Isola Bella, Tivoli, Villa Rufolo & More
July 10, 2023
Spring in Italy always makes us think of where to find the most beautiful gardens of Italy! From Renaissance gardens to ancient valleys to seaside villas, verdant green spaces are scattered across this diverse country. Read on to discover five of our favorite gardens in Italy.
Most beautiful gardens of Italy
Isola Bella (Lake Maggiore)
Tiny Isola Bella, on Lake Maggiore, wasn't always what its name means—"beautiful island." In fact, it was originally tiny and rocky! But in the 17th century, Carlo III Borromeo built up the island with a palazzo and gardens. The project was dedicated to his wife, Isabella D'Adda.
Soil was shipped in and every inch carefully landscaped, making this one of the most beautiful gardens of Italy. Today, Isola Bella is nothing so much as a floating, elaborate villa and garden. And it's all surrounded by the blue waters of Lake Maggiore, with the snow-capped mountains beyond.
Villa Rufolo (Amalfi Coast)
The 14th-century Villa Rufolo, in the small town of Ravello, is one of the Amalfi Coast's finest gems. Dating back to the 14th century, the palazzo's medieval towers and walls are only made more stunning by the beautiful flowers that bloom, well, everywhere! Top it off with the view of the Mediterranean from one kilometer up, and, well, this is one of the prettiest gardens in Italy.
Vittoriale degli Italiani (Lake Garda)
Vittoriale degli Italiani is one of the most interesting gardens, and villas, you'll see in Italy. The estate was built on Lake Garda in the 1920s and 1930s by Gabriele d'Annunzio, one of Italy's most beloved—and certainly most eccentric—poets. The gardens are gorgeous (and include courtyards and a theater). If you have time, though, make sure you also pay a visit to the villa itself; the rooms are left as they were during d'Annunzio's life, and they're filled with art and oddities.
Giardino della Kolymbetra (Valley of the Temples, Sicily)
The Gardens of Kolymbetra, located in Sicily's Valle dei Templi, date back to ancient times. Even Virgil was a fan of this gorgeous, verdant valley! For centuries, though, the area was abandoned and left to choke with weeds. In 1999, FAI (Italy's version of the National Trust) took over the garden, replanting it and restoring it to its former glory. Now, it's filled with lemon and orange trees, olive groves, and other peaceful sights.
Between its ancient origins, location under Agrigento's ancient Greek temples, and its verdant beauty, this has to be one of the most beautiful gardens in Italy. Find out more about Agrigento and the Valley of the Temples in our post on the 7 most stunning ancient sights in Sicily.
Villa d'Este (Tivoli)
One of the finest Renaissance villas and gardens in Italy, the Villa d'Este in Tivoli also makes a great day trip from Rome. Built by the grandson of Pope Alexander VI in the 16th century, it's filled with formal gardens, frescoed rooms, and gorgeous fountains. And, of course, you can combine a visit to the gardens here with a visit to Hadrian's villa, also at Tivoli, which is an estate filled with trees, ponds, and even ancient ruins.
In town to see the Villa d'Este gardens? Find out more about Lazio's hidden gems!