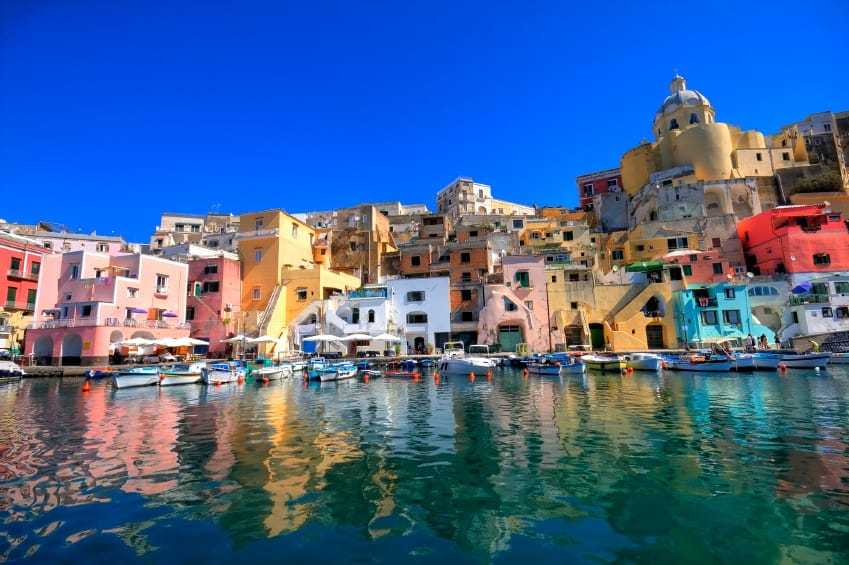 5 Beautiful Islands Off Italy: Panarea, Procida, Pontine Islands & More
July 17, 2023
When it comes to Italy's beautiful islands, Capri is just one of many! Here are five other spectacular islands off the Italian coast—all boasting gorgeous scenery, beautiful beaches, fresh seafood, and local character—that you probably haven't heard of.
Procida (Bay of Naples)
Forget Capri. Colorful Procida is also an easy ferry ride from Naples, and with everyone else flocking to Capri (or, secondarily, Ischia), it's easily the Bay of Naples' least-touristy island. With its colorful fishing village, fresh seafood, and authentic character, it's one of our favorite spots for a day trip from the coast. Throw in a trip to Procida when you visit Naples, one of the Italy' unappreciated, but absolutely buzzing cities.
Levanzo (Aegadian Islands, Sicily)
Want to get away from it all? Then head to lovely Levanzo. This lovely speck of land sits off the northwestern coast of Sicily, in a chain of three islands called the Aegadian Islands (or Isole Egadi). It's Levanzo is easily reached as a day trip from Trapani or Marsala. The island has just one tiny, peaceful village (Calla Dogana), tranquil beaches, dramatic cliffs, and lovely nature walks. For history-seekers, there's also the Grotta del Genovese (visitable by boat), a small cave holding Paleolithic graffiti dating back to 9,680 B.C. If you want something with a bit more buzz in Sicily, go to Palermo and check out our Palermo City Guide.
Ponza (Pontine Islands, off Rome)
Many Romans make the trek to Ponza at least once over the summer, driving the hour to Anzio and then taking a 2-hour ferry ride to Ponza from there. That's because the volcanic island is, quite simply, stunning. Its villages are quaint and its water incredibly blue. There are also ancient cave pools, called Pilate's Grottoes, scattered everywhere. The island is so beautiful, even the legendary Circe chose it as her home; this is where she seduced and lived with Odysseus for more than a year.
Island of Elba (Tuscan archipelago)
Okay, you might have heard of Elba—as the famed location of Napoleon's exile. But it's also an island well worth visiting for its own sake. The geography here includes mountains, hills and beaches, the wine is renowned, and the history is fascinating, especially since Elba was French right up until the Italian reunification of 1860. Elba is easily reached by ferry from Piombino, a port town 2 hours from Florence or just 1 hour from Livorno.
Panarea (Aeolian Islands, Sicily)
In the summer, Italians flock to the Aeolian Islands, a chain of eight spectacular isole off the coast of Italy. The inactive volcano of Panarea—at 1.3 square miles, the second-smallest island— is also one of the most lovely. Although it's become a favorite celebrity hangout in recent years, Panarea is an especially great destination for scuba divers, who particularly like diving the shipwreck just offshore.