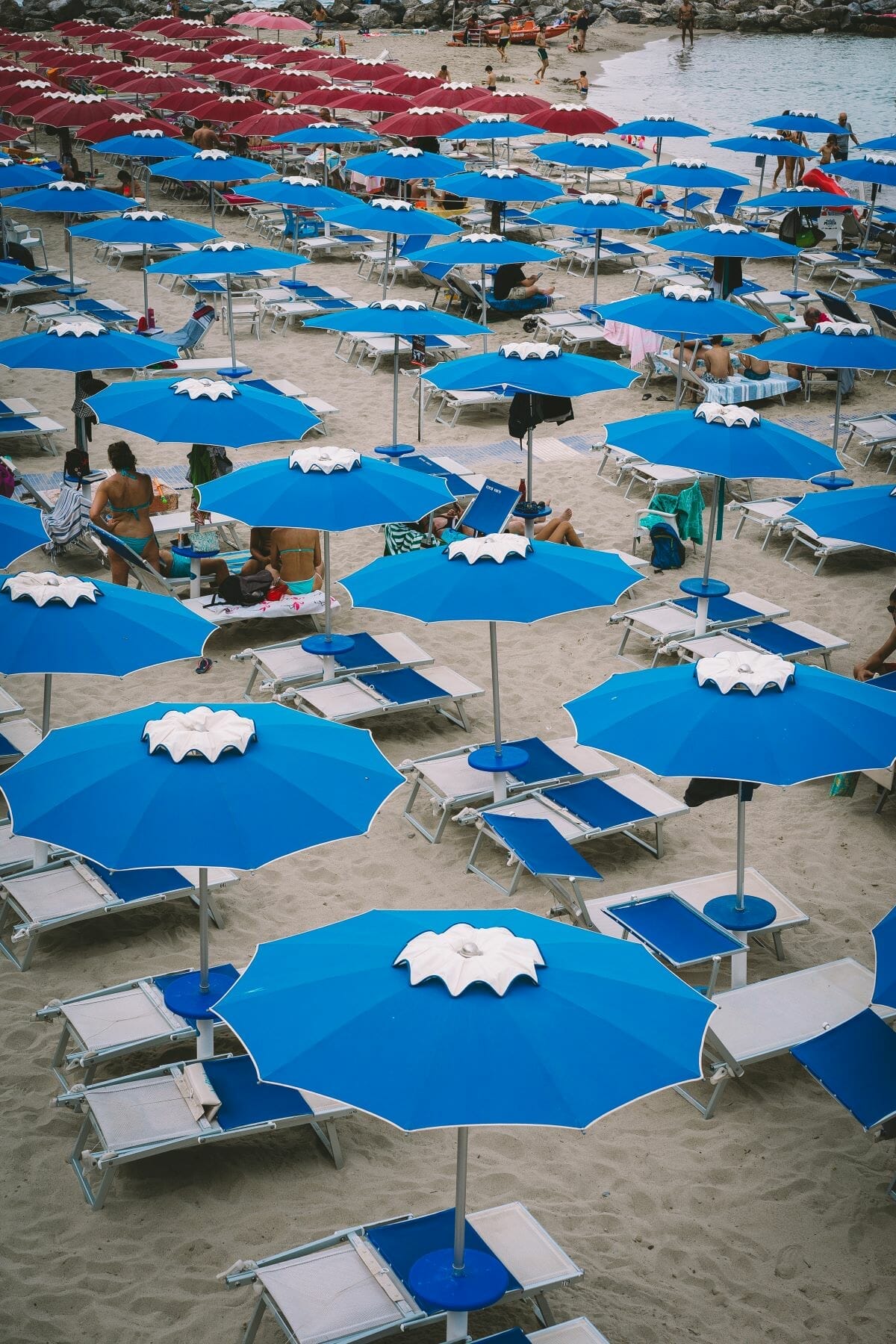 The Best Beaches in Naples, Italy That You Need to Visit
August 10, 2023
People might assume that you need to take a day trip from Naples for a dazzling Italian beach experience, but there are amazing beaches in Naples for swimming, sunning and even kayaking or scuba diving. Sometimes you need an escape from the city's sometimes chaotic nature, and heading to the beach for a half or a whole a day is a perfect plan for warmer months!
There are a few beaches in Naples right in the city, and others just a short bus or metro ride away. This guide will start in the center of the city and move outward to cover all the main beach spots in the Naples metropolitan area. Andiamo al mare!
Insider's tip: When visiting the beach in Naples (or any part of Italy), it's good to know that there are two options: free, public beaches, and upscale beach clubs known as "lidi" (singular: "lido").
Central Beaches in Naples
Mergellina and Posillipo
Lido Mappatella is a popular public beach offering lovely views of the Bay of Naples. It has rock barriers which create sheltered swimming areas for visitors to enjoy. To reach Lido Mappatella from the center of Naples you can easily walk.
Directions: Take the scenic route along the lungomare to really enjoy the stroll. Otherwise, take the metro Line 2 to Mergellina station and walk from there. It tends to get quite crowded on the weekends in summer months, but it's always an option for a quick dip right in the city.
Bagno Elena is in the ritzy Posillipo neighborhood, a short bus or train from the center of the city. It's a large stretch of sand with a lido where you can rent umbrellas and sunbeds. It's also home to one of the best restaurants in the city—the Michelin-starred Palazzo Petrucci. For a quick lunch, there's a cafè right on the beach.
Directions: To get to Bagno Elena from the center of Naples, take the metro Line 2 (Linea 2) to Mergellina station and then walk for about 15 minutes along Via Posillipo until you reach the beach.
Right around the corner from Bagno Elena is the smaller Bagno Sirena. These two beaches in Naples are divided by the semi-abandoned but stunning Palazzo Donn'Anna. Bagno Sirena is a private beach with a sandy section and a wooden pier, both with umbrellas and sunbeds available to rent. You can also rent a kayak to explore the coast! Head to the right when you launch your kayak to reach the beautiful waters of Marechiaro (for more intel on Marechiaro, read on).
Directions: To get to Bagno Sirena from the center of Naples, take the metro Line 2 to Mergellina station and walk for about 20 minutes, or take bus 140.
A Bus Ride to Paradise: Marechiaro
Marechiaro is a tiny fishing village surrounded by rocky beaches, both public and private. The area has some of the clearest water in Naples. The main public beach is less of a beach and more of a massive rock—its name scoglione translates to "big rock." Private beaches include Lido Marechiaro, which offers some of the best seafood in Naples, and Baia delle Rocce Verdi, where you can rent kayaks for the day. Make sure to book kayaks online in advance, as they tend to run out in the summer months.
The other main public beach in the Marechiaro zone is Gaiola Beach. It's part of a larger protected marine area called the Underwater Park of Gaiola. It's an excellent spot for scuba diving because of the various underwater archeological ruins. The beach itself is characterized by a now-abandoned villa, rumored to be cursed because of the untimely deaths of its various owners throughout the 20th century. It's now owned by the Campania Region.
Insider's tip: Because of the small size of the beach and its protected status, there are limited spots available, so book a spot at Gaiola ahead of time online.
Directions: To reach Marechiaro from the center of Naples, you can take the 140 bus. From there it's a short walk down to the beach (usually involving stairs).
Quick Train Rides from Naples to the Beach
There are two beaches worth mentioning just a short train ride away from the city—perfect for a half-day or full-day trip.
Lucrino and Torre del Greco
Lucrino beach is a soft sandy strip to the west of Naples, easily reached by the La Cumana (a commuter railway in Campania) from Montesanto station.

While Lucrino beach is a public beach (and therefore free of charge), there's often someone near the entrance renting out umbrellas during the summer months. Lucrino is great for those who want to avoid a walk to the beach—visitors can almost literally step off of the train and onto the beach. Entering the beach on the right, there's a private beach club called Lido Napoli for those who want a more comfortable beach day with sunbeds and a café.
Situated along the coast, the little suburb of Torre del Greco offers a mix of public and private beaches along the coastline. Spiaggia del Cavaliere is a cute little free beach with dark volcanic sand unique to the area. To get to Torre del Greco from the center of Naples, you can take the regional train from Napoli Piazza Garibaldi or from Montesanto station.
Insider's tip: Torre del Greco is also the birthplace of one of the best gelato chains in Naples called Mennella. Satisfy your gelato craving or try an authentic Neapolitan pastry after your beach trip!
In Naples, you can expect a vibrant beach culture with locals and tourists enjoying the sun, sand, and sea. Plus, views of Vesuvius and Capri don't disappoint! Whether you want a quick dip right in the city or a relaxed beach day just outside the center, Naples has lots of options for relaxing, beach restaurants, and activities like kayaking. Just don't forget your sunscreen—that Mediterranean sun is no joke! And if you do head up the coast later, check out our guide for visting the Amalfi Coast.