Top Italy Attractions: St. Mark's Square in Venice
May 23, 2023
St. Mark's Square was once famously called "The drawing room of Europe" and it only takes one visit to understand why. Both grandiose and intimate, dripping with embellishments yet utterly refined, and teeming with people yet somehow familiar, the largest piazza in Venice is truly one of Italy's most breathtaking.
Like much of Venice, it emanates outward from the Basilica of St. Mark, both physically and spiritually. Many of its most famous adornments can be traced back to the 13th century siege of Constantinople that brought Venice much of its most famous riches in the form of plunder.
Whether you see the main sites like the basilica, the Doge's Palace and the Clock Tower, or just sit in a cafe as watch the crowds stroll by, you can't visit Venice without pausing for a moment in its heart and soaking up the atmosphere.
What to See in St. Mark's Square
The Basilica di San Marco
When two enterprising Venetians stole the remains of St. Mark from Alexandria (by hiding them in barrels of salted pork where the Muslims would refuse to search) the city needed a place to put them and thus St. Mark's Cathedral was born. Both the spiritual center of Venice and the Doge's private chapel, it grew in size and ostentation as Venice expanded her maritime empire.
By the 11th century it was going by the nickname "Chiesa d'Oro" or "Church of Gold" and in the 13th century it received and incorporated much of the plunder (gold, jewels, statues, and even marble columns) from the pillaging of Constantinople in the 4th crusade.
Today, it is considered one of the best examples of Italo-Byzantine architecture in the world, not to mention Constantinople still wants all of its nice things back. Given the influence of the Byzantine empire and other Eastern cultures on the architecture of Venice, this is a building unlike any other you will see in Italy.
Read more: 6 Fascinating Facts at St. Mark's Basilica
The Horses of St. Mark
Perhaps the most famous pieces of plunder to come back from Constantinople were four bronze horses that had once stood in that city's hippodrome. Their age and origin are uncertain but they were probably made around the 4th century BC, possibly by a Greek sculptor. They were installed on the terrace of St. Mark's Basilica where they stood until Venice was looted by Napoleon, who took the Horses to Paris in 1797.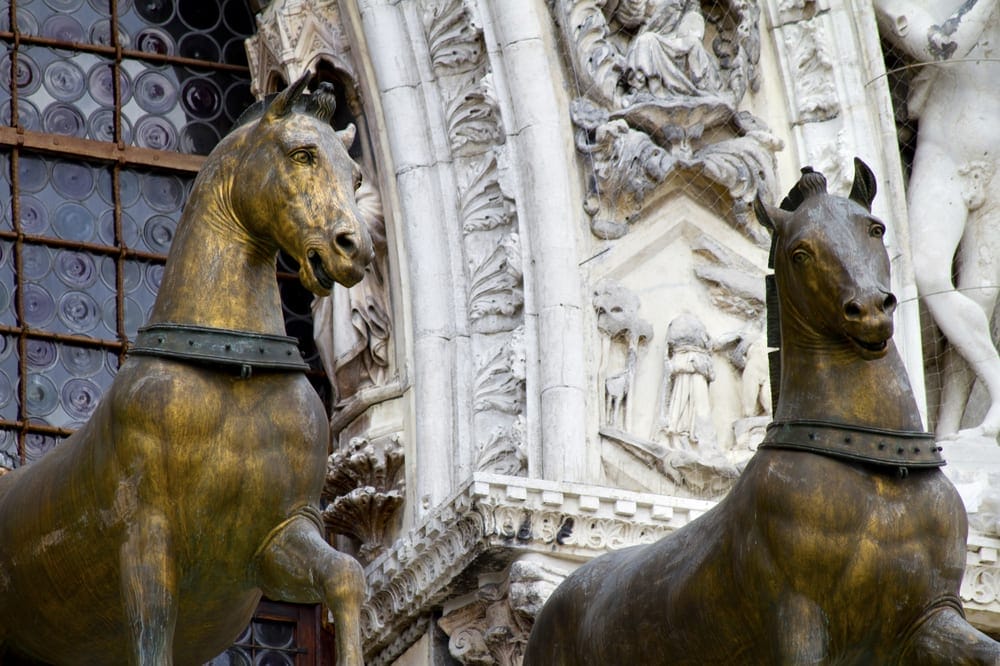 The Venetians got their horses back in 1815 but have subsequenty moved the originals into St. Mark's Museum in order to protect them from weathering. What you see on the church today are exact replicas. An interesting side note is that the collars were originally added to the four horses to cover the fact that their heads had been chopped in order to fit them into the ships to transport them from Constantinople to Venice. 
The Doge's Palace
You can't run a maritime empire that spans the entire Mediterranean sea from a tiny lagoon for some 400 years without a very well-oiled government apparatus. The home of this apparatus was the Doge's Palace. It was part residence, part courtroom, part administrative building for a nation without land.
From here they kept the records and made the decisions that dictated much of the trade and commerce in the Mediterranean. It was an executive, legislative, and judicial branch all packed into one impressive building.
First constructed in the tenth century then added to as the Republic grew, the building evolved right along with Venetian society until it was officially made a museum in 1923. Walking through its numerous rooms and passages today is a trip through the history of the old empire.
St. Mark's Bell Tower
St. Mark's Campanile or Bell Tower started life in the 9th century as a watchtower over docks that have since been paved over. It didn't, however, reach its final form until the 16th century. Not that it was smooth sailing from then on.
The tower had a bad habit of getting his by lightning and catching fire. Over the years the damage piled up and in 1902 the tower collapsed. Incredibly, the only casualty was the caretaker's cat.  Since being rebuilt in 1912 thousands of visitors climb the tower every year and it has shown no signs of further damage. It is, however, closed as the slightest hint of lightning. 
Caffe Florian
A good coffee house has always been a place where people from all walks of life meet, socialize and share ideas. It's only fitting then, that the oldest coffee house still in operation, Caffe Florian, has hosted some of the greatest meeting of minds in history.
This St. Mark's Square institution has, at various times, been a hangout for Goethe and Cassanova, Byron, Proust, and Charles Dickens. And it isn't just the company that make this cafe such a hit. Coffee was first introduced to Europe by the Venetians, who imported it from North Africa. Venice hosted the first European coffee houses and to this day they make as good a cup of espresso as you will get anywhere in the world. 
Tips for Visiting St. Mark's Square
Opening Times
St. Mark's Square is a public piazza and so is accessible, free of charge, 24 hours a day.
St. Mark's Basilica has varying hours depending on the season. From the end of Easter to November it opens from 9:30am to 5:15pm Monday through Saturday and on Sundays and holidays it's 2:00pm to 5:15pm (last entry at 4.45pm). From November through the end of Easter (which changes every year) the hours are the same Monday through Saturday but and 2:00pm to 4:00pm Sundays and Holidays. 
For more details, please check the website for opening hours.
The Bell Tower changes even more depending on the time of year: In October it's open from 9:00am to 7:00pm. From November through March/April (Easter) it's open from 9:30am to 3:45pm. From March/April (Easter) through June it's open from 9:00am – 7:00pm. From July through September it's open from 9:00am – 9:00pm.
The Doge's Palace, from April 26, 2021, opens everyday from 10.00am to 6.00pm, with last entry at 5.00pm. Please check their website for any changes in opening hours.
Usually, it has different hours for the high season and low season. From April 1st to October 31st the Palace is open from 8:30am to 7:00pm with last entry at 6:00pm. From November 1st to March 31st, the palace is open from 8:30am to 5:30pm with last entry at 4:30pm.  The palace is closed on December 25th and January 1st.
Rules
The main thing to keep in mind if visiting in the off season, especially in the winter, is that you might hit a period of acqua alta, i.e. flooding. This happens when a combination of southerly winds, high tides, and the southerly-blowing scirocco wind cause the water levels in the lagoon to rise and flood Venice.
Because the storm drains of the Piazza San Marco drain directly into the lagoon, the water can come right back up then at times of acqua alta, and you'll find yourself anywhere from ankle to knee deep in water.
Note: Venice flood barriers, the Mose project, have been tested and protected the city from high tides of up to 3 meters.
When these weather conditions are forecasted the main thoroughfare will generally be installed with elevated wooden walkways by the city, but do as locals do and bring a sturdy pair of rubber boots they will save your feet.
If you plan on visiting St. Mark's Basilica, please be sure to dress appropriately as this is a religious site. Both men and women should be sure to wear clothes that cover their shoulders and knees.
Read more: Venice's Acqua Alta
The Best Time to Visit St. Mark's Square
When visiting St. Mark's Square you always have to weigh two factors against each other: crowds and weather. Winter in Venice can be cold and damp, while summers can be hot and jam packed with people. Spring and Autumn usually have very nice weather but are similarly packed.
One way or another there will typically be quite a crowd in St. Mark's Square. If you want to experience it slightly less crowded the easiest way to do it is by simply waking up early. Even in the height of summer a sunrise walk in Venice is a guaranteed way to see any part of the city mostly empty.
Update notice: This article was updated on April 12, 2023.
Want to find out more about St. Mark's Basilica and the Doge's Palace? For a VIP visit, join us on our St. Mark's Basilica After Hours Tour, when these buildings are closed to the public!