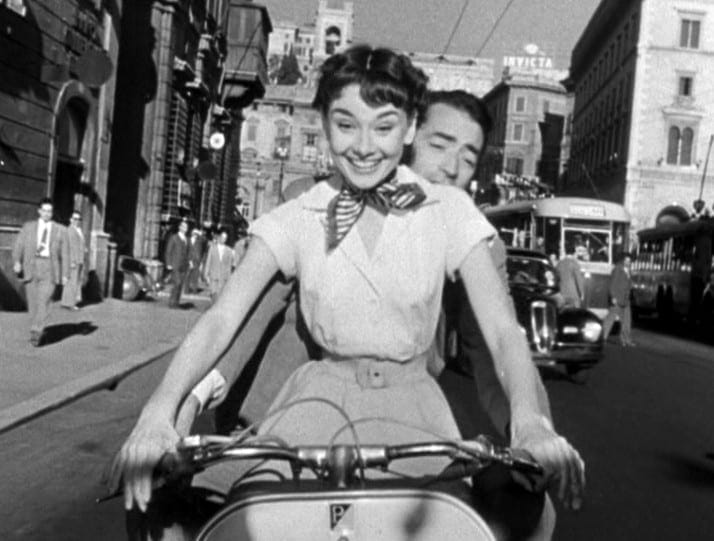 10 of the Best Movies on Italy
May 1, 2020
Even if you can't get to Italy right now, you can feel transported there with the sights and sounds of a movie on Italy! Here are 10 of our favorite movies set in Italy. (Some are such classics, it's a travesty not to watch them before you go!). And if you want to brush up on your Italian ahead of your trip, try watching the Italian films in the original language, with English subtitles only.
Prefer reading instead? Don't miss our roundup of our favorite books on Italy!
Our top 10 movies on Italy are…
Roman Holiday: Head to Rome in the 1950's for an adventure with the star studded cast of Audrey Hepburn and Gregory Peck of the acclaimed English language film! The film follows a princess on vacation in Rome who sneaks off to see the city alone and meets a reporter, touring top sights like the Spanish Steps and the Mouth of Truth… and an unforgettable ride on a scooter!
Cinema Paradiso: Even after moving (far) away, Italians never forget their roots—especially if they come from a small town. Follow a filmmaker who returns to his hometown in Sicily after many years, discovering the incredible dynamics between the townspeople and remembering his big dreams as a child. The 1988 film received international acclaim; its beautiful, award-winning music was written by Ennio Morricone.
It Started in Naples: Set in one of Italy's most romantic locations, complete with picturesque scenes of the sea, this love story tells a tale of romance between an Italian woman and an American man who travels to Naples to settle his brother's estate. The 1960 classic stars Clark Gable, Sophia Loren and Vittorio De Sica.
Il Postino: If you're in the mood for romance and stunning views of Sicily and islands off Naples, this is the right film for you! Released in 1994, this is the charming story of a postman who falls in love with a gorgeous woman… and uses poetry to try to win her heart. (Only in Italy!).
La Dolce Vita: One of the most acclaimed films in the history of Italian cinema! Released in 1960, Federico Fellini's film recounts the story of a journalist who is searching for love and "the sweet life" in Rome. We love the classic scenes of the Eternal City, especially the famous swim in the Trevi Fountain. 

Eat, Pray, Love: Julia Roberts steals the screen with the role of a recently divorced woman who decides to start a new journey and move around the world, starting with three months in Italy. Her passion for the learning the language, meeting the locals and indulging in traditional dishes could inspire anyone to pick up and move to Italy! The story is based off of Elizabeth Gilbert's 2006 memoir, which is also featured in our favorite books on Italy list.
The Tourist: Defined by its director as a "travel romance with thriller elements," this is a fast-paced and high-excitement tour of Venice… one led by none other than Angelina Jolie and Johnny Dep. It was nominated for a 2010 Golden Globe.
Only You: Sometimes when destiny calls, you must follow it—even to Italy! The 1994 feel-good romantic comedy starring Marisa Tomei and Robert Downey Jr. takes you through some of the top sights in Rome, Venice, Tuscany and the Amalfi Coast.
A Room With a View: One of the most famous stories to take place in Italy! The 1985 film was based off of E.M. Forster's novel (also included on our best books on Italy list!) and transports you right back to Florence during the Victorian era, a time filled with with elegance and mystery.
Under The Tuscan Sun: When in doubt, head to the Tuscan countryside for a new start (right? Right!). Diane Lane plays a recently divorced woman who buys a villa in Tuscany and takes on the task of rebuilding it into her new home. The actress was nominated for a Golden Globe for her performance in the film, which was based off of Frances  Mayes' 1996 memoir.